Every business needs someone to manage their IT infrastructure and keep operations running smoothly and securely. From networks and servers to PCs and passwords, many moving parts in a company require full-time attention. While some organizations prefer to keep these duties in-house, others can benefit more from managed IT services.
But is offloading IT tasks the right option for your organization?
This article is an intro to managed IT services and the positive effects offloading IT tasks can have on your operations and bottom line. Whether you are an SMB with an overburdened team or an enterprise wishing to hire specialists for a particular task, this article will help evaluate whether managed IT services are the right choice for your organization.
What Are Managed IT Services?
Managed IT services (or outsourced IT) is an umbrella term for various IT-related tasks you offload to a third-party company instead of performing them on an in-house level. In this arrangement, a managed service provider (MSP) assumes all responsibility for the IT operation, and the client pays a recurring subscription fee.
A company can offload a single IT task, or it could outsource all its IT needs. Some of the most common tasks MSPs perform are:
An MSP can provide IT services either remotely or on-site. The client and MSP outline the terms and conditions of the deal in a master services agreement, while the service-level agreement (SLA) defines KPIs (Key Performance Indicators) and metrics the MSP must meet.
While SMBs typically have the most to gain from managed IT services, small companies are not the only ones who can benefit from outsourced tasks. Here are some of the most common reasons a business decides to offload its IT: 
The need for better technical expertise, often within an unfamiliar industry vertical.
The desire to substitute fluctuating IT costs with a predictable monthly fee.
A strategic decision to free up in-house resources so that the team can focus on other duties.
A wish to reduce the number of necessary staff members and lower overall IT costs.
Gaining access to the latest tech without a costly upfront investment.
Our Managed Services enable you to offload infrastructure management to a team of experts to reduce IT costs, modernize your tech stack, and allow the internal team to focus on revenue-driving tasks.
Difference Between Managed IT Services and Traditional Outsourcing
An MSP is not a traditional outsourcing company. When you outsource an IT department or function, the outsourcing company will either:
Work with your in-house employees.
Replace your staff with a roughly equivalent number of employees elsewhere.
An MSP does not focus on the job itself but on the result(s) the client seeks. For example, let us say you wish to offload your support team. You have two options:
Go with traditional outsourcing and find a company that will either reorganize your in-house team or hire new support specialists.
Choose an MSP and define KPIs you want them to meet (such as acceptable response times). As long as the provider meets the set metrics, it does not matter whether they rely on dedicated staff, automation, or some other method to handle calls and tickets.
A managed IT service also differs from traditional IT consulting. Whereas consulting is typically project-based, managed services are an ongoing subscription.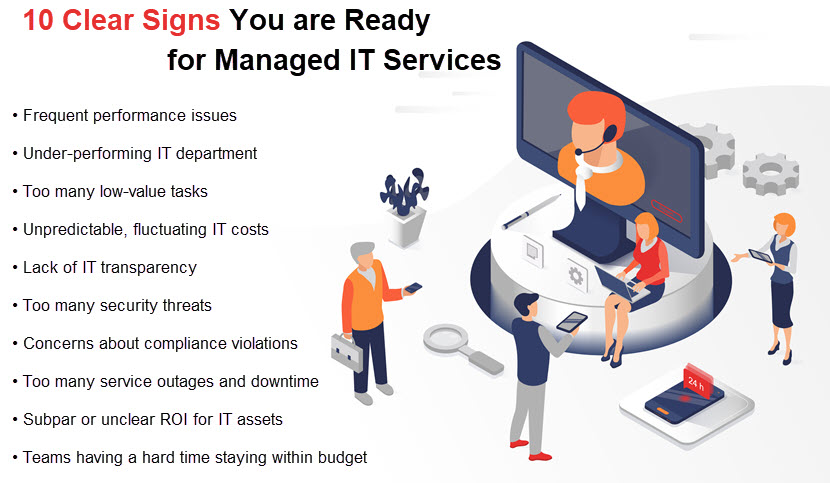 Types of Managed IT Services
Here are the most common types of managed IT services you can rely on an MSP to perform:
Managed networks: An MSP takes on all network-related tasks (establishing LANs, WANs, WAPs, various interconnections, network monitoring, etc.).
Managed security: The provider handles all cybersecurity tasks or specializes in one area (e.g., disaster recovery, setting up firewalls, or ransomware prevention).
On-site management: On-prem monitoring and maintenance of equipment and systems.
Managed support: All services related to IT support, from help desk tasks and password resets to software updates and advanced troubleshooting.
Cloud-based managed services: This type of IT service helps with cloud networking, storage, monitoring, security, infrastructure, and migration. Providers also offer virtualization, cost optimization, and IaaS/PaaS/SaaS services.
Remote monitoring and management: These services extend to servers, desktops, virtual machines, and mobile devices.
Managed communication (or unified communications): This service offers a range of communication infrastructure (voice, video, chat, email, custom messaging software, VoIP, etc.) and unifies it into a single platform.
Data Analytics: The provider monitors, captures, and analyzes network and system data.
Desktop as a Service: With DaaS, your MSP hosts the back end of a Virtual Desktop Infrastructure (VDI) and enables your team to log in and use their computers.
Backup-as-a-Service (BaaS): This service centers on data backups and recovery. An MSP orchestrates automatic backups and stores files on an off-site server.
Disaster-recovery-as-a-service (DRaaS): The MSP creates a disaster recovery plan (DRP) that lays out what happens if your primary IT environment goes down.
You can rely on pNAP's DraaS offering to ensure business continuity even in the worst scenarios, primarily thanks to our custom solutions and industry-leading RTOs and RPOs.
Advantages of Managed IT Services
Below is an in-depth look at each notable benefit of relying on managed IT services.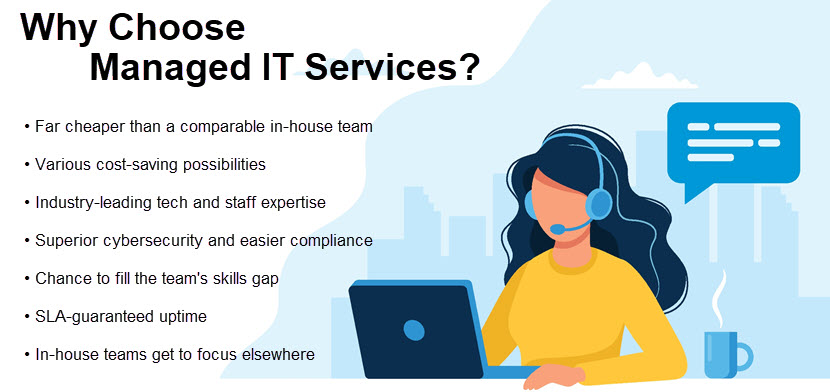 Cost Savings Across the Board
There are only two alternatives to relying on managed IT services:
The break-fix model: The practice of only calling IT experts when the team runs into a problem.
In-house IT: Hiring a designated IT person or staff to care for all tech needs and issues.
Managed IT services are the most cost-effective choice out of the three options. Research reveals that MSPs can decrease the overall IT costs by 30% to 50% compared to what a comparable in-house team would cost. These services save money on many business fronts as they enable you to limit spending on:
New hirings.
Staff training.
Procuring new hardware.
Software licensing.
Cloud resources.
Also, the cost of these services is highly predictable. You pay a fixed monthly fee that does not change over time (unless you agree to an upgrade), so decision-makers can enjoy more precise budgeting.
Our article on IT cost reductions offers 11 tips you can use to optimize your IT budget and cut all unnecessary expenses.
Fill the Skills Gap
If your in-house team does not have the time, skills, or experience to handle certain IT functions internally, managed IT services are likely a sound option. The only alternative is to bring in new staff members with a better skill set.
An MSP can hire specialists that smaller companies are typically not able to afford. By working with an MSP, you can get those experts for a lot less than what hiring them full-time would cost.
Focus In-House Teams on Core Business and Revenue-Driving Tasks
An MSP safeguards your business's most valuable asset—time. If an MSP is handling day-to-day and mundane tasks such as IT support and server monitoring, your staff can focus on:
Innovation.
Product development.
Revenue-boosting tasks.
In general, companies that attempt to support all IT services in-house usually have:
Higher research and development (R&D) costs.
Longer deployment timelines.
Too much time going towards putting out fires and routine tasks.
Remember that there is no reason for your staff to perceive managed IT services as a threat. Instead, employees should understand that you are trying to relieve them, not find a substitute team.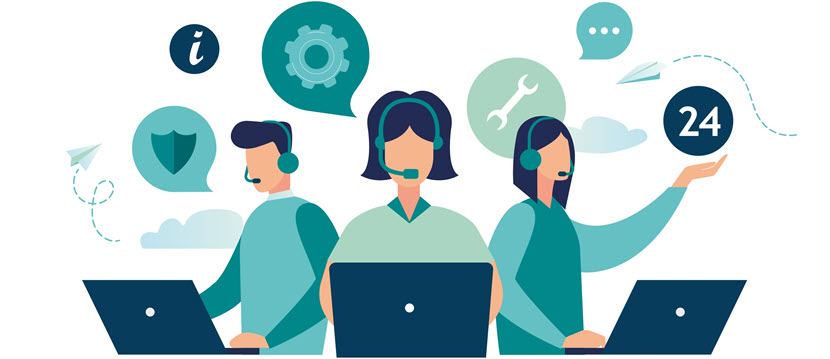 Uptime Guaranteed by SLA
Constant availability of mission-critical IT services is a priority for every organization. If you side with an MSP, the SLA you sign guarantees top availability and business continuity. Additionally, as a result of the MSP trying to meet the SLA-outlined metrics, the provider will often perform:
Checks for system updates.
Compliance and network audits.
Tech assessments.
Strategy revisions.
The best of all is that the MSP's team can work on maintenance during off-hours, so you also experience fewer workflow disruptions. You will also not fall behind in tech trends as MSPs always keep up with the latest technologies.
Better Cybersecurity and Easier Compliance
An MSP specialized in security is almost always a safer choice than setting up protections on an in-house level. Competitive MSPs have:
Access to modern infrastructure and software.
Staff with rich experience.
Technologies that most client companies do not have the expertise to use themselves (automation, artificial intelligence, machine learning, etc.).
Strict industry regulations that require them to ensure cybersecurity best practices.
An MSP that specializes in security can also help with meeting compliance obligations. For an organization in a more strict industry (finance and healthcare in particular), sharing the compliance burden with an MSP can help avoid steep fines.
Read about managed detection and response (MDR), one of the most popular managed IT services in which the MSP is responsible for network monitoring and removing discovered threats.
How to Choose a Managed IT Services Provider?
While managed IT services can lead to many benefits, you have to know how to choose the right provider. Here are some tips and considerations:
Demand a clearly defined SLA: The service-level agreement dictates how the partnership will unfold, so always choose a provider that offers a transparent SLA. The contract should include all major KPIs and expected performance metrics.
Look for providers with a good track record: Always verify the vendor's track record before siding with anyone. Look for use cases that match your own needs and check how good a fit the MSP is with other organizations in your industry.
Assess current IT systems: Before looking at potential MSPs, you should clearly understand your IT needs. A thorough analysis of existing infrastructure, resources, workflows, and expenses is the first step to finding an MSP that can meet all requirements.
Consider in-house alternatives: You should weigh whether managed services make sense in the long run. Keeping tasks and operations in-house is sometimes a smarter choice (typically due to compliance obligations or data privacy concerns).
Take scalability into consideration: Pay attention to the capacity of the service(s) when assessing a potential vendor. Ideally, the MSP should be able to scale alongside your needs for bandwidth and service hours. Otherwise, you risk the provider becoming a bottleneck down the line.
Request an audit of your current systems: Once you narrow the list down to a few MSPs, request each provider to perform an audit of your systems. These analyses help determine if the MSP truly has the staff and experience to manage your assets.
Our article on data center selection offers actionable tips for choosing the right vendor and takes you through all you need to know when looking at candidates.
How Much Should I Pay for Managed IT Services?
The price of a managed IT service depends on several factors, such as:
Your choice of provider.
The geographical area of your operations.
What services you decide to offload.
The size of your organization.
Your existing tech stack.
Overall, the cost of hiring an MSP can be anywhere between $50 to $1000 per month, even more for advanced use cases. Most MSPs prefer to give quotes after learning more about your use case, so do not expect instant offers from most providers.
There are five standard pricing models when hiring an MSP:
Flat rate: A single fee paid for the entire service, usually charged monthly, quarterly, or yearly.
Pay-as-you-go: You pick and choose what services you need as you go and later pay the bill based on what and how many resources you used.
By device: A flat fee for each device you want to include in the service.
By user: You pay a flat fee for each user included in the service.
Hourly: A fee for every hour you use the service.
Remember that most providers will allow you to use a mix of several pricing models. Also, remember that most services can function with at least two of the five billing methods listed above.
From an accounting and tax perspective, one of the most beneficial aspects of managed IT services is the shift from capital to operational expenses. Learn how companies capitalize on that switch in our CapEx vs OpEx article.
The Managed IT Services Market Is Going Nowhere but Up
Experts predict that the managed IT services market will skyrocket to $274 billion by 2026. That number clearly shows MSPs offer a lot of value, so start considering the impact offloading tasks can have on your business. Otherwise, you risk trailing behind competitors with a more modern approach to operations.