The adoption of cloud technologies has made setting up and managing large numbers of servers for business and application needs quite convenient. Organizations opt for high amounts of servers to satisfy load balancing needs and also to cater to situations like disaster recovery.
Given these trends, server monitoring tools have become extremely important. While there are many types of server management tools, they cater to different aspects of monitoring servers. We looked at 18 of the best software tools for monitoring servers in this article.
Best Monitoring Tools for Servers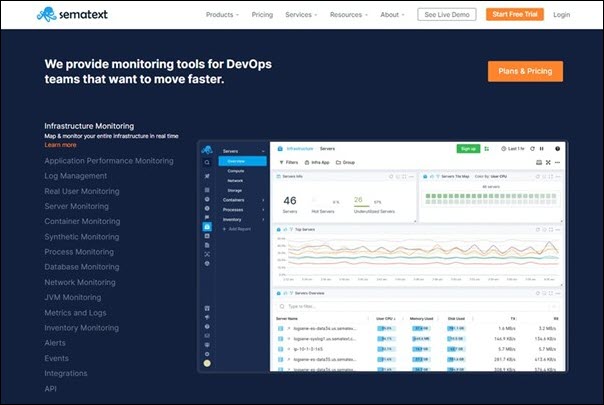 Sematext is a cloud monitoring tool that offers a complete suite of solutions for infrastructure and application performance monitoring, log management, synthetic monitoring, and real user monitoring that provides real-time observability for the entire technology stack. Over 10,000 organizations depend on it, including some of the world's largest companies.
Sematext provides full-stack infrastructure monitoring solutions that provide visibility into both on-premise and cloud deployments. It allows users to see the health of the infrastructure by providing information on applications, servers, containers, processes, databases and much more.
Sematext helps identify the root cause of infrastructure issues, troubleshoot and debug faster and ensure peak performance across the entire stack using fully customizable monitors and alerts.
Users can map and monitor their full infrastructure in real-time using the lightweight agent that can be installed on bare metal, VMs, and Docker. This allows to take full advantage of the dozens of cloud-ready integrations that provide a clear understanding of what's happening under the hood.
Sematext is not free of charge, but the pricing is very reasonable. We recommend taking a look at the 14-day free trial (no credit card required).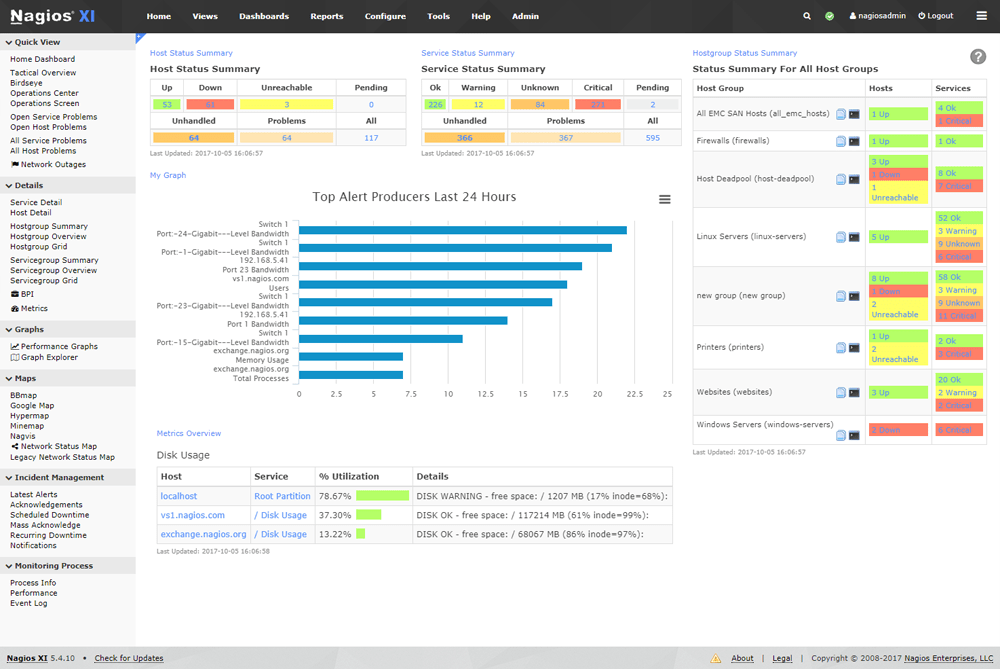 A list of tools server monitoring software, would not be complete without Nagios. It's a reliable tool to monitor server health. This Linux based monitoring system provides real-time monitoring of operating systems, applications, infrastructure performance monitoring, and systems metrics.
A variety of third-party plugins makes Nagios XI able to monitor all types of in-house applications. Nagios is equipped with a robust monitoring engine and an updated web interface to facilitate excellent monitoring capabilities through visualizations such as graphs.
Getting a central view of your server and network operations is the main benefit of Nagios. Nagios Core is available as a free monitoring system. Nagios XI comes recommended due to its advanced monitoring, reporting, and configuration options.
WhatsUp Gold is a well-established monitoring tool for Windows servers. Due to its robust layer 2/3 discovery capabilities, WhatsUp Gold can create detailed interactive maps of the entire networked infrastructure. It can monitor web servers, applications, virtual machines, and traffic flow across Windows, Java, and LAMP environments.
It provides real-time alerts via email and SMS in addition to the monitoring and management capabilities offered in the integrated mobile application. The integrated REST API's features include capabilities such as integrating monitoring data with other applications and automating many tasks.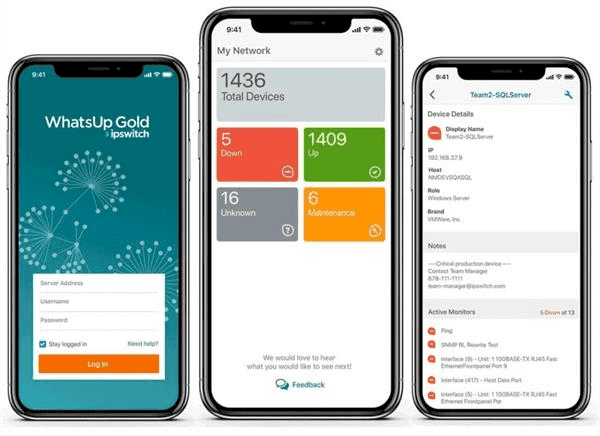 WhatsUp Gold provides specific monitoring solutions for AWS, Azure, and SQL Server environments. These integrate with native interfaces and collect data regarding availability, cost, and many other environment-specific metrics.
Zabbix is a free and open-source Linux server monitoring tool. It is an enterprise-level monitoring solution and facilitates monitoring servers, networks, cloud services, applications, and services. One of its most significant advantages is the ability to configure directly from the web interface, rather than having to manage text files like on some other tools like Nagios.
Zabbix provides a multitude of metrics like CPU usage, free disk space, CPU temperature, fan state, and network status in its network management software. Also, it provides ready-made templates for popular servers like HP, IBM, Lenovo, Dell, and operating systems such as Linux, Ubuntu, and Solaris.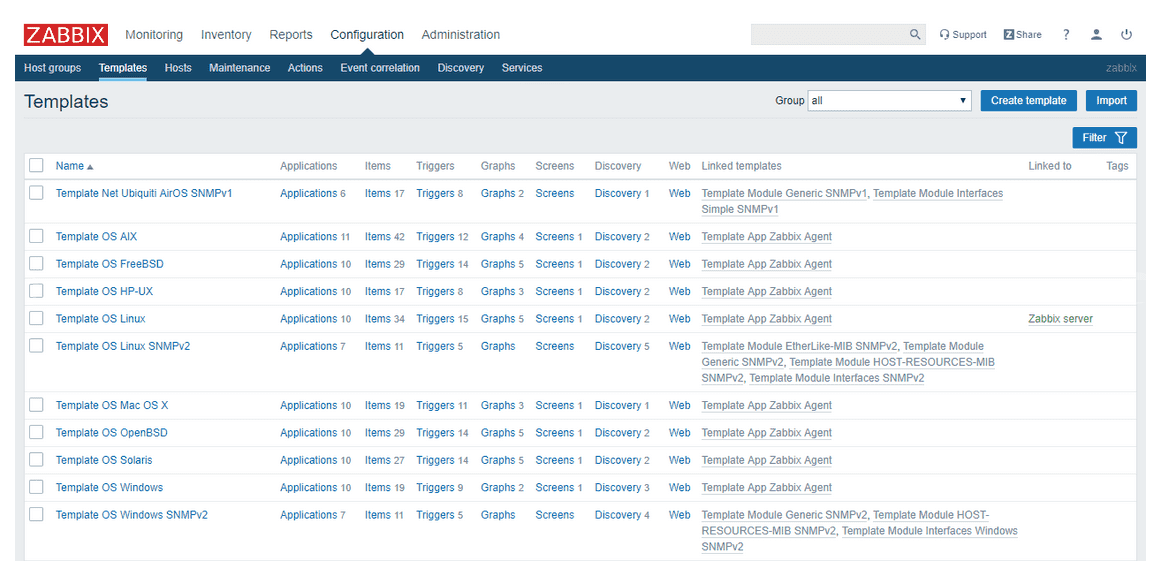 The monitoring capabilities of Zabbix are enhanced even more through the possibility of setting complex triggers and dependencies for data collection and alerting.
Datadog is a consolidated monitoring platform for your servers, applications, and stacks. Named a leader in intelligent application and server monitoring in 2019 by Forrester Wave, Datadog boasts of a centralized dashboard that brings many metrics together.
Datadog's monitoring features include those required for servers and into the realm of source control and bug tracking as well. It also facilitates many metrics, such as traffic by source and containers in cloud-native environments. Notifications are available by email, Slack, and many other channels.
Mapping dependencies and application architecture across teams has allowed users of Datadog to build a complete understanding of how applications and data flow work across large environments.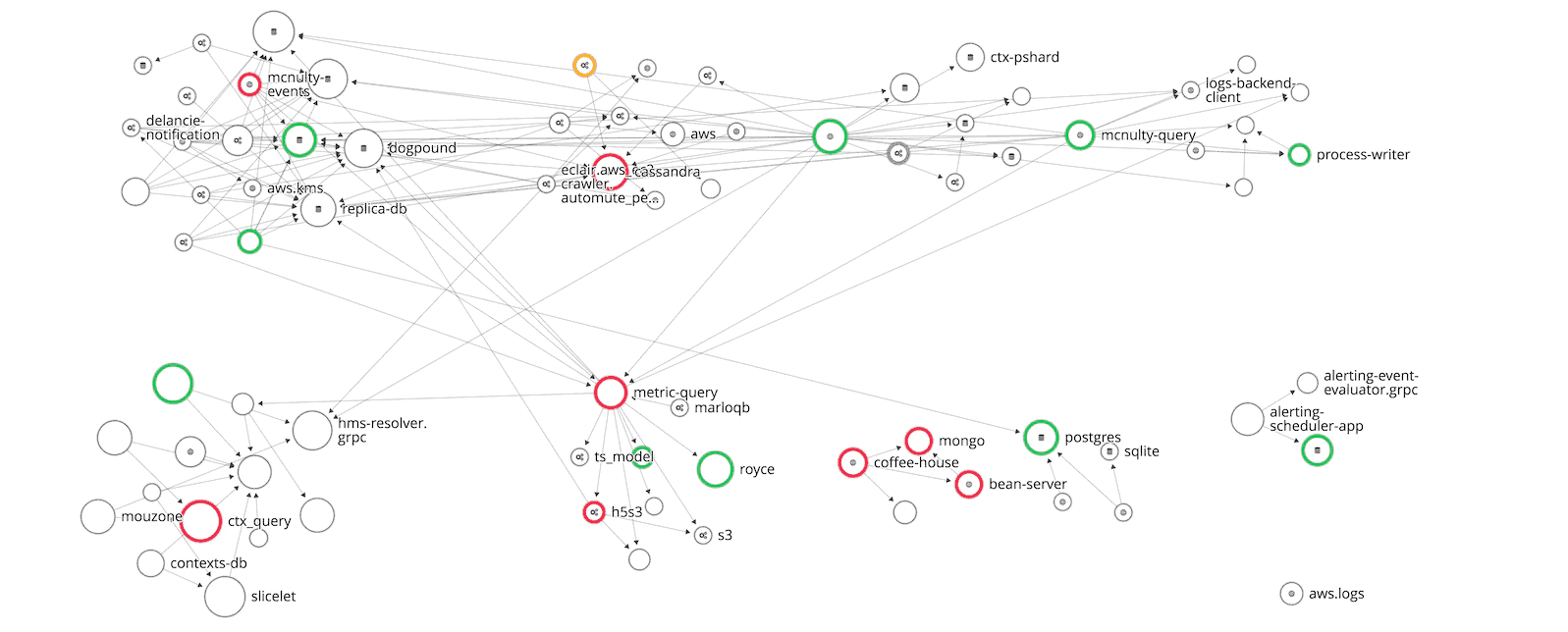 SolarWinds monitors your server infrastructure, applications, databases, and security. Its Systems Management Software provides monitoring solutions for servers, virtualization, disk space, server configurations, and backups.
The main advantage here is that SolarWinds Server and Application Monitor allows getting started within minutes thanks to their vast number of (1,200+) pre-defined templates for many types of servers and cloud services. These templates can quickly be customized to suit virtually any kind of setup.
SolarWinds application monitoring boasts a comprehensive system for virtual servers across on-premise, cloud, and hybrid environments to overcome VM Sprawl and having to switch to different tools. Tools are available for capacity planning, event monitoring, and data analysis with alerts and dashboards.
Paessler Router Traffic Grapher is a server management software that uses SNMP, Packet Sniffing, and Netflow. PRTG caters to both Windows servers and Linux environments. A wide range of server monitoring software applications is available for services, network, cloud, databases, and applications.
The PTRG server monitoring solution caters to web servers, database servers, mail, and virtual servers. Cloud monitoring is the strong suit of PTRG, providing a centralized monitoring system for all types of IAAS / SAAS / PAAS solutions such as Amazon, Docker, and Azure.
PTRG monitors firewalls and IPs to ensure inbound and outbound traffic. It will provide regular updates regarding firewall status and automatic notifications through the integrated web and mobile applications continually monitoring your network security.

OpenNMS is a fully open-source server monitoring solution published under the AGPLv3 license. It is built for scalability and can monitor millions of devices from a single instance.
It has a flexible and extensible architecture that supports extending service polling and performance data collection frameworks. OpenNMS is supported both by a large community and commercially by the OpenNMS group.
OpenNMS brings together the monitoring of many types of servers and environments by normalizing specific messages and disseminating them through a powerful REST API. Notifications are available via email, Slack, Jabber, Tweets, and the Java native notification strategy API. OpenNMS also provides ticketing integrations to RT, JIRA, OTRS, and many others.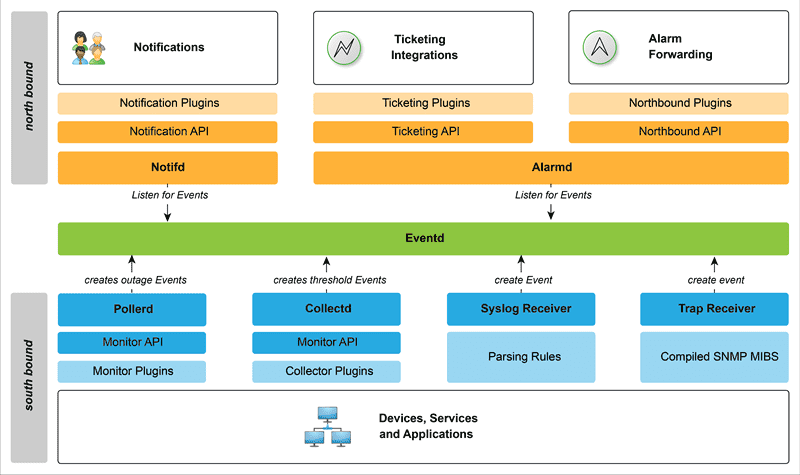 Retrace includes robust monitoring capabilities and is highly scalable. It is recommended for new teams without much experience as it provides smart defaults based on your environment. This program gives you a headstart in monitoring servers and applications.
It monitors application performance, error tracking, log management, and application metrics. Retrace notifies relevant users via SMS, email, and Slack alerts based on multiple monitoring thresholds and notifications groups.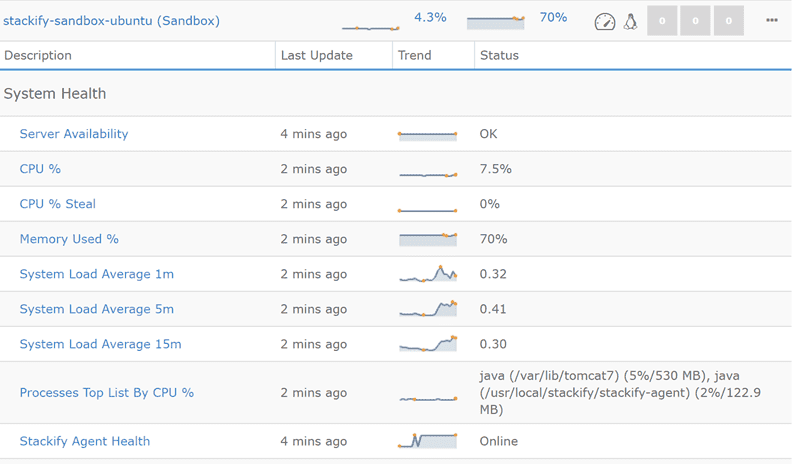 Custom dashboards allow Retrace to provide both holistic and granular data regarding server health. These dashboard widgets collect data on CPU usage, disk space, network utilization, and uptime. Retrace supports both Windows servers as well as Linux.
Spiceworks is a simplified free server monitoring software for server and network monitoring. The connectivity dashboard can be set up on any server in minutes, and after application URL configuration, monitoring can begin immediately.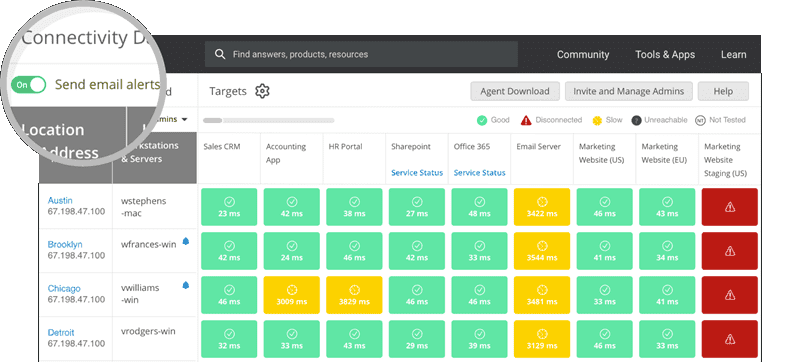 You will be able to receive real-time insights regarding slow network connections and overloaded applications, both on-premise as well as on the cloud. You will be able to fix issues before they become problematic. One disadvantage is that there is no proper mechanism for notifications. Spiceworks has promised a solution to this soon through email alerts for server and application events.
The monitoring solution is fully integrated with the Spiceworks IT management cloud tools suite and also provides free support through online chat and phone.
An open-source tool for server and network monitoring from VMware, vRealize Hyperic provides monitoring solutions for a wide range of operating systems. Including middleware and applications in both physical and virtual environments.
Infrastructure and OS application monitoring tools allow users to understand availability, utilization, events, and changes across every layer of your virtualization stack, from the vSphere hypervisor to guest OSs.
Middleware monitors collect data of thousands of metrics useful for application performance monitoring. The vRealize Operations Manager application provides centralized monitoring for infrastructure, middleware, and applications.
Icinga has a simple set of goals, monitor availability, provide access to relevant data, and raise alerts to keep users informed promptly. The integrated monitoring engine is capable of monitoring large environments, including data centers.
The fast web interface gives you access to all relevant data. Users will be able to build custom views by grouping and filtering individual elements and combining them in custom dashboards. This setup allows you to take quick action to resolve any issues it's identified.
Notifications arrive via email, SMS, and integrated web and mobile applications. Icinga is fully integrated with VMware environments and fetches data about hosts, virtual servers, databases, and many other metrics and displays them on a clean dashboard.
Instrumental is a clean and intuitive application that monitors your server and applications. It provides monitoring capabilities across many platforms such as AWS and Docker, many database types, and applications stacks such as .Net, Java, Node.js, PHP, Python, and Ruby.
In addition to the native methods available to collect data, Instrumental also integrates with many other platforms like Statiste, telegraf, and StatsD. The built-in query language allows you to transform, aggregate, and time-shift data to suit any visualization you require.
A purposefully designed dashboard interface allows viewing holistic data as well as digging deep into each server and application. Instrumental provides configurable alerts via email, SMS, and HTTP notification based on changes to metrics.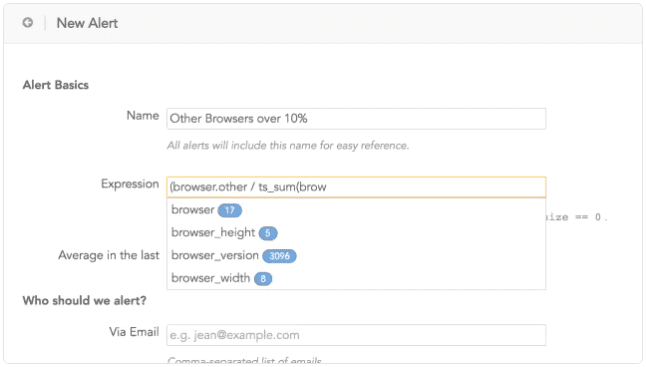 Tornimo brings real-time monitoring with unlimited scaling. It is a Graphite compatible application monitoring platform with a front end build on Grafana dashboards. It also provides support for switching from a custom Graphite deployment or many other compatible SaaS platforms in minutes.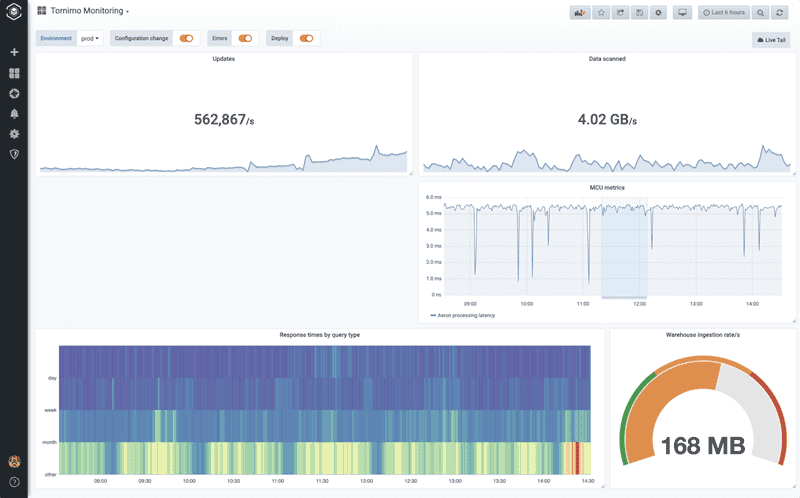 Tornimo uses a proprietary database system that allows it to handle up to a million metrics as your environment grows. Clients trust Tornimo to monitor mission-critical systems irrespective of the amount of data they need to monitor as it offers consistent response times.
A significant advantage of Tornimo over many other monitoring tools is that it does not average older data to save on storage. It allows users to leverage older data to identify anomalies with ease.
OpManager from ManageEngine is a trusted server monitoring software that has robust monitoring capabilities for all types of network nodes such as routers and switches, servers, VMs, and almost anything that has an IP.
With over 2,000 built-in server performance monitoring tools, OpManager's monitoring tools for servers cater to both physical and virtual servers with multi-level thresholds and instant alerts. It provides customizable dashboards to monitor your network at a glance.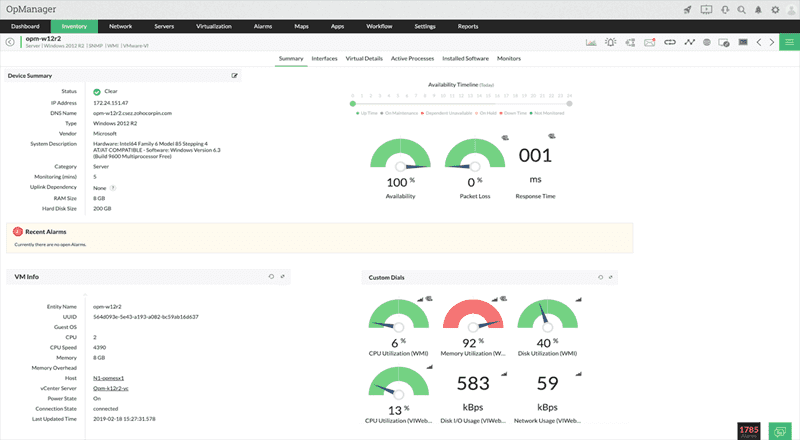 As a server monitoring solution for Windows, Linux, Solaris, and Unix, OpManager supports system health monitoring and process monitoring through SNMP and WMI for many platforms such as VMware, Hyper-V, and Citrix XenServer.
The server management tools from Sciencelogic allow you to monitor all your server and network resources based on their configurations, performance, utilization, and capacity spanning across a multitude of vendors and server technologies.
Supported platforms include cloud services such as AWS, Azure, Google Cloud, and OpenStack. Sciencelogic also supports Hypervisors like VMware, Hyper-V, Xen, and KVM as well as containers like Docker. In terms of operating systems, it supports Windows, Unix, and Linux.
Sciencelogic's custom dashboards allow monitoring through ready-made or custom monitoring policies, using health checks and ticket queues associated with pre-defined events. It uses advanced API connectivity to merge with cloud services and provide accurate data for monitoring.
Panopta facilitates server and network monitoring for on-premise, cloud, and hybrid servers. Panopta provides a unified view across all your server environments through server agents and native cloud platform integrations.
A comprehensive library of out-of-the-box metrics makes setting up Panopta quick and convenient. You can configure these via reporting features and customizable dashboards for a clear, holistic view. It avoids alert fatigue and false positives by filtering through accurate and actionable information.
CounterMeasures is a tool offered by Panopta to configure pre-defined remedial actions to resolve recurring issues as they are detected. Panopta's SaaS-delivered monitoring platform allows organizations to have a single point for monitoring all its infrastructure without any additional equipment or worrying about which OS they use and licenses.
Monitis is a simplified monitoring tool for servers, applications, and more with a simple sign-up process and no software to be set up. A unified dashboard provides data on uptime and response time, server health, and many other custom metrics.
Instant alerts are supported via email, SMS, Twitter, and phone when any of the pre-defined triggers are activated. Monitis supports alerts even when your network is down. It also provides an API for additional monitoring needs so that users can import metrics and data to external applications.
Monitis provides monitoring capabilities along with reporting that users can share. Users can access these features through both the web interface as well as the integrated mobile applications.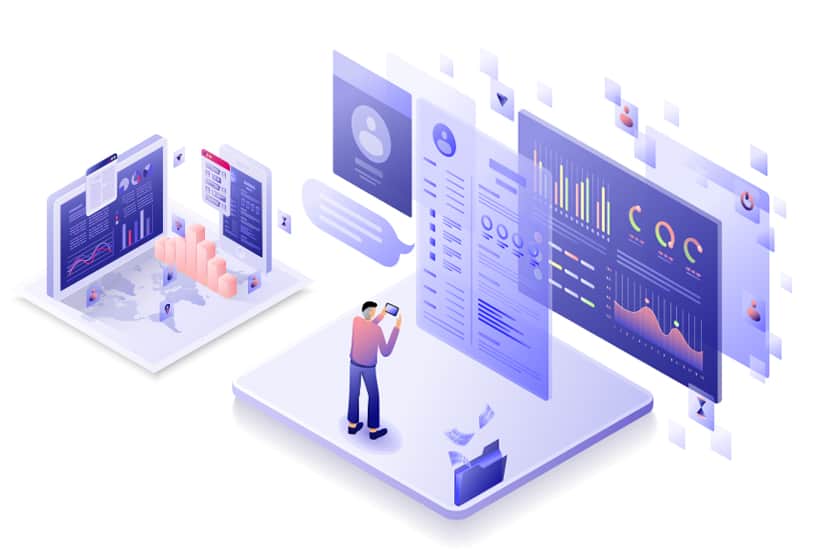 Choosing Server Monitoring Software
The top server monitoring tools we listed have one goal in common – to monitor the uptime and health of your servers and applications. Most of these tools offer free trials or free versions with limited functionality, so make sure to try them out before selecting the best server monitoring tool for your servers.
Looking for application performance monitoring tools, then read our guide on the 7 Best Website Speed and Performance Testing Tools.
If you would like to learn more, bookmark our blog and follow the latest developments on servers, container technology, and many other cloud-related topics.