Singapore Data Center
Overcome the barriers to global success. Expand your global footprint with a strategic point of presence in the Asia-Pacific region.
CONTACT US
Why Build a World-Class Infrastructure in Singapore
As a central network hub in the Asia-Pacific region and the world's second best country for doing business*, Singapore is a strategic data center location. Setting up an IT infrastructure in the region helps you reach one of the most proliferous digital market in the world.

Guaranteed 100% Network Uptime
Superior network performance keeps your critical data and applications available 24/7. Experience always-on availability.

Strategic Disaster-Free Location
Purpose-built in a risk-free area, phoenixNAP's Singapore data center is a safe and stable location for your IT infrastructure.

2Tbps Global Backbone Capacity
The unified network backbone provides fast and reliable connectivity between Asia-Pacific and the rest of the world.
What Singapore Offers to Global Businesses
The Asia Pacific (APAC) region is estimated to currently make up 50% of the world's online population and is one of the fastest growing online economies. Analyst reports estimate that 600 million people in the Asia-Pacific will become mobile subscribers by 2020, which is a 24% increase compared to today. Such a growth trend will also bring further increases in demand for online services, as well as more sophisticated expectations in terms of experiences delivered.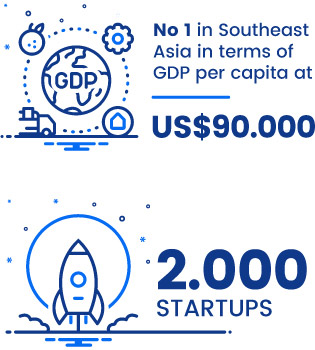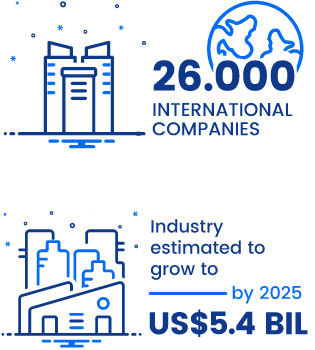 The ballooning digital economy is one of the main factors attracting global businesses to the region, with Singapore emerging as one of its administrative, cultural, and economic centers. The numerous incentives for starting a business in Singapore are enabling local and international entrepreneurs to easily incorporate a business and develop it globally. The national schemes such as Research Incentive Scheme for Companies (RISC), Productivity Grant (PG), as well as different tax incentives including Pioneer Certificate Incentive (PC) & Development and Expansion Incentive (DEI) are just some of the factors contributing to massive business growth.
In addition to this, Singapore is providing quality workforce with strong educational background, particularly in the fields such as IT, business, and finance. The startup-friendly ecosystem and excellent connectivity options are additional incentives for setting up offices or infrastructure in the city.
* According to A World Bank Group Flagship Report Doing Business 2018 * According to The Mobile Economy Asia Pacific 2018 report by GSMA
Power up your business with first-class data center services.
Exceptional Connectivity. World-Class Infrastructure.
Positioned in the vicinity of the city center and all major internet exchange points, phoenixNAP's Singapore data center provides you with Tier 1 connectivity. With local access to a portfolio of our Infrastructure-as-a-Service (IaaS) solutions, you can quickly expand your reach and influence in the region.
phoenixNAP's Singapore data center is a world-class facility offering premier dedicated server, colocation, cloud, backup, and disaster recovery solutions. With direct connectivity to all major regional and international fiber routes, the building provides uninterrupted and secure traffic flow.
Features, Facts, and Figures


All tenants can leverage phoenixNAP's 2 Tbps global backbone capacity and access advanced hardware on-demand. The facility meets the highest compliance and security standards and includes an expansive list of bandwidth and telecom carriers to support your data transfer demands.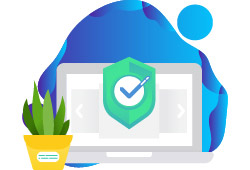 Compliance and Security
phoenixNAP's Singapore facility is SOC 1 and SOC 2 compliant. It is also HIPAA-ready and PCI DSS compliant, offering a secure platform for healthcare institutions, as well as financial services and e-commerce companies.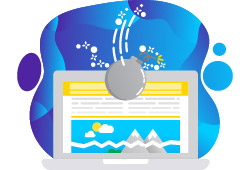 DDoS Protection
All phoenixNAP's solutions come with phoenixNAP DDoS Protect™. The feature includes 20 Gbps of DDoS protection, as well as protection against UDP, TCP, and ICMP-based attacks. The comprehensive security systems protect your entire server, so you do not have to worry about your network safety.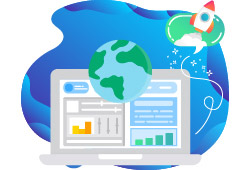 Comprehensive Carrier Choice
Access a premier carrier hotel with dozens of critical SD-WAN and telco carriers. Through phoenixNAP, you can leverage any major telecom and bandwidth provider in Singapore and beyond to ensure seamless service delivery.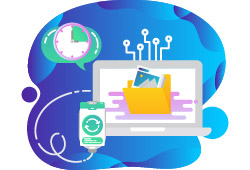 Speed and Transfer
phoenixNAP's Asia-Pacific location provides a 2 Tbps global network backbone capacity and direct access to major fiber routes in the region. Enjoy the low-latency solutions. Provide your customers with seamless and uninterrupted access to your services and products.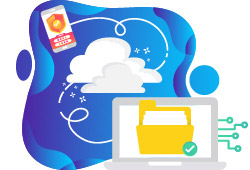 Superior Reliability
All phoenixNAP facilities are purpose-built and have redundant systems in place to provide 100% network uptime. The Tier III operational standards and industry-leading network technologies enable phoenixNAP to provide always-on availability and resilience.
Right-size solutions for your needs.
Services Available
Complementing phoenixNAP's global platform, the Singapore data center expands the availability of phoenixNAP's cloud, backup, disaster recovery, and managed hosting services. In addition to dedicated servers, hardware-as-a-service, and colocation solutions, we can provide you with any additional professional services.
Data Center Solutions
---
Colocation+
Bare metal-as-a-Service
Hardware-as-a-Service
Availability Services
---
Backup-as-a-Service
Disaster-Recovery-as-a-Service (DRaaS)
Object Storage (S3 compatible)-as-a-Service
Cloud Solutions
---
Data Security Cloud
Virtual Private Data Center
Managed Private Cloud
Set up a world-class architecture with global reach. Leverage phoenixNAP's expertise and support to improve your day-to-day operations and your bottom line.
Get in touch with our business solution experts in Singapore for more details about service capabilities and pricing.
CONTACT US TODAY
Driven to support your strategic and operational requirements.
Why Choose phoenixNAP
Opening its Singapore location in 2017, phoenixNAP expanded its ability to support and drive the technology evolution. The Southeast Asia data center is available to companies looking for trusted and reliable dedicated servers, colocation solutions, as well as public or hybrid cloud services. With a portfolio of additional management services, phoenixNAP supports more than just your technical needs.
100% availability is delivered through comprehensive data backup and replication systems.
Global data center footprint gives you organizational and international value.
Mix and match options, including a full infrastructure-as-a-Service (laaS) portfolio.
Complete scalability makes phoenixNAP an excellent solution for business of any size.
Migration services are available with each purchase or upgrade.
Exceptional business value is provided on an opex-based model.
Enterprise-level performance from hardware, software, and people gives you a competitive advantage.
Advanced capabilities through cutting-edge data center operations and technologies.

Get Closer to Your Customers
phoenixNAP's strategically located Tier III data centers empower mid- to enterprise-size businesses and specialized IT service providers to reach global customers. Leverage 550+ Gbps of premium blend connectivity to minimize latency at every hop. Enjoy the best speeds and secure delivery of your content and data.

Global Reach with Local Access to Cloud Engineers
Count on the phoenixNAP support to act fast and with accuracy any time you need help with your account or hardware. Our team goes beyond just supporting your technical needs. We work with you to ensure your business requirements are covered from all angles.

Operating System Support
phoenixNAP offers a wide selection of operating systems (OS) to match your business and technology needs. You can access most of them at no additional cost. Simply select an OS during our automated order process and we will deploy your software at your command.
Commence your journey from a hybrid IT to a fully digitized, automated, and transformed cloud setup. phoenixNAP offers you customized solutions that match your exact needs.
Whether it is a single processor server for your test deployments or a full-featured private cloud platform, phoenixNAP can help you set it up cost-effectively. Contact us today for more details about the available solutions and pricing plans.