Regardless of whether you rely on a single cloud provider or have a multi or hybrid cloud, you are likely spending money on resources that you are not using. Businesses typically have a lot of resource waste, and many decision-makers opt to use a cost management tool to prevent this unnecessary overhead.
This article evaluates and compares the best cloud cost management tools on the market. We showcase the pros and cons of each platform to help you identify the right option for your business.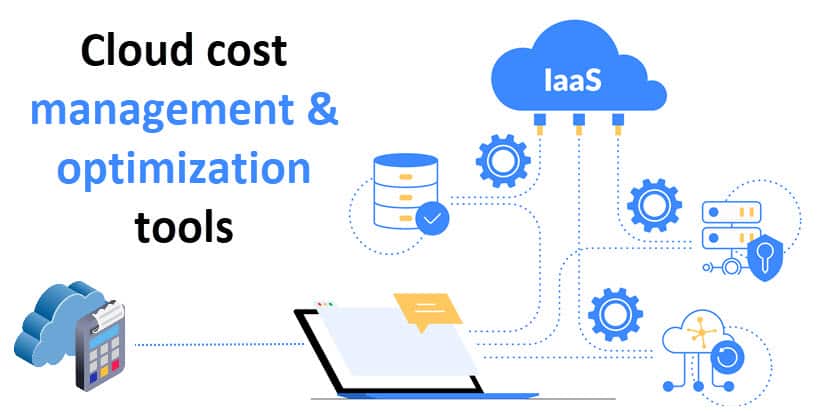 Best Cloud Cost Management Software and Tools
Cloud cost management and optimization tools allow companies to capitalize on cloud computing without wasting money. These tools help prevent all common contributors to higher-than-necessary cloud bills:
Unused instances.
Incorrect instance sizing.
Unallocated or "zombie" resources.
Orphan snapshots.
Unattached persistent volumes.
While each platform has unique features, every cost management tool helps a business by:
Providing insight into cloud utilization.
Keeping monthly bills in check.
Reducing management overhead.
Precisely forecasting expenses and allocating costs.
Below is the analysis of the 14 best cloud cost management and optimization tools currently available to your company.
Read about the benefits of cloud computing and see why you should set up a cloud environment despite occasionally unpredictable billing.
1. GCP Billing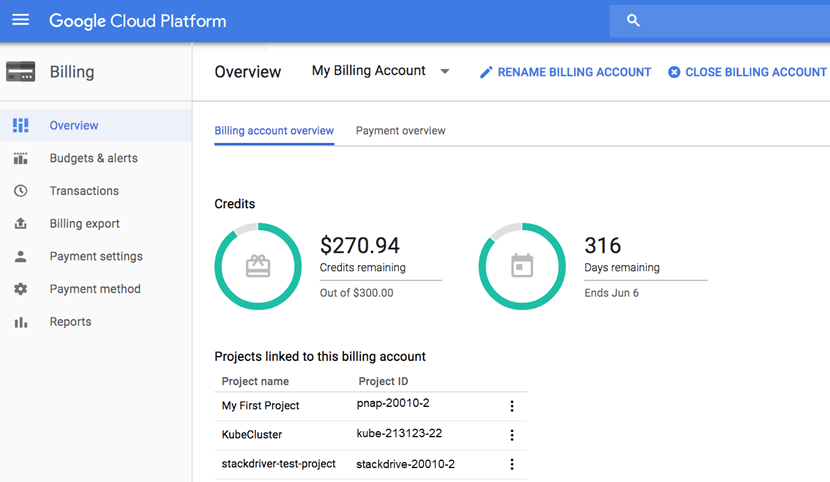 GCP Billing is the built-in tool of the Google Cloud Platform. This platform helps users understand their GCP cloud bill via:
Regular reporting.
Spending analysis.
Recommendations on how to prevent overpaying.
Budgeting alerts.
GCP Billing is a solid option for companies that use Google Cloud and require a high-level overview of costs and saving opportunities across whole cloud infrastructures. For businesses with larger projects and teams, GCP Billing falls short due to a lack of granularity and advanced capabilities.
Pros
Offers a high-level overview of cloud spending.
Actionable advice on how to control the budget.
A good mix of basic features ideal for companies with simple cost structures.
An API that allows users to access data via their analytics tool of choice.
Free to use for GCP customers.
Cons
The team must practice good tag hygiene to achieve granular cost visibility.
No overview of idle or unallocated resource costs.
The tool does not analyze costs outside of GCP.
Limited capabilities make GCP Billing a poor choice for optimizing complex hybrid cloud solutions or container costs.
2. CloudAdmin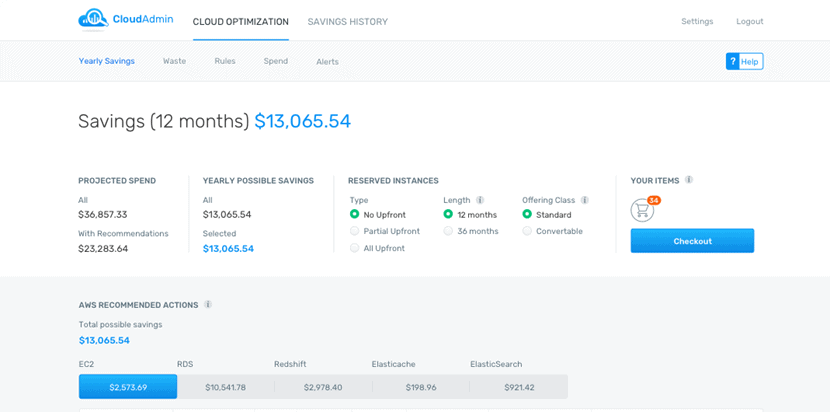 CloudAdmin is a SaaS-based platform that identifies public cloud overspend for companies of all sizes. The tool takes 3 minutes to sign up and includes a 14-day free trial. CloudAdmin offers real-time visibility into cloud resources and helps companies optimize both single and multi-cloud environments.
CloudAdmin's intuitive UI allows a decision-maker to quickly and easily browse through:
Company cloud spending and thresholds.
Server data points.
Budget-saving advice provided by the platform.
The tool also has a robust notification system. You can set CloudAdmin up to constantly monitor for better pricing options and set up custom alerts that notify you when the team runs into unnecessary spending. The notification system is active 24/7, so expect constant monitoring for potential issues and saving opportunities.
CloudAdmin is an excellent cost optimization tool for any company that relies on a public cloud regardless of industry.
Pros
A 3-minute sign-up process.
A 14-day free trial.
Real-time visibility into cloud spending.
Actionable, easy-to-understand recommendations for optimal cloud usage.
Hourly environment snapshots.
A custom notification system.
An alert system that notifies about better pricing options.
An intuitive user interface that requires no staff training.
A lightweight tool with an easy setup and full onboarding support.
3. AWS Cost Explorer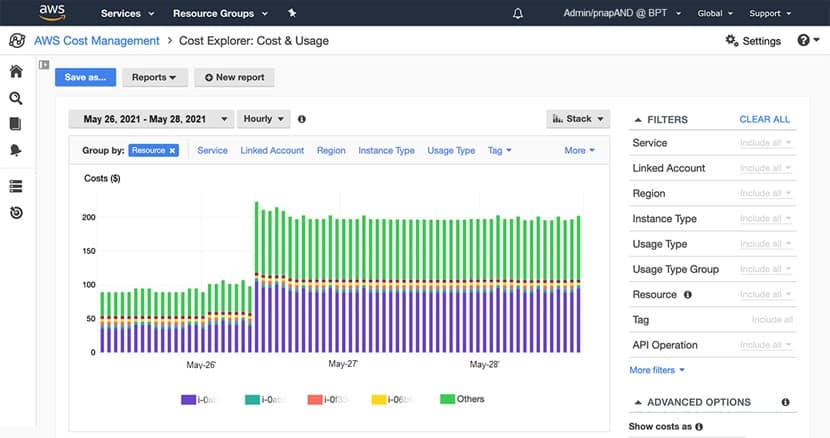 AWS Cost Explorer is the built-in tool offered by Amazon Web Services. This platform allows AWS users to examine and understand their cloud usage costs. AWS CE helps companies analyze data at a high level (for example, total costs or usage across all accounts) and identify:
Spending trends.
Cost drivers.
Spending anomalies.
Like GCP Billing, AWS CE is a good starting point for a company operating at a small cloud scale. As the team grows, using AWS CE as the single source of truth becomes an operational struggle.
AWS CE is an ideal option if a business using AWS needs a high-level overview of all cloud computing costs to understand their bill and plan future budgets.
Pros
A high-level view of cloud usage.
Easy-to-use custom views and filters that help customers manage costs.
Analytic grapes and charts help visualize and understand usage.
Custom recommendations for saving opportunities.
Custom reports that analyze usage data.
Data analysis for the previous 13 months.
An API that allows users to connect their analytics tool.
Free of charge for companies already using AWS.
Cons
Lackluster UI.
Not a true proactive tool as users can only see cost reports after the fact.
No overview of idle or unallocated resource costs.
Requires good tag hygiene to provide granular cost visibility.
Only supports AWS usage, making the tool a poor choice for hybrid and multi-clouds.
4. Apptio Cloudability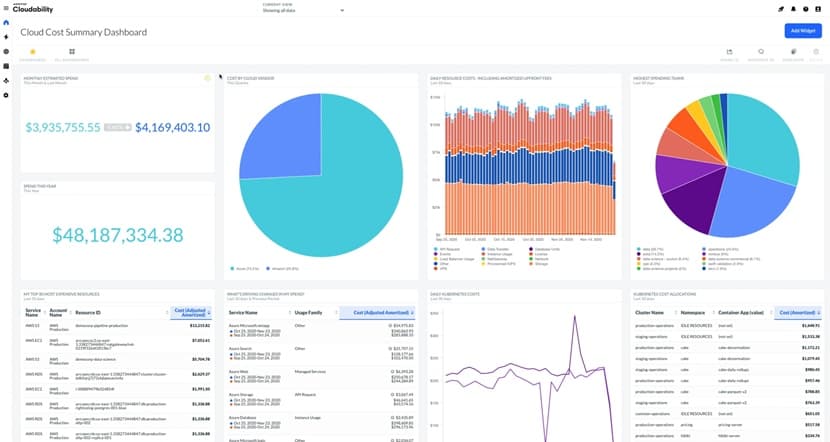 Apptio Cloudability is a flexible cost optimization platform that focuses on improving visibility into cloud spending and lowering usage. The tool offers many optimization features, such as:
Rightsizing.
Reservation purchase management.
Anomaly detection.
Highly accurate forecasting.
Cloudability helps companies organize and manage costs via various tagging options, views, mappings, dashboards, and reports. A significant feature of Apptio is that the tool allows companies to visualize their cost profile during cloud migration.
Apptio Cloudability is a well-rounded cloud cost optimization platform that provides more usage transparency than most other solutions. The tool is an excellent choice for FinOps and finance teams due to various integration options with ITFM (IT Financial Management) tools.
Pros
Various cost optimization functions.
High levels of transparency of cloud costs.
Great UI.
A complex decision-making framework that provides quality recommendations.
Insightful and customizable reporting based on tags, accounts, and resource types.
Numerous integration options with ITFM tools.
Supports multi-cloud cost visibility.
A built-in explorer that identifies missing tags across the infrastructure.
Cons
Strong support for AWS but minimal support for Azure, GCP, and on-prem stacks.
Poor object storage optimization.
Occasional bugs.
A steep learning curve.
Minimal configuration options for customizing the recommendation policies.
Costs are only visible at a daily granularity.
Price changes are not associated with engineering changes.
5. Harness Cloud Cost Management
Harness is an end-to-end cloud cost optimization tool for the modern cloud-based team. This tool emphasizes proactive savings by offering features such as:
Anomaly detection.
Precise budgeting and forecasting.
Cost thresholds and automation.
Custom alerting across different dimensions (apps, clusters, environments, etc.).
High levels of granularity provide both the context and visibility for cloud costs. Users can sort and manage cloud expenses by:
Applications.
Individual microservices.
Different environments.
Per cluster.
Deployments.
Configuration changes.
Developers also have instant feedback on how deployment, scaling, and cluster changes impact cloud consumption.
Harness is ideal for companies with multiple teams that require high control over how they use cloud resources. The tool is a popular choice for DevOps teams as users can tie cloud events and deployment changes with a built-in CD (Continuous Delivery) platform.
Pros
A proactive approach to cost optimization with high levels of control.
Provides visibility into utilized, idle, and unallocated resources.
Forecasts lead to predictable cloud costs.
A customizable recommendations system.
Accurate chargeback that requires no tagging.
A native CD platform that helps tie down cloud spending to deployment changes.
Support for various integrations.
Cons
Can be expensive depending on how you provision cloud resources.
A relatively new tool that still does not have the same polish as some competitors.
Some functionality is still missing, but developers keep adding new features regularly.
Requires a cultural shift within an organization in terms of responsibility for cloud costs.
Demands some staff training and migration efforts.
Poor documentation.
6. CloudCheckr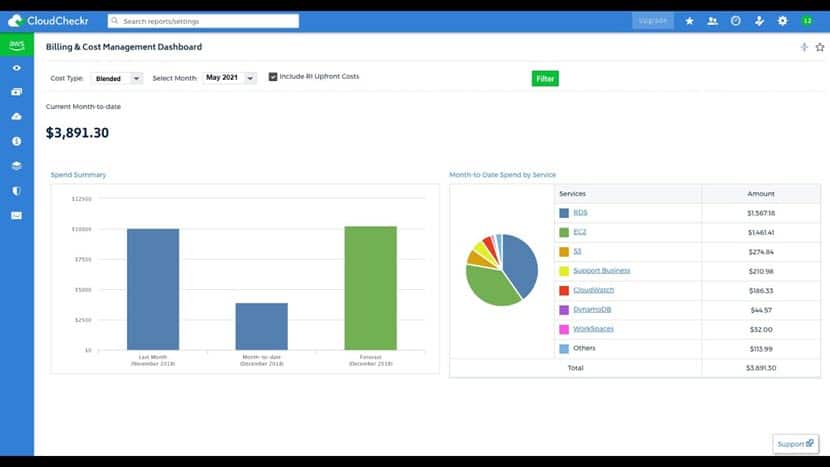 CloudCheckr focuses on cost optimization and cloud security. The platform is a SaaS offering and provides users with:
Cost tracking and optimization.
Rightsizing.
Resource inventory.
Security and compliance for public cloud platforms.
This platform provides more than 500 out-of-the-box best practices for cost and security that allow customers to get deployments under control with minimal configuration.
CloudCheckr offers strong support for reservation portfolio management. The platform provides actionable advice on how to adjust existing reservations to maximize coverage and minimize waste. The tool also has a utilization heatmap and visualization panel that help identify usage patterns and plan scheduled shutdowns.
Due to the interconnection between cost optimization and security, CloudCheckr is a good choice for companies using the cloud in high-risk industries that wish to keep the number of management tools low.
Pros
A robust security system that continuously evaluates cloud risks and threats.
Helps meet regulatory compliance in high-risk industries.
Over 500 best practices for cloud cost and security.
Strong support for reservation portfolio management.
A valuable utilization heatmap.
Advanced functionality for decommissioning old Amazon EBS snapshots.
Cons
Somewhat basic cost optimization functionality with little depth.
Policy-based management focuses primarily on reporting issues and not on solutions.
Does not offer cost optimization capability for GCP or on-premises cloud platforms.
Insufficient documentation for Azure-specific capabilities.
The recommendation feature does not expand to implementing schedules.
Occasional performance issues.
Learn how to create a cloud security policy, a company-level guideline that ensures all cloud operations run safely and efficiently.
7. Azure Cost Management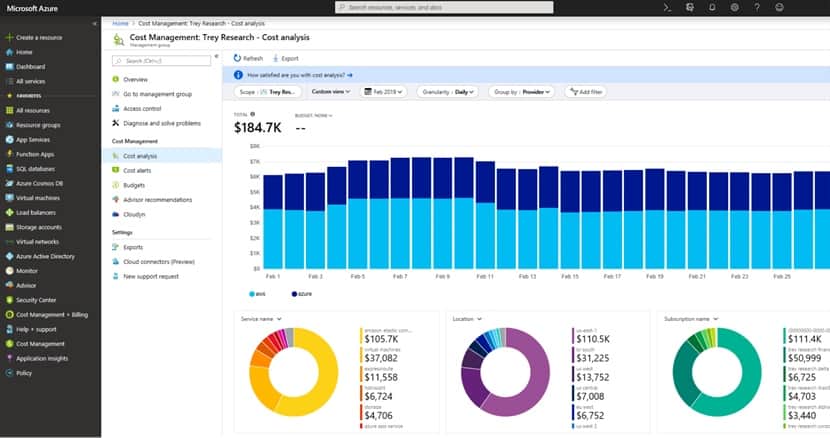 Like GCP Billing and AWS CE, Azure Cost Management is a built-in tool available to the users of the Microsoft Azure cloud. The platform helps customers understand their cloud bills and offers a high-level overview of Azure spending.
Azure Cost Management offers many integrations, so users can customize their platform and get more control over cloud usage than with other built-in tools. For example, an integration with PowerBI allows better and more detailed reporting.
This tool is ideal for smaller companies with a simple cost structure that require a high-level overview of AWS costs and saving opportunities.
Pros
Actionable recommendations for keeping usage under control.
Various integrations to power up your cost-saving efforts.
Budgeting alerts.
Free to use for Azure customers.
Cons
No visibility for idle or unallocated resources.
The team must have good tagging practices to get granular cost visibility.
Challenging to see cloud costs outside of Azure.
Only shows cost reports after the fact, so you cannot proactively influence the bill.
8. CloudHealth by VMWare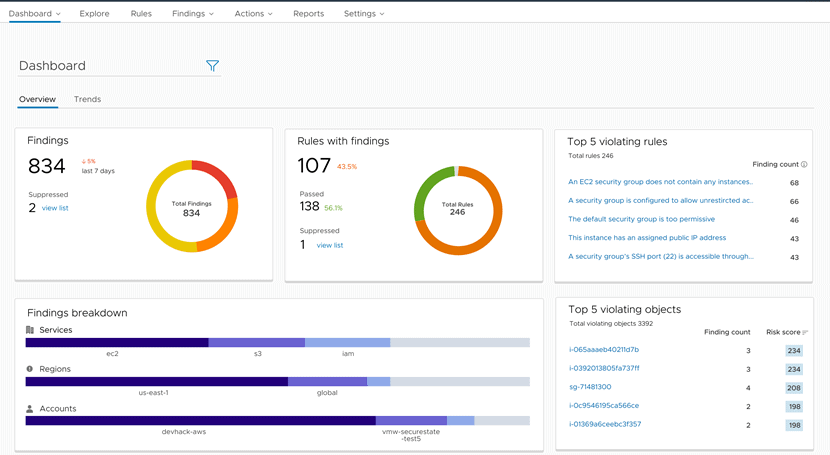 Cloudhealth is a management tool that allows customers to create a cohesive cloud strategy with:
Integrated reporting.
Policy management.
Cost reduction recommendations and savings opportunities.
Insightful analytics.
This tool has a robust rightsizing engine that provides a highly configurable policy for defining an efficiency target. CloudHealth also excels in reservation purchase and portfolio management for AWS.
VMware's CloudHealth enables resource optimization for on-prem environments thanks to an integration with vRelaize Operations. In addition to vRelaize, customers of CloudHealth can also set up and connect other tools, such as:
CloudHealth is an excellent choice for companies wishing to optimize their cloud costs while minimizing the number of vendors in their management strategy.
Pros
An intuitive, easy-to-use platform.
Excellent governance features that allow users to create and manage controls.
Quality cost savings recommendations.
Good forecasting features help companies stay within budgets.
Correlates cloud deployments with security risks.
Great reservation purchase and portfolio management for AWS.
A wide choice of integrations with other VMware tools.
Support for multi-cloud and hybrid cloud cost visibility.
Cons
Can be pricey for small businesses.
While support for AWS is excellent, the platform is less functional for Azure and GCP.
Limited options for automating optimization opportunities.
Does not allow users to change the size for storage volumes.
No resource scheduling recommendations.
Weak out-of-the-box report customization.
While the platform provides on-premises resource optimization through vRealize, the two products have separate identity management, data models, and UIs.
9. Spot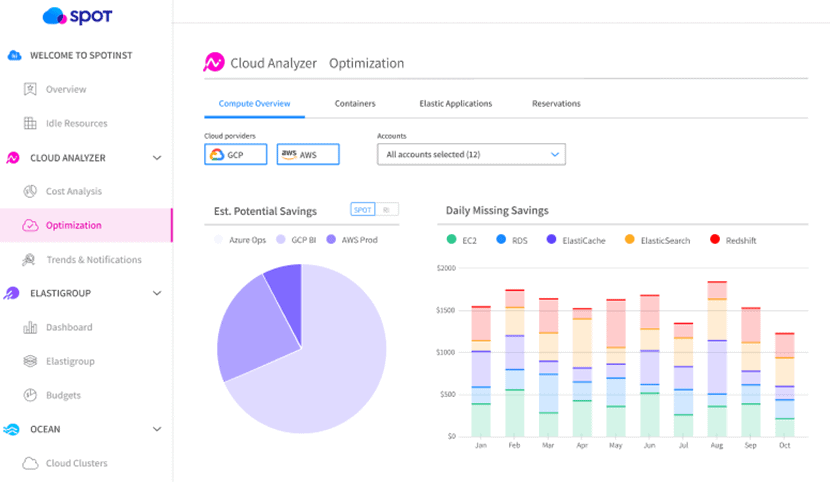 Spot is a cloud cost management tool that helps companies automate their cloud cost optimizations based on data.
Unlike some more traditional competitors, Spot does not stop at discovering saving opportunities. The platform uses automation to implement the recommendations instead of tasking the team to make necessary changes.
Spot is an ideal fit for engineering teams who know how to make the most out of the tool's automation features.
Pros
Easy and intuitive to use.
Deep automation capabilities for optimizing cloud infrastructure.
Supports multi-cloud cost visibility across AWS, GCP, and Azure.
An excellent option for managing Kubernetes clusters.
Easy-to-implement, practical recommendations.
Discovers cost trends and usage patterns.
Forecasts expenses based on historical usage data.
Fairly affordable.
Cons
Displays costs at a daily granularity only.
Allowing a third-party vendor to manage internal resources automatically is a security risk.
Does not associate changes in the price with engineering changes.
Easy to learn, but hard to master.
10. Kubecost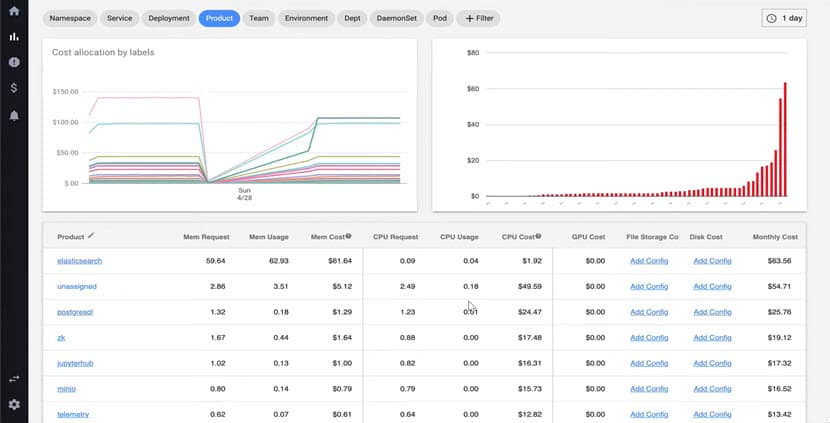 Kubecost provides visibility across an organization's Kubernetes resources. The tool helps reduce spend and prevent resource-based outages.
Kubecost focuses on identifying costs and optimization possibilities in Kubernetes. The tool does not support non-cluster costs, so engineering teams capable of using K8s are the primary users of Kubecost.
Pros
Fantastic at allocating and optimizing Kubernetes costs.
A robust toolchain for improving infrastructure and avoiding costly outages.
Real-time visibility into costs.
Cons
You need other tools to view and manage cloud costs outside of Kubernetes systems.
Displays changes in price without associating them with engineering changes.
Good Kubernetes tools help complement your K8s projects and enable you to make the most out of the popular container-orchestration system.
11. Densify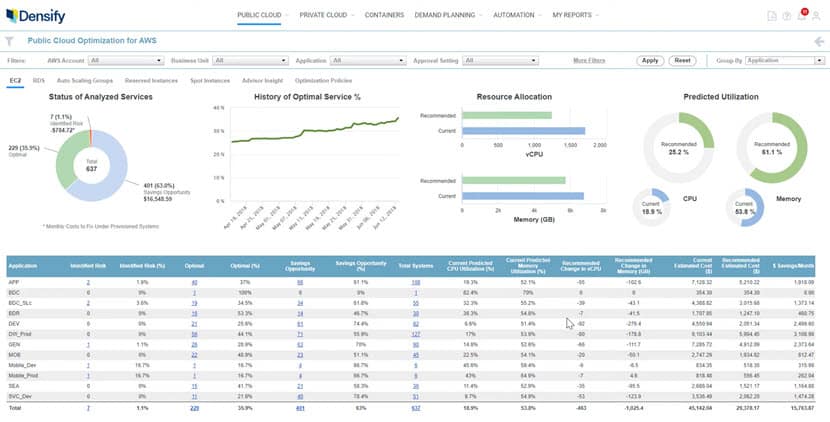 Densify helps customers manage VMware, cloud, and container infrastructure while ensuring high levels of performance. This tool allows you to take control of cost and performance through machine-learning recommendations and automation.
Densify helps save money with valuable advice, risk identification, and robust reporting capabilities. The tool analyzes CPU/Memory usage and ensures that applications use appropriate instance types.
This platform is a good option for single cloud, hybrid, and multi-cloud environments.
Pros
Excellent reporting and analytics backed by an engine with machine learning capabilities.
Various task automation features.
Robust reporting and analytics.
Single-pane-of-glass reports for all infrastructures.
Performance analysis keeps apps in good health.
Comprehensive cost optimization recommendations.
High levels of customization.
Excellent technical support.
An active and resourceful innovation forum.
Cons
Offers fewer performance metrics than most competitors.
Sluggish UI for complex environments.
May require some staff training.
12. Flexera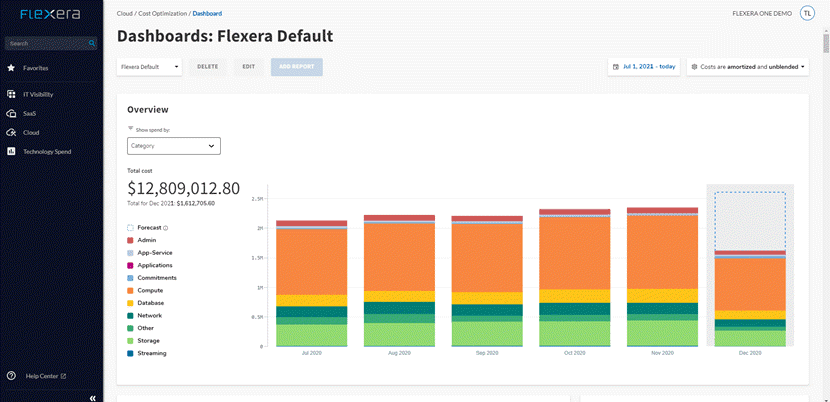 Flexera is a SaaS-based solution that helps organizations manage hybrid environments. The platform grants total visibility into complex cloud ecosystems and allows teams to transform their IT by:
Rightsizing across all platforms.
Reallocating spend.
Reducing cloud risk.
Flexera is highly programmable and provides a proprietary policy language for extending the product's functionality. This capability allows businesses to potentially support more cloud services than what the platform offers by default.
Due to the focus on hybrid clouds, this platform has excellent parity among different cloud platforms. Flexera is the only current vendor that scores "High" for AWS, Azure, and GCP support.
Pros
A proprietary policy language that allows skilled developers to extend the product's functionality.
Great parity makes the tool a go-to option for hybrid clouds.
Excellent support for AWS, Azure, and GCP.
Comprehensive and well-organized documentation.
Cons
No analysis of cost implications for most recommendations.
Only a handful of cost optimization policies.
No reservation-related recommendations as the platform retrieves policies from native cost optimization tools.
Limited out-of-the-box functionality (no rightsizing of block storage volumes or software infrastructure services).
13. Xi Beam by Nutanix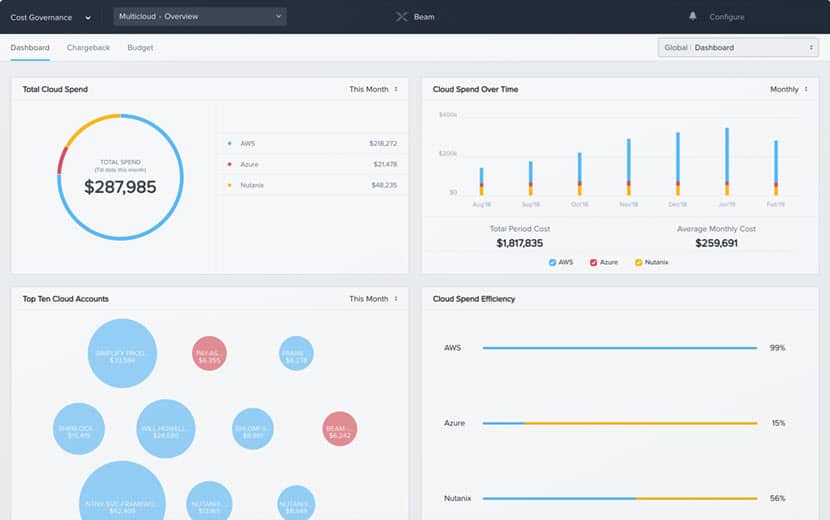 Xi Beam is a multi-cloud cost optimization service offered as part of the Nutanix Enterprise Cloud. Beam provides cost visibility across all your clouds and offers rich analytics backed by detailed consumption patterns. This platform ensures cloud savings with:
Automated scheduling tasks.
Machine-learning algorithms for detecting abnormalities.
Rightsizing cloud resources.
Multi-cloud chargeback features.
Cluster-level analysis.
Compliance features.
Xi Beam emphasizes user-friendliness and simplicity, so acting upon most recommendations is a one-click procedure. The tool also simplifies cost governance and multi-cloud management by providing unified visibility into public and private clouds.
Teams can set Xi Beam up to automatically create cloud consumption reports by various users, departments, apps, stake or budget owners, etc.
Pros
Proactive cost control backed by machine-learning algorithms.
Ensures optimal consumption thanks to automation policies that eliminate unused resources.
Automatic rightsizing for underutilized resources.
Simple implementation of the platform's advice and recommendations.
Excellent executive dashboards.
Works in any cloud and supports on-prem setups.
Customization capabilities for billing and reporting.
Cons
The interface is often hard to navigate.
Users can struggle with organizing VM folders and subfolders.
May require staff training to get the most out of the tool.
14. Turbonomic
Turbonomic achieves continuous cost optimization by matching app demand to supply. This tool can be set up both as a packaged software or as SaaS.
Know the difference between IaaS, PaaS, and SaaS to understand the different cloud offerings available to your business.
The platform's integration with ParkMyCloud provides one of the most advanced resource scheduling on the market. Resource scheduling and automation capabilities are the main focuses of Turbonomic. While the tool somewhat neglects other functionalities, the two core features are among the best in the business.
Users can automate the execution of recommendations either directly through the tool or via an integration with external orchestration tools (such as Ansible, Terraform, or Puppet).
Turbonomic does not go beyond rudimentary resource optimization, so the platform does not address broader aspects of cost management such as:
Budgeting.
Tracking.
Reporting.
If you decide to use Turbonomic, adopt additional tools to address your cloud cost management requirements.
Pros
Elite automation capabilities.
Excellent cloud resource scheduling capabilities (via ParkMyCloud).
Feature parity between public cloud platforms (AWS and Azure) and on-prem setups.
Cons
Feature parity and scheduling capabilities do not extend to GCP.
Poor overall cost optimization (no decommissioning of unused resources and weak reservation portfolio management).
How to Choose the Right Tool?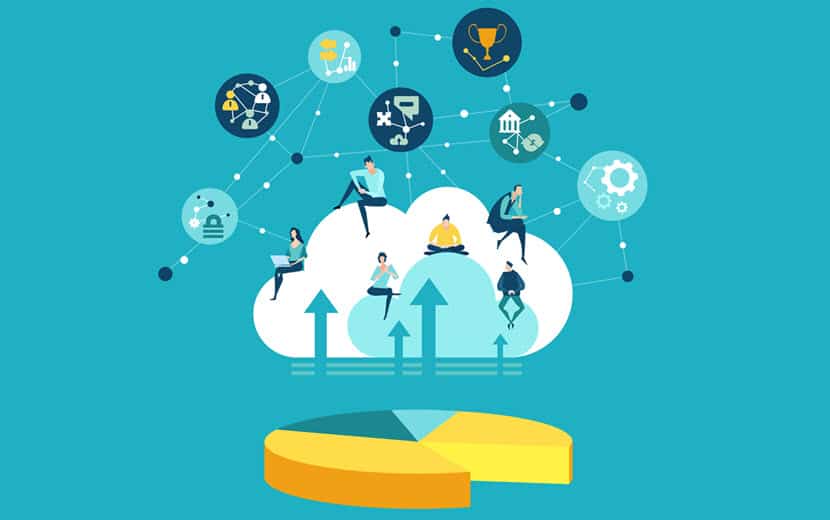 Choosing the right cloud cost optimization tool is challenging as you have many options. Cost management tools are as varied as cloud uses, so the right choice depends on company needs. Answer the following questions:
How does your team currently use cloud resources?
How complex is your cloud setup?
What are the main issues you wish to solve with a cost optimization tool?
How much integration will you need to set up the new tool?
Do you require a full management platform or a simple tool that gives more visibility across bills?
What functionalities do you need (spending forecasts, cost allocation, multi-cloud capabilities, automatic recommendations, etc.)?
How big of a cultural shift is your team ready to take?
Determine how much money you can allocate for the new platform and evaluate whether a flat fee or the pay-as-you-go model is the better option. Most companies offer packages in different price ranges, so be careful to not overspend on features you do not need. A good strategy is to start small and invest more if the tool performs well after a few months.
Most cloud cost optimization tools offer trial periods. Trials allow you to test both the third-party team and the platform before signing up with anyone long-term.
Developing an in-house cost optimization tool is not advisable due to the high complexity of such platforms. Unless you are willing to dedicate resources and time to the project, partnering with a third-party vendor is a better business decision.
To further cement and secure your cloud toolchain, consider deploying one of the market's top cloud monitoring tools.
Pick the Right Tool and Prevent End-of-Month Surprises
Cloud cost optimization tools offer insight and control that budget-aware businesses require to manage cloud setups effectively. Whether you are trying to stop excessive bills or improve long-term spending, a cloud management tool will make your life easier. For more information about Hybrid Cloud costs, make sure to read our article How to Calculate Hybrid Cloud Costs.