Cloud technology has opened up new possibilities for public, private, and hybrid clouds. Many organizations are migrating to the hybrid cloud to get the most out of cloud computing.
A hybrid cloud provides flexibility and the freedom to balance their investing needs between on-premises cloud technologies and off-premises public cloud services instead of choosing either-or.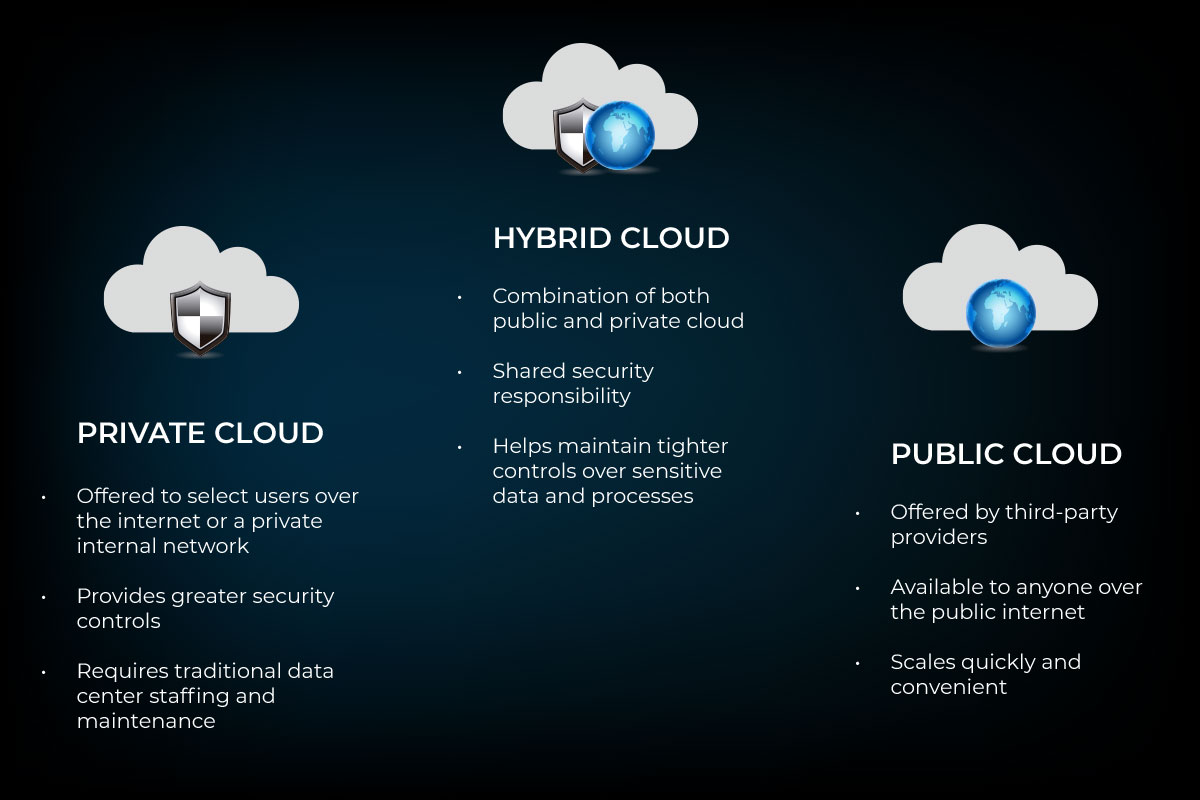 What is Hybrid Cloud?
Hybrid cloud infrastructure is an IT architecture that incorporates a degree of management and workload portability across two or more environments. The hybrid cloud environment combines private cloud and third-party, public cloud services with on-premises, with orchestration between all platforms. A Hybrid cloud is a cloud computing solution that integrates public cloud services with a private cloud, enabling data, storage, and apps to be shared across each service.
Hybrid cloud technology combines the best attributes of both Public and Private Clouds, fulfilling some common and essential functions including:
Consolidating IT resources
Workload portability between different environments
Connecting multiple computers through a single network
Quick scaling out and provisioning of new resources
Incorporating a comprehensive, unified management tool
Using automation to orchestrate different processes
Implementing disaster recovery strategies
How Does Hybrid Cloud Architecture Work?
A hybrid cloud framework consists of separate clouds that are connected seamlessly with a high level of interconnectivity. This configuration allows for workloads to be moved, management to be unified, and processes to be comprehensively executed.
The Architecture of the Hybrid Cloud involves three significant steps:
Multiple computers or devices are connected by using either a local area network or LAN, a wide area network or WAN, or a virtual private network or VPN, along with an application programming interface.
Resources are allocated via virtualization, software-defined storage abstracts as well as containers. They are then pooled into data lakes.
The resources are then allocated by management software, into environments where applications run. They are then provisioned on an on-demand basis, via an authentication service.
Users can use a cloud management platform (CMP) to manage hybrid clouds. A dependable cloud management platform allows users to simplify the manageability, automation, and orchestration of public clouds. A CMP should provide the following capabilities:
Back-end service catalogs
Integrating with external enterprise management systems
Facilitates connectivity and management of external clouds
Support for application lifecycles
Performance and capacity management
Types of Hybrid Clouds
Traditional Hybrid Cloud Architecture
Traditional hybrid cloud involves the combination of public and private clouds. Enterprises can build the private cloud component on their own or take the help of pre-packaged cloud infrastructure such as OpenStack. The private and public clouds are typically linked by a network of LANs, WANs, or VPNs.
Modern Hybrid Clouds
Modern hybrid clouds can run without requiring a vast network of APIs. Instead, they use a common operating system to develop and deploy apps through a unified platform.
Depending on a variety of factors, including organizational needs, hybrid clouds may include the following combinations of environments:
A virtual environment connected to a minimum of one public or private cloud network.
Two or more public clouds
Two or more private clouds
One public cloud and one private cloud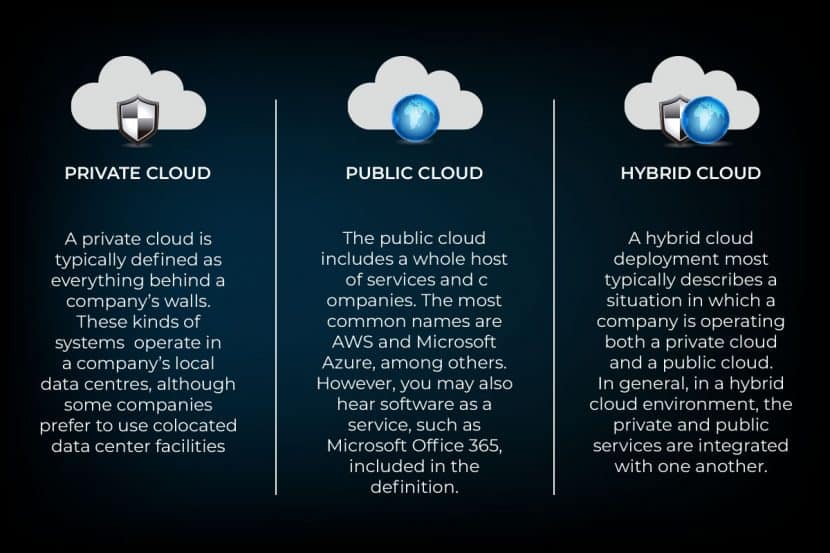 Hybrid Cloud Security
The term hybrid cloud security refers to the protection of applications, data, and infrastructure. It involves an IT architecture that incorporates workload portability, management, and orchestration. Spanning across multiple IT environments, it usually includes at least one public or private cloud. Hybrid clouds allow users to store sensitive or critical data away from public clouds, thereby decreasing the potential exposure of data.
Is Hybrid Cloud Security effective?
Enterprises using a hybrid cloud can choose where to allocate their workload and data. Security requirements, policies, audits, and compliance are vital considerations when configuring their distribution. Even though hybrid clouds consist of separate cloud models, interoperability is facilitated by containers as well as encrypted APIs. The hybrid cloud framework allows enterprises to use private clouds to run critical workloads, while less sensitive workloads can be shifted to the public cloud.
Stealthy attacks on data center infrastructure are quite common and cannot be detected easily using traditional antivirus solutions. Hybrid clouds provide an opportunity to integrate security into every layer of the cloud.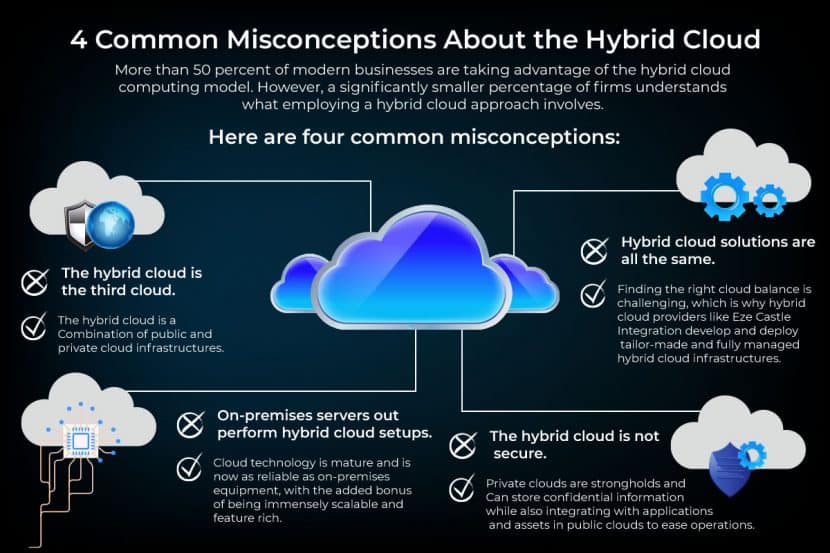 Benefits of Hybrid Cloud
Hybrid Cloud Technology combines the most useful features from both private and public cloud technologies. The two most important benefits of hybrid cloud implementation are given below:
Cost Savings
Since hybrid clouds combine the best of both, the public cloud component contained within it provides cost-effective resources without incurring significant labor costs or capital expenses. The advantage is in IT professionals being able to determine the best configuration, location as well as service providers for each service. This setup allows you to cut costs significantly by matching resources to the best-suited tasks. As a result, the scalability and deployment of services increase, which ultimately saves costs by eliminating unnecessary expenditures.
Control your cloud costs! CloudAdmin tools let you monitor all your cloud costs and identify areas for optimization. Sign Up Here!
Flexibility and Scalability
Hybrid cloud systems provide unparalleled flexibility. The cloud can provide the necessary IT resources on short notice, whenever needed. The on-demand or temporary use of the public cloud when faced with excessive demand, is known as "cloud bursting." Demand depends on a variety of factors, including geographic locations and events. The public cloud component of the hybrid cloud provides the necessary elasticity needed to deal with these sudden IT loads.
Data Storage
In a Hybrid cloud, the on-premises cloud storage provides high-speed access when it comes to data storage. Data which is not needed to be frequently accessed or is non-critical can be moved to a secure but less expensive location. The data is still accessible. This setup provides an economical way to share it with specific parties such as users, clients, etc., based on priority.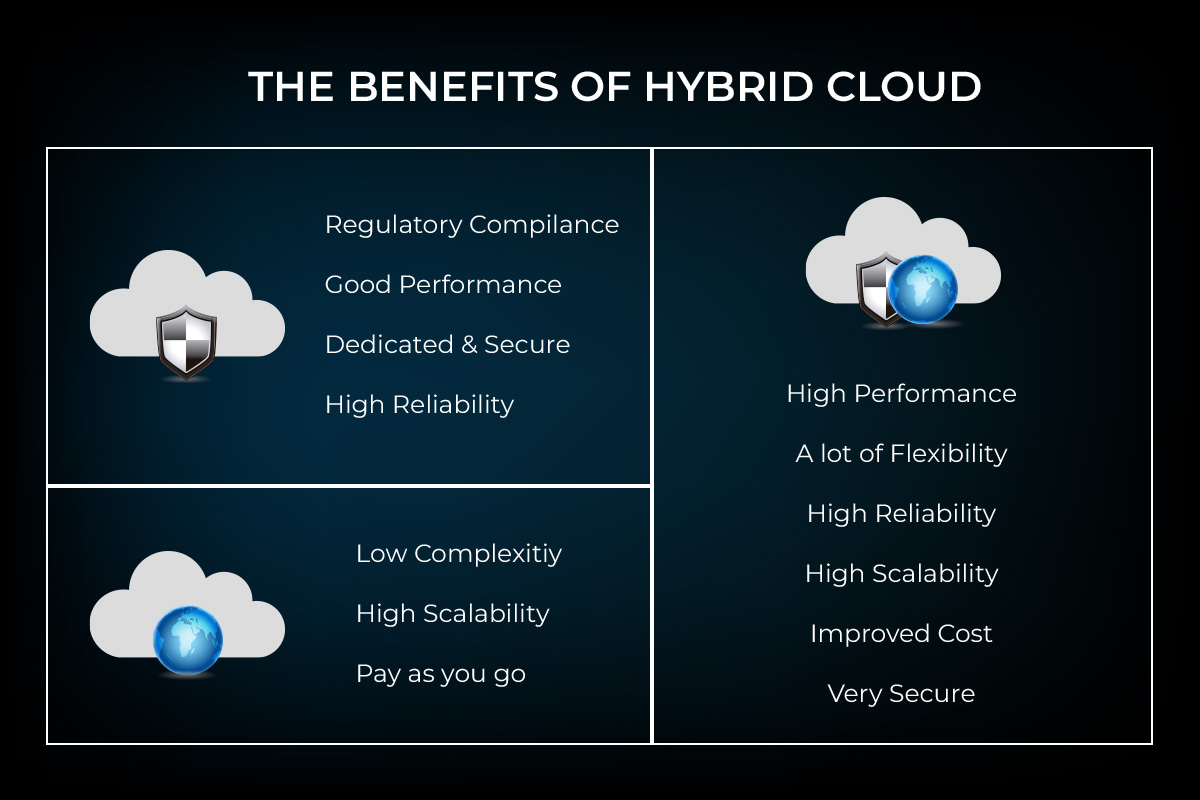 Time to Look into Hybrid Cloud Services?
Organizations can benefit greatly if they approach hybrid cloud technology with solid planning. Hybrid clouds offer on-demand flexibility that an enterprise needs in a hyper-competitive market. It empowers legacy systems and applications with newer capabilities, paving the way for future avenues of digital transformation.
When it comes to security, hybrid clouds can offer as much reliability as traditional on-premise solutions. Even though there are some security challenges regarding hybrid cloud adoption, such as data migration and complexity, security is bolstered overall due to the multiple interconnected cloud environments. Security teams can also standardize cloud storage to augment disaster recovery efforts.
Enterprises can choose where to store their most critical and sensitive data according to their requirements. That's the freedom hybrid cloud provides for businesses who want to stay ahead of the competition.
If that's you, and you want more information on how to implement hybrid cloud strategies for your business, book an appointment now, and embrace the future. And for more information about Hybrid Cloud costs, make sure to read our article How to Calculate Hybrid Cloud Costs.