Data Center migrations are inevitable as businesses and applications outgrow their existing infrastructure. Companies may require migration to increase capacity or unveil new features and services.
Your infrastructure requirements may change over time, and you may consider options from a colocation provider, moving from a private cloud to other cloud solutions, data center consolidations, and even moving to an on-premise setup. Whatever the case, it is vital that a robust plan is implemented to ensure that the migration goes smoothly.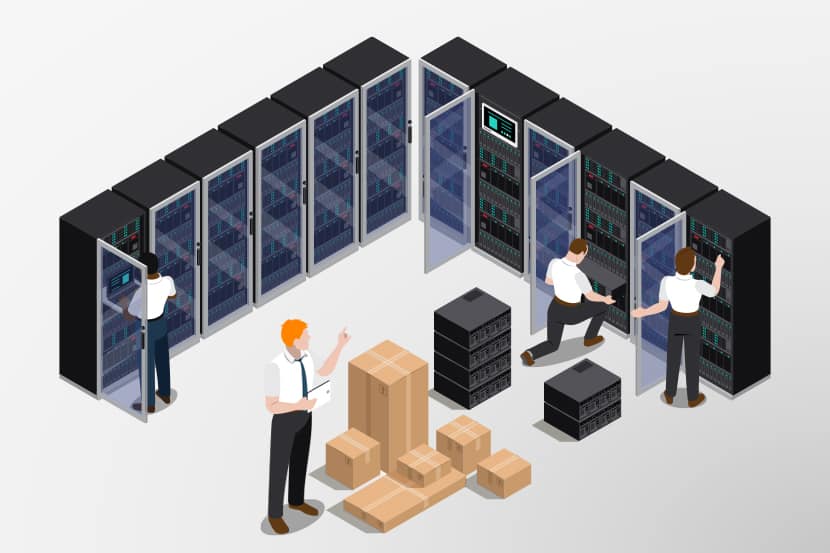 11 Steps to a Successful Data Center Migration
An audit of the current data center performance is an excellent place to start the decision-making process. The audit will indicate any infrastructure bottlenecks and areas for improvement. Organizations can then decide on the criteria for the proposed data center based on these findings.
Each migration is unique and requires careful planning and monitoring to ensure success. The following eleven best practices will prove useful in every case.
1. Create a Plan
A good plan can ensure the success of any activity. A data center migration is no different, and planning is where we start our list. Deciding on the type of migration and identifying the process's tasks is of the utmost importance.
The organization should start by appointing a Project Manager and a project team to manage the migration project. The team must consist of technical staff who are familiar with the current data center setup. Being knowledgeable about the proposed data center is also essential as it will enable you to plan the migration in an accurate manner.
It may be wise to employ a consultant with knowledge and experience in data center migrations. Such an expert can ensure that the migration goes smoothly. The cost of hiring such a consultant can be negligible compared to the costs and downtime of a failed migration.
2. Evaluate Destination Options
The next steps are for the team to identify the destination data center's options and assess their suitability. They will need to ensure that the potential data center meet data security and compliance requirements.
Once the team identifies a group of complying data centers, they will need to assess each one regarding specifications and resources. It is essential to consider data center equipment, connectivity, backup electrical power, redundant networking capabilities, disaster recovery measures, and physical security.
The project team should also visit the data center to ensure that it is just as specified on paper. Test application compatibility and network latency so that there are no surprises after the organization's workloads are migrated to the new data center.
3. Identify Scope, Time, and Cost
Software migrations are generally more straightforward than one that involves relocating hardware and other infrastructure. Each organization will need to assess Colocation and Cloud services and identify the best-suited solution for their use case, budget, and requirements.
The project team will then need to create a data center migration plan with a detailed work breakdown structure and assign the tasks to responsible personnel. Even a single missed task can cause a chain effect that can lead to the entire data center migration process's failure. It is essential to identify the estimates, dependencies, and risks associated with each task.
The team will then need to create a budget for the project plan by identifying the cost associated with each task and each human resource involved. A detailed budget will also provide the organization with a clear picture of the migration costs.
4. Determine Resource Requirements
The technical team should estimate and determine the organization's short-term and long-term resource requirements. They should consider the solution the organization opted for, their use case, and consider whether they expect frequent bursts of resource-intensive workloads.
Depending on the platform's scalability, extending the environment's infrastructure can range from extremely difficult to easy. For example, scaling up and down in Bare Metal Cloud is easy compared to colocating. The more scalable a platform is, the easier it is to adapt to fluctuating workloads.
5. Build a Data Center Migration Checklist
The data center migration checklist consists of all the critical aspects of the migration. Following it will help the team complete all tasks and perform a successful migration. The checklist should contain a list of tasks along with information such as their responsible officer, overlooking officer, success criteria, and mitigation actions.
The project team can use the data center migration checklist as part of the post-migration tests. Executing it and ensuring a successful data center migration will be the Project Manager's responsibility.
6. Planning Data and Application Migration
Migrating applications and data to the proposed data center is a vital part of the process. Applications may require refactoring before migration, and such migrations can be complicated. The team must create a detailed test plan to ensure that the refactored application functions as expected.
It is crucial to plan more than one method of transferring existing data to the new data center. Potential options include backup drives, network-based data transfer, and portable media. Large data loads will require network-based data transfer, and it is crucial to ensure bandwidth availability and network stability.
In cloud migration, consider the possibility of migrating application workloads gradually using technologies like containerization. Such migrations minimize downtime. However, they have to be well-planned and executed with a DevOps team in place.
7. Planning Hardware Migration
Datacenter relocation that involves colocation and switching data centers require extensive movement of hardware. This type of data center move can include migrating servers and other storage and network infrastructure.
Taking inventory of the existing hardware should be the first task on the list. The team can use this report to account for all data center infrastructure.
If the migration requires transporting fragile hardware, it is advisable to employ an experienced external team. The team can dismantle, transport, and safely reinstall data center equipment. Servers require extra care during transport as they are sensitive to electrostatic discharge and other environmental conditions such as temperature, magnetic fields, and shock.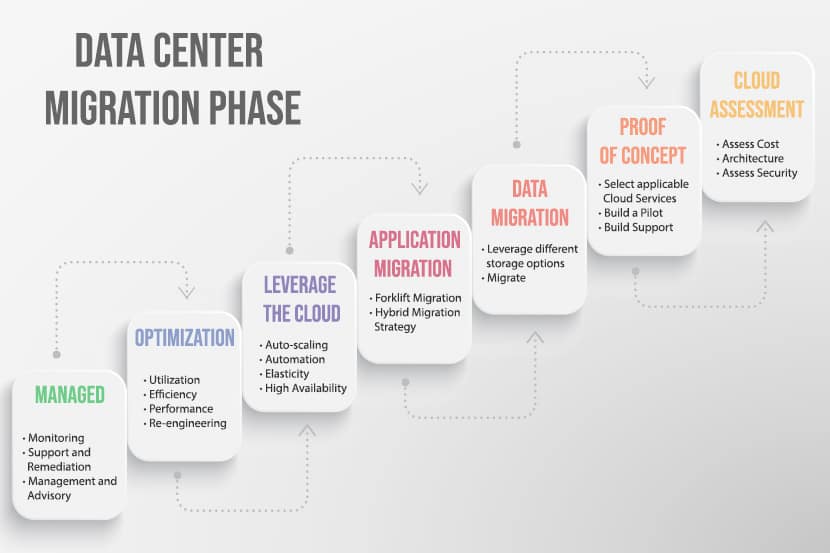 8. Verify Target Data Center
The proposed data center may promise generic hardware on paper. However, when deploying applications and databases, even a minor mismatch can be fatal. Doing a pre-production assessment of the proposed infrastructure ensures the successful functioning after the migration.
Note: Learn more about what database migration entails and how to create (mostly) painless strategies for moving data between two storage solutions.
Take into account additional infrastructure needs and other required services which can affect the cost of the data center move and subsequent recurring expenses. It is crucial to identify these in advance and factor them into the decision-making process when selecting a data center. Provisioning of hardware and networking resources, among other things, can take a considerable period. The team will need to factor these lead times into the project plan.
It will also be essential to pay attention to the recommendations of the proposed vendor as they are the most knowledgeable regarding their offerings. Vendors will also be able to offer advice based on their experience with previous migrations.
9. Pre-Production Tests
The project team should execute a pre-production test to ensure the compatibility and suitability of data center equipment. Even if they do not perform a pre-production test at full scale, it can help to identify any issues before a single piece of equipment is moved.
The data center migration checklist can be used for pre-migration and post-migration checks to identify any failing success factors based on the data center migration project plan. A pre-production test can also eliminate any risks associated with the migration process that occurred due to assumptions.
The project team can use a pre-production test to ensure that they can migrate the data and applications correctly with the planned process. Tentative plans are based on assumptions and can fail for many reasons like network instability and mismatches in data center infrastructure.
10. Assume that All Assumptions Fail
Assumptions are the downfall of many good plans. As such, it is necessary to be careful when making assumptions about the essential aspects of your data center relocation. The lesser the number of assumptions, the better.
However, given how volatile the internal and external environments of a business can be, avoiding assumptions altogether is impossible. The team needs to carefully assess such assumptions so that they can plan to prevent or mitigate the risks involved. The project team mustn't take any part of the migration for granted.
If your assumptions about the proposed data center fail, it can be fatal to the migration. Always verify assumptions during pre-production tests.
11. Post-Migration Testing
Post-migration testing will mainly consist of executing the post-migration checklist. It will ensure the successful completion of all data center migration steps. You should assess all aspects of the data center relocation, such as hardware, network, data, and applications, as part of the test.
The team must also perform functional testing, performance testing, and other types of tests based on the type of workload(s). The project team will have to plan for additional testing if they are migrating refactored applications.
Conclusion
Consider using these best practices as a template for creating a customized action plan that suits the specific needs of your organization. No two migrations are the same and will require specialized attention to ensure success.
PhoenixNAP offers automated workload migration to all clients moving to its Infrastructure-as-a-Service platform and dedicated hosted service offerings.