Introduction
PuTTY is an open-source SSH and Telnet client that allows users to connect to other systems remotely. It was initially developed for Windows but has since been ported to MacOS and Linux as well.
While PuTTY is one of the most reliable terminal emulators, it has its limitations. Fortunately, plenty of alternatives offer a more streamlined interface and a wider array of features.
In this tutorial, we offer an overview of the eight best alternatives to PuTTY, detailing their key features and the pros and cons of using them.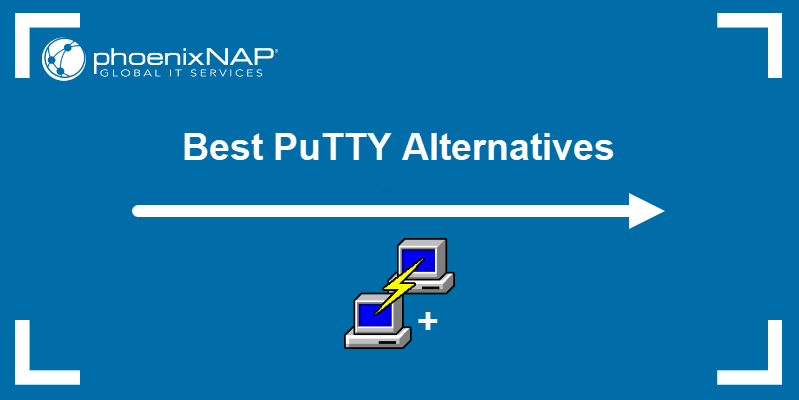 Best PuTTY Alternatives
The list below contains eight best PuTTY alternatives, including both free and paid options.
Solar-PuTTY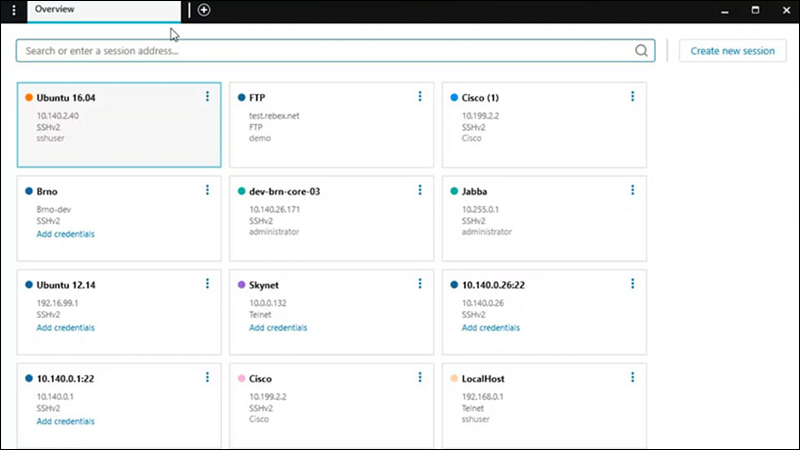 Solar-PuTTY is a free software solution for Windows systems that doesn't require an installation. Instead, you can download the application and start using it straight away.
Solar-PuTTY supports SSH, Telnet, SCP, and SFTP. It uses a tabbed interface to help you manage multiple connections. It also integrates with Windows search, allowing you to find any saved session quickly.
Note: If you are interested in learning more about SSH, take a look at our article on how SSH works to find out more.
Key features:
Automatic login and reconnect.
Supports post-connection scripts.
Allows you to backup or migrate saved sessions to a new system.
Customizable appearance, such as changing fonts and session colors.
Save credentials and assign them to multiple servers.
Pros:
Completely free.
High degree of automation available.
Customizable GUI.
Cons:
Only works in Windows
Requires basic networking knowledge to use
Bitvise SSH Client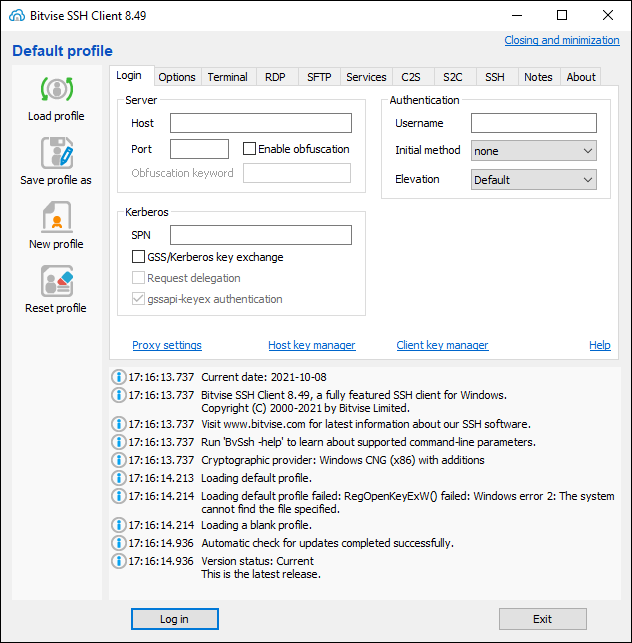 Bitvise SSH Client is another free Windows application that comes in both an installable and portable version. This PuTTY alternative supports all Windows desktop and server versions and offers GUI and command-line functionality.
Key features:
Single-click remote desktop forwarding.
SSH and SFTP support, with FTP to STFP bridge.
Allows SSH obfuscation.
Supports scripting using sexec, stermc, and stnlc.
Pros:
Wide range of public key authentication types.
Powerful scripting options.
Cons:
Tabbed interface adds unnecessary steps during use.
The help section is not as comprehensive as some other options.
KiTTY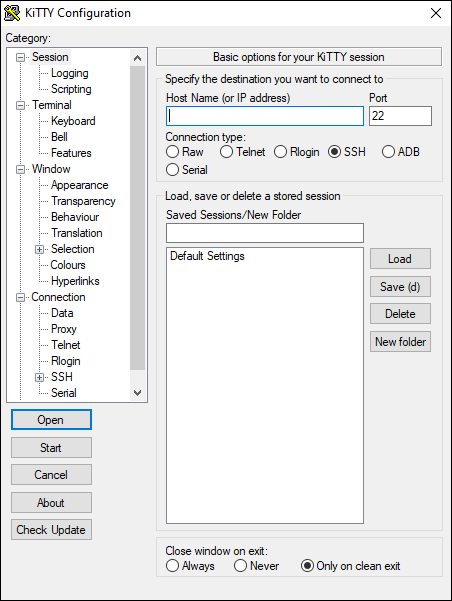 KiTTY is a fork of the original PuTTY client, available as a free download. It's based on PuTTY architecture but brings many new features that make it a good PuTTY alternative.
This also makes the GUI almost identical to PuTTY. The portable client only works on Windows.
Key features:
Built-in chat system and text editor.
Supports login scripts, with limited support for after-login automation.
Allows you to automate commands and assign shortcuts.
Auto-saves sessions and allows session filtering.
ZModem integration.
Pros:
Completely free.
An upgraded version of PuTTY with the same GUI, easy to navigate.
Supports scripting and command automation.
Cons:
Only available on Windows.
GUI is somewhat outdated.
SuperPuTTY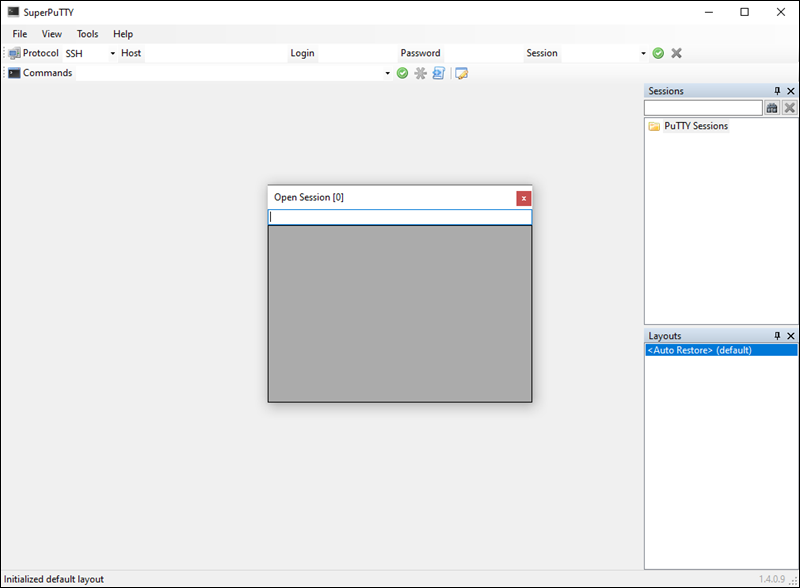 SuperPuTTY is an extension for PuTTY that replaces the user interface and adds new features. It is available on GitHub and requires an installed copy of PuTTY to work.
Key features:
Customizable GUI that allows multiple tabs.
Options for keyboard shortcuts.
Supports basic scripting.
Supports SSH, Telnet, rlogin, RAW, SCP, and SFTP.
Pros:
PuTTY users will find the UI familiar.
Expands the list of available protocols.
Cons:
Only runs on Windows.
Not a good option for those looking for advanced features.
PuTTYTray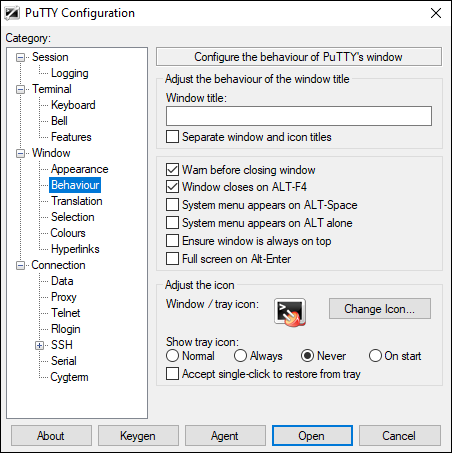 PuTTYTray is another PuTTY fork, offering the option to minimize PuTTY to the system tray. It also provides quality-of-life improvements compared to PuTTY, such as hyperlink integration and better font rendering.
This project seems to be on hold and has not been updated since 2016. It is still a solid alternative to PuTTY with minimal but valuable improvements even in its current state.
Key features:
Customizable tray icon with alert features.
URL hyperlinking and Android ADB support.
Portable application file.
Pros:
Completely free.
Suitable for PuTTY users who want a very similar alternative.
On-screen notifications.
Cons:
Lack of updates and support.
Minimal additional features compared to other options.
mRemoteNG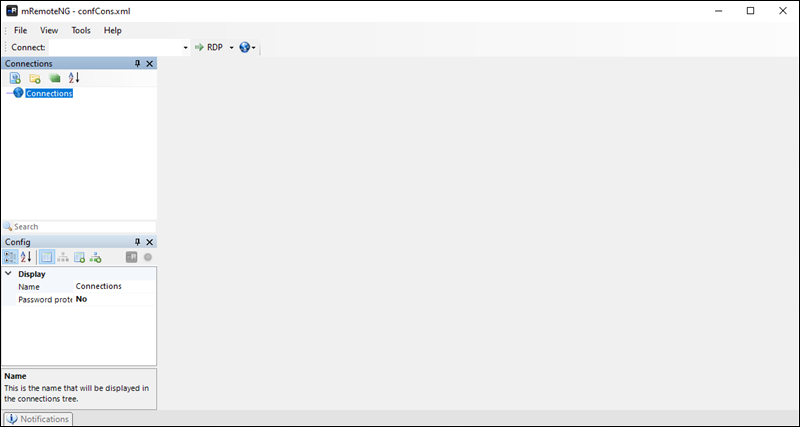 mRemoteNG is an open-source, multi-protocol remote connection manager with a multi-tab interface. It started as a fork of mRemote and is available as a free download.
Key features:
Supports SSH, Telnet, HTTP/HTTPS, rlogin, and RAW.
Supports RDP (remote desktop and terminal service), VNC, and ICA (Citrix Independent Computer Architecture).
Pros:
An open-source tool with an active community and regular updates.
Lightweight and easy-to-use GUI.
Supports secure credential storage.
Cons:
Interface becomes harder to use with a large number of connections.
MobaXterm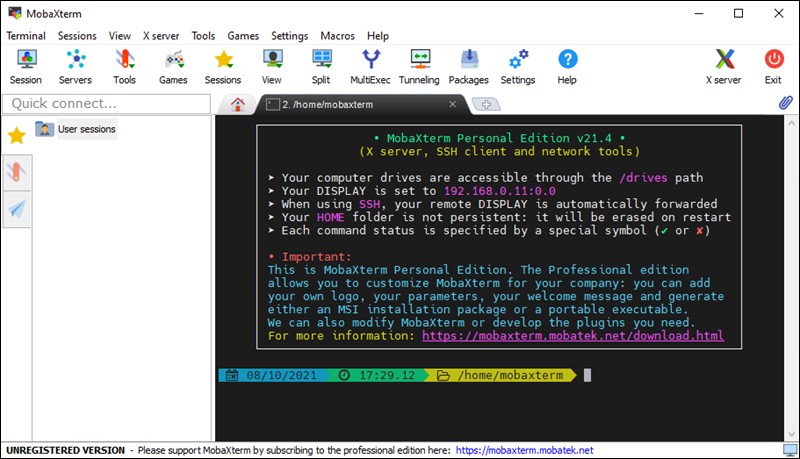 MobaXterm is a suite of networking tools that comes in a choice of a free or paid version. The price varies with the number of users, starting at $41 for over 500 users, up to $69 for 1 to 10 users.
Key features:
Free version:

Remote desktop and terminal with X11 forwarding.

Limited number of sessions, SSH tunnels, and macros.

Paid version:

Removes unwanted tools and applications.

Removes limits to sessions, SSH tunnels, and macros.
Pros:
The interface is simple and easy to use.
Supports multiple network and file transfer protocols, with X11 forwarding.
Cons:
Paid version is required for advanced features.
Xshell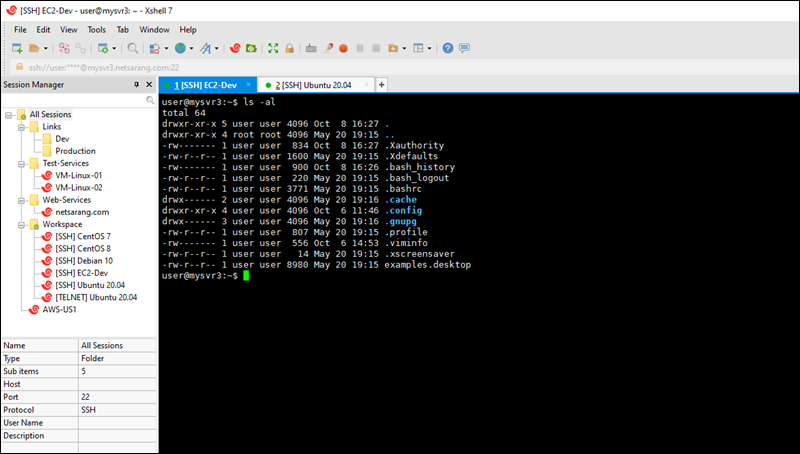 Xshell offers a free version for home and school use, with a paid version for businesses coming in at $99. It runs on Windows systems only.
Xshell features a tabbed interface that supports multiple connections. It also allows you to choose between SSH versions 1 and 2, with the added security of saving your credentials in an encrypted format.
Key features:
Dynamic port forwarding.
Allows you to map keys and assign shortcuts.
The interface can highlight important text snippets.
Supports scripting using VB, JavaScript, and Python.
Pros:
Highly detailed interface with optional audio alerts.
Supports a wide range of protocols.
Allows custom shortcuts.
Cons:
Interface can be challenging to learn for new users.
Only runs on Windows.
Conclusion
This article provides an overview of PuTTY alternatives, which offer expanded features and increase ease of use. With this in mind, you should be able to find an option that best fits your requirements and preferences.
Was this article helpful?