Introduction
Big data and data sharing come with many advantages. Both commercial and research-based fields benefit from the power of data. However, many issues arise when combining information from multiple sources.
Data integration tools address the challenges of data coming from various sources. Many integration tools are available today, both commercial and open-source. Choosing the right tool is essential and helps maximize the potential of data-driven insights.
This article provides a review of 12 data integration tools available today.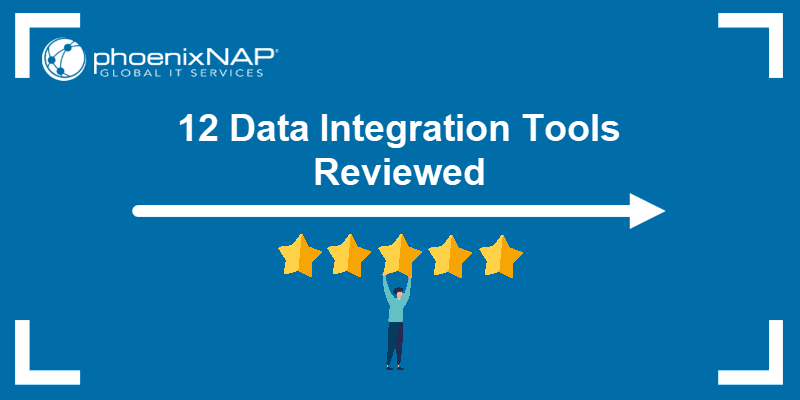 What Are Data Integration Tools?
Data integration tools help move data from source to destination. In the process, various cleaning and mapping steps transform the data along the way.
Data integration tools aim to incorporate information from various sources, such as different database types and files, into a unified platform. Through unification, the data provides the end-user with valuable insights. Overall, the data helps make the business decision-making process less overwhelming.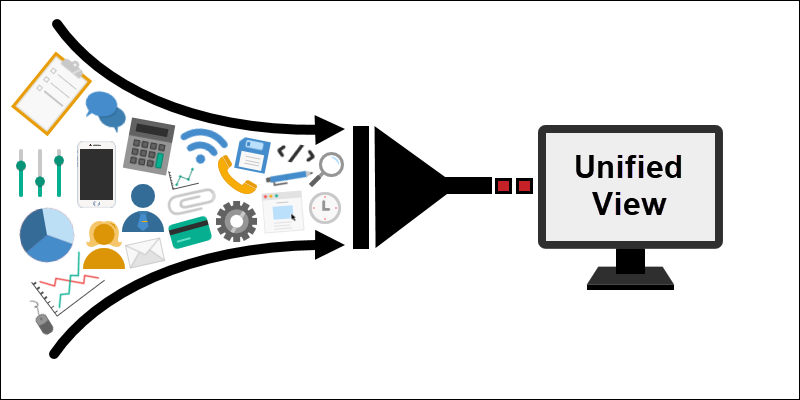 Additionally, the tools help transport data into various locations. This ensures the end-user receives the correct information, regardless of source.
Types of Data Integration Tools
Data integration tools come in various shapes and sizes. Choosing the right type depends on business needs.
Based on Location
On-premises data integration tools help combine data from various local sources. The tools reside on a local network or private cloud.
Cloud-based data integration tools realize as IPaaS (Integration Platform as a Service). The tools help integrate various data sources into cloud-based data warehouses.
Based on Availability
Open-source data integration tools are a great solution for tight budgets. The tools provide complete control over data locally.
Proprietary data integration tools come with enhanced options at a price. These tools work well in challenging environments.
12 Data Integration Tools
Below is a compact overview of 12 data integration tools with some useful features.
| Tool | Open Source Available | Transparent Pricing | Free Trial Available | No-Code Interface | Main Feature |
| --- | --- | --- | --- | --- | --- |
| Informatica | No | No | Yes | Yes | Multicloud support |
| Pentaho | Yes | No | Yes | Yes | Metadata driven workflow |
| Zigiwave | No | Yes | Yes, after a scheduled demo | Yes | Security and compliance |
| IRI Voracity | No | No | Yes | Yes | Full-stack data management |
| Oracle Data Integrator | No | Yes | No | Yes | Cost-efficient in the long run |
| Celigo | No | Yes | Yes | Yes | Business process automation |
| MuleSoft | No | No | Yes | No | REST API driven workflow |
| Hevo Data | No | Yes | Yes | Yes | Simple and interactive |
| Boomi Integration | No | Yes | Yes | Yes | Public and private cloud deployment |
| Talend | Yes | No | Yes | Yes | Free with the possibility of upgrade |
| Jitterbit | No | No | Yes | Yes | AI-driven integration |
| SnapLogic | No | Yes | Yes | Yes | Minimal technical knowledge required |
Continue reading to see a detailed overview of each data integration tool.
Informatica
Informatica specializes in data-related software and data integration solutions. The cloud-native ELT software allows both on-premises integration and across multiple clouds.

Key Features
Multi-cloud support simplifies integration into pre-existing complex environments.
Serverless deployment with zero overhead makes the available features efficient and valuable.
Multiple data integration tools offer various solutions depending on business goals.
The software has 3000+ connectivity connectors.
Spark support for high-performance data ingestion and scalability.
Pentaho Data Integration
Pentaho Data Integration is an open-source ETL integration engine. The software has options for single node, cluster, and cloud support. The program allows defining data integration jobs and transformations through GUI apps.
Key Features
A wide range of plugins and widgets are available for defining a metadata-driven workflow.
Intuitive GUI with a drag and drop interface. Pre-built components makes the software easy to learn and use.
The tool simplifies data pipeline creation and data processing at scale.
Able to handle huge volumes of data from any resource.
Cross-platform support with customizable Java plugins.
ZigiOps
ZigiOps is a Zigiwave product that connects enterprise data from various sectors. The tool connects DevOps, IT management, CSR, and monitoring tools into one view. The software focuses on data security and compliance during integration. The intuitive interface requires minimal technical knowledge, making it easy to use.
Key Features
Customizable pre-built templates suitable for enterprise needs.
The software offers advanced mapping and filtering options on a no-code platform to speed up the integration process.
Cross-team collaboration is available with real-time data exchange and bidirectional data integration.
Focus on transparency and governance with high-level security and scalability.
IRI Voracity
IRI Voracity is a full-stack iPaaS cloud integration tool. The software offers IRI CoSort or Hadoop engines for full data lifecycle management on-premises or in the cloud.

Key Features
Multisource and target connectors are available for internal and external data synchronization.
Hadoop transform engines allow seamless integration for MapReduce, Spark Streaming, Spark, Storm, etc.
Note: Learn how the following technologies compare and when to use them:
The tool is full-stack and combines data discovery, integration, governance, migration, and analytics into one place.
Support for data mapping and database migration.
Oracle Data Integrator
Oracle Data Integrator is an ELT (Extract, Load, Transform) graphical environment for building and maintaining data integration processes. The Java-based system is exclusively on-premises. For cloud deployment, Oracle offers the Autonomous Integration Cloud.

Key Features
Flexibility with out-of-the-box database integration for various databases and files.
The tool has automatic fault detection and recycling when loading data.
The architecture eliminates the need for a dedicated ETL server. This reduces the overall hardware and maintenance costs.
Celigo
The Celigo Integration Platform is a cloud-native business process automation tool. The platform supports multiple integration types, including app, SaaS, and B2B integration.

Key Features
Unlimited concurrent integrations make the software infinitely scalable.
Celigo integration is flexible and portable. Therefore, the tool allows growth and changes as the business matures.
AI and machine learning managed assistance for integration and error management.
Rapid development through reusable integration assets increases implementation efficiency.
MuleSoft
MuleSoft DataWeave is a data integration system which connects business systems into a single platform through REST APIs. The software provides a unified view from SaaS, on-premises, and legacy software.

Key Features
Allows real-time or batch data integration for massive data movement.
The template-driven approach accelerates development at scale.
The software doesn't differentiate between application and data integration. For this reason, seamless data flow across different systems is possible.
Hevo Data
Hevo Data is a pipeline tool for transferring information to data warehouses or other desired destinations. With over 100 available sources, the software transforms data for analysis in a no-code environment.
Key Features
The fault-tolerant architecture provides data security and consistency.
Automatically maps and detects schemas from the provided information.
A simple interactive user interface makes the software easy to learn.
Horizontal scaling with minimal latency.
Live data monitoring to keep track of where data is at any given moment.
Boomi Integration
Boomi Integration (previously known as Dell Boomi) is a cloud-based data integration platform best suited for hybrid IT infrastructures. The unified platform supports on-premises, cloud, and device integration.

Key Features
Drag and drop user interface with various connectors and pre-configured integration patterns.
Custom scripting for an individual use case.
Support for deployment in public or private clouds.
An open-source community presence with plenty of documentation and guides.
Talend Open Studio
Talend Open Studio is an open-source ETL and data integration software. The studio allows basic pipeline building and executes simple integration tasks with the possibility for an upgrade.

Key Features
The open-source product is one of the most popular free data integration tools.
A significant community presence makes learning the tool easy for beginners and experts.
The environment allows simple ETL, data integration, and file management processes.
Upgrading to the Talend Cloud platform adds additional features, such as security and compliance, through the same environment.
Jitterbit
Jitterbit is an API-based data integration platform. The program allows establishing connections between SaaS, on-premises, or in-cloud applications. To achieve this, the platform uses various data integration tools and templates.

Key Features
Various AI features come with the software. For example, speech recognition, real-time translation, and recommendation systems.
Testing via virtual environments allows trying out integration steps without disrupting existing environments.
Offers connectors for popular enterprise platforms, relational databases, and files.
High-performance parallel processing integrates disparate and large datasets.
SnapLogic
SnapLogic is an enterprise iPaaS platform. The browser-based solution offers 500+ pre-built connectors and a no-code interface for the fastest results.

Key Features
Intelligent assistance makes the platform easy to learn. The AI guides the user to a solution.
ETL progress tracking through various visual representations.
The self-service platform requires no previous technical knowledge.
Automatic EDI error detection and log generation makes debugging simple.
How to Choose a Data Integration Tool
Every data integration tool addresses different problems. Keep the following factors in mind when choosing a data integration tool for your use case:
The number of supported data sources. As a business grows, so do the data sources. Choose an extensible platform that fits your current data sources.
Data security and compliance. When handling sensitive data, compliance and security are significant factors. Consider the regulation rules and guidelines that each software supports.
Scalability. The volume of data increases over time. Choose a system that scales with the business needs to maximize usability.
Available data transformations. Mapping data from various sources into a unified view is a time-consuming process. Transforming the data helps provide the desired data format, regardless of source.
Data update frequency. Analyze whether the data should process in real-time or in batches.
Learning curve. The easier to learn, the better. Less time spent on educating staff makes the software usable.
Business size. Some tools are a good fit for enterprises, while others perform better on smaller businesses.
Conclusion
After reading the overview, you should have some basic information about the available data integration tools. Each tool offers a unique solution.
Research each option thoroughly before committing. Many other programs exist, and the right choice helps maximize the power of your data.
Was this article helpful?