Introduction
The CentOS 8 life cycle has been cut short with the news of its EOL in December 2021. RHEL revealed it would be shifting focus from CentOS Linux to CentOS Stream.
Most CentOS users who have updated their systems to the latest version have already expressed their concerns.
While CentOS 8 EOL is scheduled for 2021, CentOS 7 will be supported until 2024. Therefore, if you haven't gotten the chance to upgrade your CentOS 7 servers, don't bother doing so.
This article sheds light on the newly introduced changes in the CentOS community and how to deal with the transition.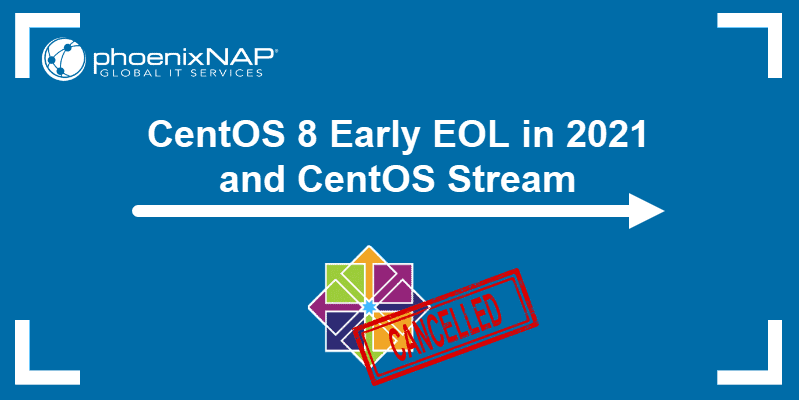 The Story Behind CentOS
CentOS Linux is a rebuild of Red Hat Enterprise Linux (RHEL). Since it was a downstream community project for RHEL, any changes made to an RHEL distribution were also applied to its CentOS counterpart a few months later.
The most notable difference between the two is cost. While CentOS is an open-source Linux distro, RHEL is a commercial Linux distribution developed by Red Hat.
How does Fedora fit in? Fedora is an upstream community project of Red Hat. Essentially, it served as an environment for testing upgrades and changes before applying them to RHEL.
The previously established release cycle consisted of Fedora –> RHEL –> CentOS.

Note: The release of CentOS 8 included many changes and raised the bar for future RHEL-based distributions. Unfortunately, its early EOL didn't leave much time for users to enjoy the new CentOS 8 features. In the meantime, Red Hat allowed the use of self-supported RHEL for small production workloads for free.
CentOS vs CentOS Stream
CentOS Stream was introduced in 2019 as a rolling release version of CentOS. In the previously mentioned release cycle, it found its place between Fedora and RHEL, testing future minor releases.
However, RHEL made changes to the initial plan, deciding to halt any future CentOS releases. CentOS 8 has been declared the last downstream release that will be supported until December 2021. Therefore, instead of its previously announced EOL in 2029, its life cycle has been cut by eight years.
RHEL will not release any new CentOS distributions, only CentOS Stream.
Naturally, the stability of CentOS Stream cannot compete with CentOS releases. As it will work midstream in the release cycle, it is bound to be less stable than the RHEL distribution it precedes.

The Next Step for CentOS 8 Users
Most CentOS 8 users have just recently upgraded their systems to this distro. With the early EOL scheduled for 2021, they are not given much time to prepare for the change.
The possible instability that comes with CentOS Stream won't satisfy the needs of most users.
Switching to other Linux distros, such as Ubuntu or Debian, is a decision most of them will be forced to make. On the other hand, CentOS 7 users have a bit more time to prepare, given that CentOS 7 EOL is scheduled for 2024.
Conclusion
Due to its stability and active community, CentOS has been a popular choice for developers and system administrators. The fact that it offered highly customizable software packages and full control over the system also contributed to its popularity.
It is unlikely that CentOS Stream will match up to the reliability of CentOS. This is why most users have already started migrating to different Linux distros.
Was this article helpful?