Introduction
Using multiple cloud providers in application deployment allows you to leverage provider-specific services or seamlessly migrate your data and workloads between different cloud environments.
phoenixNAP cooperates with Megaport to enable third-party cloud connectivity for its clients. The service allows interoperability and integration with the world's top cloud providers, including Amazon Web Services (AWS), Google Cloud Platform (GCP), and Microsoft Azure.
This guide will provide details about phoenixNAP's Third-Party Cloud Connectivity service.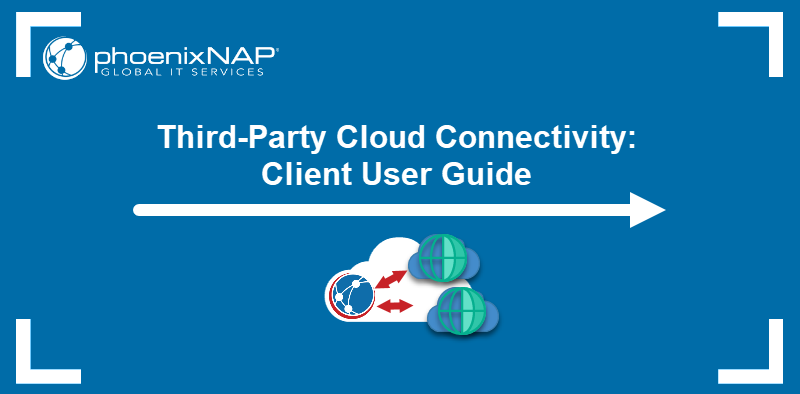 How to Order Third-Party Cloud Connectivity Service
phoenixNAP uses Megaport's port feature to create third-party cloud connections. A Megaport port is the physical connection between an organization's network and Megaport.
When you order the Third-Party Cloud Connectivity service from phoenixNAP, our staff deploys a port connecting Megaport with the phoenixNAP infrastructure that powers your service.
Note: If you are a colocation client, the Megaport port connects to your phoenixNAP hosted infrastructure.
Before communicating with our sales representative, ensure you have the following information at hand:
The desired port speed. Choose between 1 Gbps and 10 Gbps port speeds for your connection.
The name of your port. Pick a port name that you can identify quickly, especially if you plan to have more than one port.
Visibility of your port in the Megaport Marketplace. Your port can be Private or Public. Public ports are searchable in the Megaport Marketplace.
Desired length of your subscription. Choose between 1-month, 12-month, 24-month, or 36-month subscription terms.
Service Level Reference Number. The service level reference number appears for each service under the Product section of the invoice.
LACP on Port. If you choose a 10Gbps port connection, you can enable Link Aggregation Control Protocol (LACP), a functionality that helps prevent service interruption.
The following is an example of a Megaport form filled out by our staff: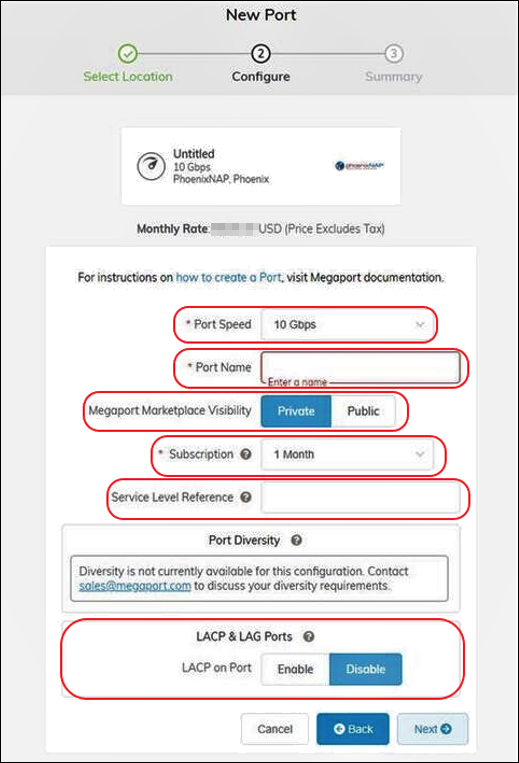 Additionally, depending on the type of phoenixNAP service you use, you will need to prepare the following details:
Colocation Clients
Your client location code.
Letter of Authorization (LOA). Prepare your LOA if you already have a Megaport port. Megaport generates the LOA for first-time customers when the first port is generated. Below is an example of a LOA: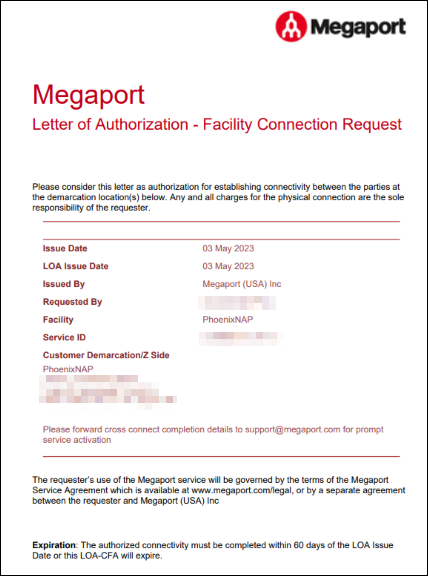 Note: As colocation clients have their infrastructure within phoenixNAP, the connection will be set up via their physical cross-connect.
BMS, BMC, DSC, and VPDC Clients
Your Service ID. If you are a new client, you will receive a Service ID upon creating a phoenixNAP account.
Once the Megaport port connection with phoenixNAP is set up, a VXC (Virtual Cross-Connect) can be created.
Note: phoenixNAP cannot provide credentials to systems for other cloud providers. The client is responsible for supplying information about the connection's remote end.
How to Request Support for Third-Party Cloud Connectivity Service
If you are having issues with the Third-Party Cloud Connectivity service, you can send a support request to the NOC team in the following ways:
How to Terminate Third-Party Cloud Connectivity Service
You can cancel the Third-Party Cloud Connectivity service and terminate the port in two ways:
Email. Send an email with the termination request to the Sales Team.
Ticket. Contact the NOC Team by sending a support ticket.
When sending a termination request, please supply the following information:
The type of service that needs to be canceled.
Your service ID or the original order ID.
Type of termination. You can choose between:

Immediate cancellation. Terminate the service immediately. You cannot restore the port later; early termination fees may apply.
Delayed cancellation. Cancel the service at the end of your minimum contract term. The port is restorable during the 30-day notice period.
Conclusion
This guide showed you how to order phoenixNAP's Third-Party Cloud Connectivity service. It also provided instructions on where to find support and how to terminate the service.
Was this article helpful?