Introduction
Office 365, now known as Microsoft 365, is a suite of cloud-based applications and services for personal and business users. It includes the complete set of Microsoft Office applications, OneDrive cloud storage, and a set of security, compliance, and storage management features for businesses.
This article will discuss the importance of backing up your Office 365 emails and data, and provide you with backup solutions.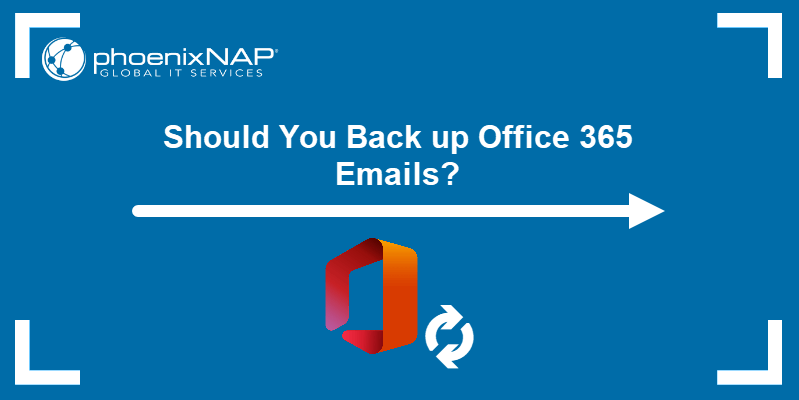 Is Office 365 Backup Necessary?
The Microsoft Services Agreement states that the company strives to keep the services available. However, Microsoft disclaims liability for any data loss caused by service disruptions and recommends that its users perform regular backups of the data they store on Office 365.
According to their Shared Responsibility Model, Microsoft leaves it to the user to make sure their data is safely backed up in a different location. Given that full data retention is also the user's responsibility, Office 365 backups are a business necessity.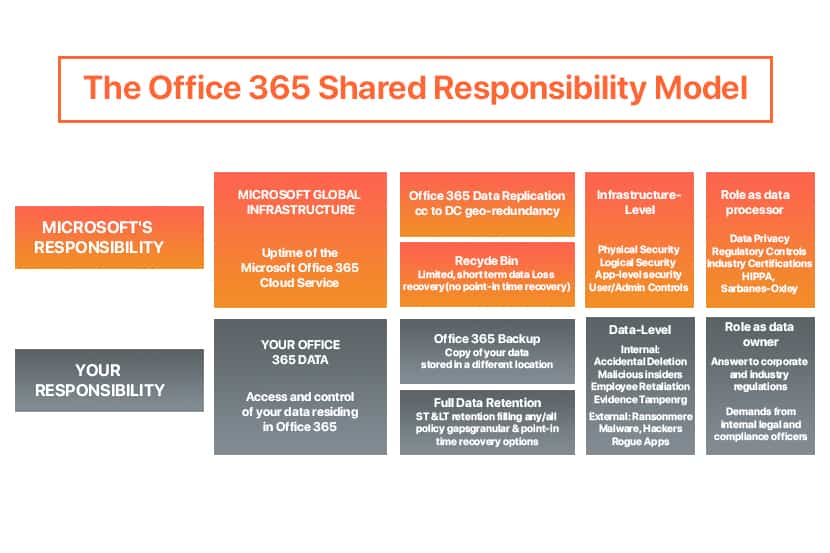 What are the Reasons for Backing up Office 365?
As with any large system, there are multiple ways in which your Office 365 data may become compromised, ranging from a user error to a service outage. The following are the most compelling reasons to back up your Office 365 data regularly.
Accidental Deletion
Office 365 features two types of deletion - soft and hard. The soft delete includes the removal of files by emptying the Deleted Items folder. Items deleted in this way are still recoverable in the Recoverable Items folder, which resides in a separate subtree of each mailbox. However, with the hard delete, the item is purged from the database and becomes unrecoverable.
Retention Policy Gaps
Retention policies are information maintenance protocols established by companies. They define data to be retained, its format, the length of retention, and the procedure to be followed after the period ends. Due to their complexity and constant evolution, retention policies are challenging to manage. Flexible backups eliminate the policy gap issues.
Security Threats
Companies need to protect themselves from various potential security threats. Those threats can originate externally, in the form of malware, ransomware and viruses, but also internally. Insider threats come from the company's own employees and can be:
Unintentional – For example, an employee downloads an infected file.
Intentional – For example, a disgruntled employee deletes important company documents.
In all cases, being able to restore the lost information is critical for the business.
Legal Issues
When legal action requires disclosure of certain documents, the company cannot afford to fail to provide them to the authorities. While Microsoft offers Litigation Hold as a mechanism for retrieving lost information, this is not a complete solution, since deleted user accounts cannot be recovered this way.
Migration Management
Companies that decide to switch to Office 365 need to organize the migration properly. Hybrid email deployments are a standard solution but they present the administrators with additional maintenance challenges. Properly backing up the company's emails ensures that all data safely survives the transition from on-premises Exchange to the cloud.
What Solutions Should You Use for Backing up Office 365
Native option
Office 365 does not feature a complete built-in backup solution. Instead, it offers a limited set of backup and recovery options.
With the rollback option, users can roll back OneDrive to a version no older than 30 days. The restore option features the Recoverable Items folder containing emails deleted in the previous 30 days. Contacts and Calendars are non-recoverable.
Furthermore, the Office 365 native backup solution operates in the production environment, which makes it inherently insecure. This is known as the "all the eggs in one basket" problem.
Veeam-Powered Managed Backup for Office 365 from phoenixNAP
Since Office 365 lacks adequate data protection mechanisms, Microsoft recommends that users consider third-party tools. Solutions like Managed Backup for Office 365 provide comprehensive protection of your data in Office 365.
phoenixNAP offers a scalable, automated Veeam-powered backup solution that addresses all of the backup concerns listed above:
Emails and documents are protected against accidental or malicious deletion.
The critical data is safe, and the company is always ready to meet regulatory requirements.
The information is easily recoverable and available even in case of disruptions.
Veeam also helps with hybrid environments by backing up both cloud-based data and on-premises Exchange.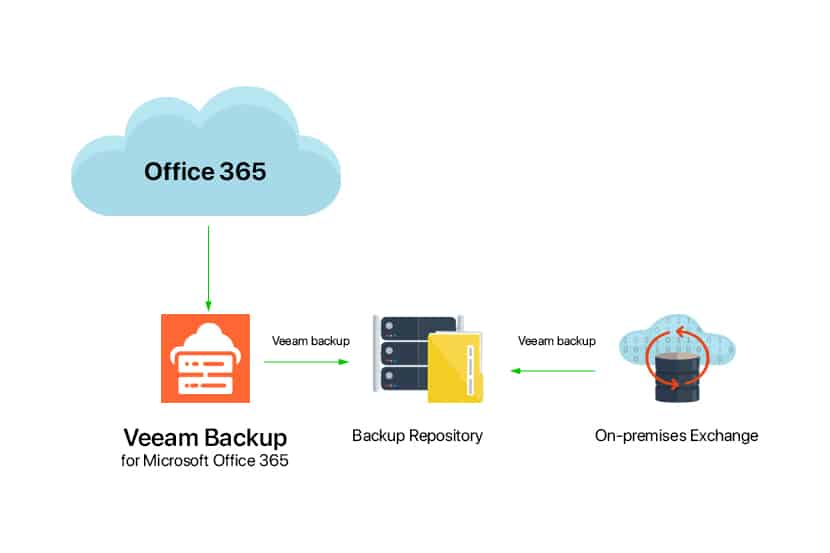 Managed backup for Office 365 reduces the effort needed to retrieve your emails, and offers backup protection for SharePoint, OneDrive, and Teams. This makes it a complete backup solution for Office 365.
Protect your Office 365 Data to Secure Your Organization's Productivity.
Get in touch with a PhoenixNAP representative today to secure your Office 365 Data.
Conclusion
This article offered an overview of the reasons why backing up Office 365 accounts is essential. It listed the common risk factors and offered the optimal solution for managing Office 365 backups.
For more information about configuring your Office 365 backups with Veeam and phoenixNAP, read How to Leverage Object Storage with Veeam Backup.
If you want to learn how email messaging is enabled through protocols, read our comparison IMAP vs. POP3 vs. SMTP.
Was this article helpful?