Building an on-prem infrastructure is a massive investment even for a modestly-sized company, which is why many organizations opt to colocate equipment. However, before they move IT assets to a third-party data center, companies must decide whether their needs fall in the wholesale or retail colocation category.
Both retail and wholesale colo are beneficial, but they fit different use cases, and many providers keep the line between the two murky. Both models also have certain trade-offs you must know if you're considering migrating hardware to a colocation facility.
This article provides a detailed wholesale vs. retail colocation comparison. Jump in to learn everything you must know to make an informed decision when choosing between the two primary colo models.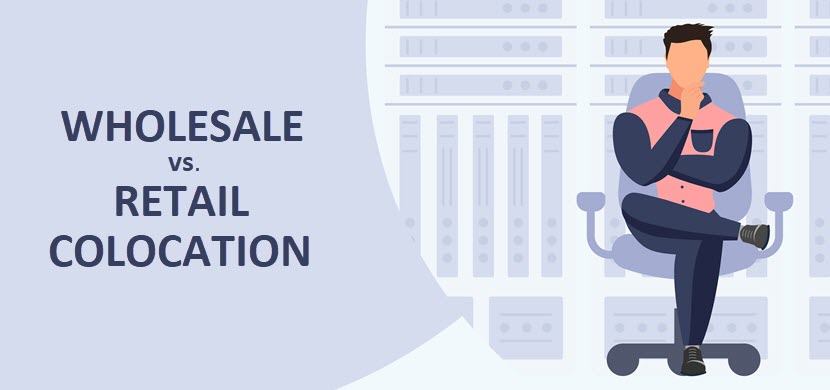 What Is Wholesale Collocation?
Wholesale colocation is a hosting service in which a provider leases out significant portions of its infrastructure to a single colo client. In some extreme cases, wholesale customers take up the entire facility.
Customers of wholesale colocation have extensive data storage and processing needs, so typical clients include the likes of:
Instead of renting individual racks or small-to-medium-size cages, a typical wholesale colo customer leases most (if not all) of the data center floor space. An average customer has power requirements exceeding 300 kW, although the exact threshold varies between data centers (some set the cut-off at 500 kW or even as high as 1 MW).
Wholesale customers typically sign long-term contracts (3-5 years on average) with providers, which usually leads to a favorable per-kWh price. The usual cost structure for wholesale colo includes two fees:
Fixed monthly rent for the hosting space.
A varying monthly bill for consumed power.
Depending on how much customization the client requires, providers also charge installation costs as a part of non-recurring charges (NRC). Providers also charge extra for support services (e.g., server management or migration assistance).
Wholesale colocation is highly flexible, so customers have various options during setup. A deployment typically involves custom build-outs tailored to specific IT needs (e.g., multiple cross connects or dark fiber). Once set up, no other customer can colocate assets in the same part of the facility, which makes wholesale colo a no-brainer choice for clients with strict data center security requirements.
Wholesale customers have the freedom to choose telecom carriers and ISPs for network connectivity. The diversity of carriers is often a critical factor when choosing where to colocate equipment.
Our flagship data center in Phoenix lets you choose from a total of 45 different carriers. We're also Arizona's only AWS Direct Connect and Google Cloud Interconnect location, plus we do not charge cross-connect fees.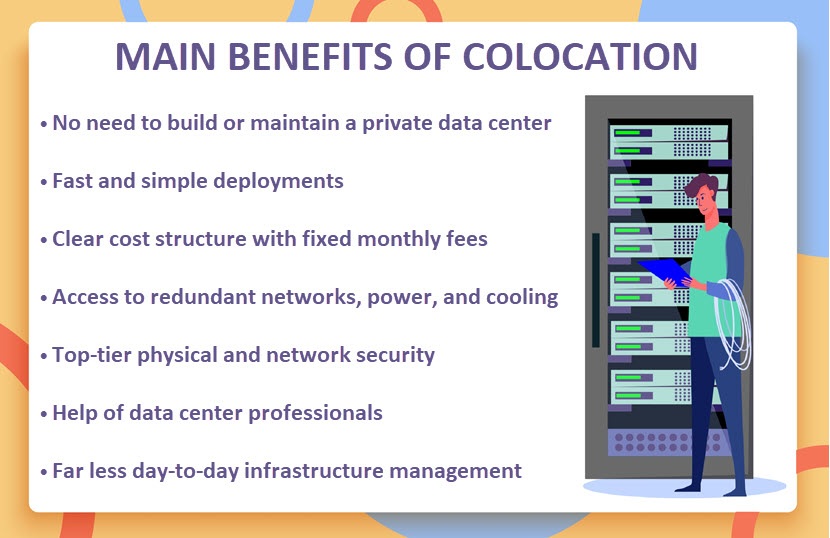 What Is Retail Collocation?
Retail colocation is a hosting service in which a customer rents smaller portions of a colo data center (a rack, a space within a rack, or a caged-off area). Unlike wholesale colocation, where the provider leases out large portions of the data center to a single client, retail colocation provides smaller units of space to multiple customers.
Retail colocation gears towards SMBs and startups that require reliable data center services but don't need a large amount of space or power. Common examples of retail customers include:
Web hosting companies.
Bigger e-Commerce retailers.
Telecom carriers.
Gaming companies.
Non-profit organizations.
Network providers looking to establish a Point of Presence (PoP).
Retail colo is far more common than its wholesale counterpart, accounting for over 72% of the colocation market. A typical retail customer has ten or fewer racks or cabinets, and equipment requires up to 300 kW of power. Providers organize a retail client's hardware in one of two ways:
Placing everything into one or more side-by-side colocation racks.
Dispersing hardware throughout the facility and connecting equipment with cross connects.
Retail providers offer various choices in terms of space allocation. Options range from smaller increments, such as 1U, 2U, 3U, and 4U (where 1U is the standard unit for measuring rack-mounted equipment's vertical space), to more substantial options (e.g., quarter racks, half racks, full racks, and multiple racks).
Retail providers offer bundled services at a flat monthly fee based on the following factors:
Deployment size.
Power-related metrics (rack density, power circuits, usable power).
Cooling requirements.
Connectivity requirements.
Extra managed services.
Retail colocation enables customers to tailor their IT infrastructure setup according to specific needs and requirements (although not to the extent of wholesale colo). Clients often start with a small amount of colocation space and scale up as their business grows.
Retail colocation is a common way for smaller organizations to start using cloud computing services. Once a company places servers in a colo environment, they often begin to connect to various cloud providers and experiment with hybrid and multi-cloud deployments.
Wholesale vs. Retail Collocation: Main Differences
The table below offers a head-to-head wholesale vs. retail colocation comparison:
| Point of Comparison | Retail Colocation | Wholesale Colocation |
| --- | --- | --- |
| Space allocation | Smaller (individual cabinets, racks, or caged-off areas) | Large portions of the facility |
| Hardware accessibility | Staff from other customers have access to nearby racks and cages | Only company staff members have access to the wholesale section of the data center |
| General power usage threshold | Up to 300 kW | Over 300 kW |
| Typical platform size | Tens to low hundreds of servers | High hundreds to thousands of servers |
| Customization options | Dependent on the provider's retail colo offering | A high degree of customization |
| Scalability | Limited to the amount of allocated space (but still sufficient for most retail-level use cases) | High due to a large amount of space, power, and cooling infrastructure |
| Power and cooling limitations | Yes | No |
| Redundancy | Redundancy levels vary based on offerings and customer requirements | High redundancy and uptime guarantees |
| Typical cost structure | Per-rack or per-cabinet pricing model | Bulk pricing based on space and power (plus any NRC) |
| Cost-effectiveness | Higher cost per unit of space/power | Potential for cost savings due to economies of scale |
| Typical contract length | Shorter-term contracts (1-3 years) | Longer-term (5+ years) |
| Contract flexibility | High | Low |
| Deployment speed | Fast | Slow |
| Installation cost | Low | High |
| Emerging tech adoption | Generally adopts new tech faster due to smaller scale | Takes time and money to adopt new tech due to the size of deployments |
| Go-to customers | Small to medium size businesses with relatively basic tech stack | Enterprises with a large IT footprint that do not own a private data center |
PhoenixNAP offers both retail and wholesale colo services, so visit our colocation page to see the benefits of hosting hardware at our facilities. You can also see whether you qualify to become one of our partnered VARs or MSPs on our partners page.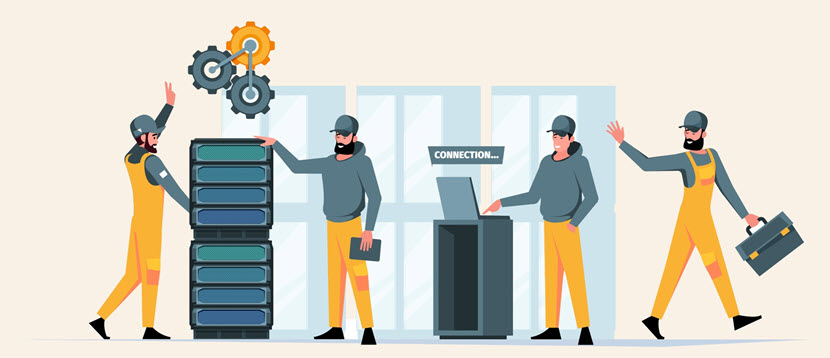 Wholesale vs. Retail Collocation: Which One Is for You?
When choosing between retail and wholesale colocation, the first consideration is the size of your IT footprint. If you're looking to colocate a few tens of standard, commercially available servers, retail is the right choice.
On the other hand, companies with hundreds or even thousands of servers with specific requirements (e.g., hyperscale or high-density computing) should look primarily at wholesale colocation. Here are a few ballpark thresholds that, if you meet them, make your use case a good candidate for wholesale colo:
Your equipment requires more than 300 kW to power.
You want to colocate more than 30 server racks.
Your colo equipment will host mission-critical operations that require 99.999% availability (less than 5.25 minutes of downtime per year).
You have certain legal obligations that make traditional lease agreements more appealing than a broader and potentially less specific Master Services Agreement (MSA).
Wholesale colo is also a sensible choice if you require extensive customization of the deployment, such as adding some of the following advanced features (all of which only make sense with large IT footprints):
Multiple power distribution systems.
Targeted cooling to possible hot spots.
Scale-out storage and servers.
The size of your allocated budget also plays a role when choosing between retail and wholesale colocation. Wholesale colo offers cost-effective prices due to economies of scale, but these services are considerably more expensive than retail colo. The typical client of the wholesale approach is a sizable enterprise, so expect steep monthly bills if you choose that route.
Check out our guide to colocation pricing to get an accurate estimate of how much you can realistically expect to pay for colo services.
Two Colocation Models that Cater to Different Client Bases
The choice between retail and wholesale colocation comes down to the size of your footprint, available budget, and specific IT requirements. Most companies find the simplicity and cost of a retail colocation facility the right fit for their needs and budgets. Meanwhile, customers with advanced IT needs and big footprints typically have no choice but to go with the wholesale approach.