Introduction
Ubuntu 18.04 was released in 2018, and it came with five years of support and updates from Canonical. The support period ends soon, and Ubuntu 18.04 will reach its EOL (end of maintenance and support) on April 30, 2023.
This article guides you through the Ubuntu 18.04 EOL process and gives possible options after the EOL date.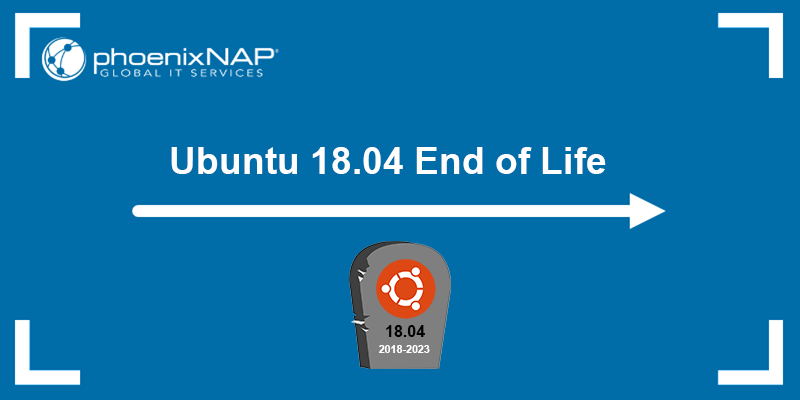 Ubuntu 18.04 End Of Life - What You Need to Know
Ubuntu 18.04 LTS (Bionic Beaver) was released in April 2018, and it is scheduled to receive updates and support from Canonical until April 30, 2023. The EOL means that Canonical will stop maintaining and providing support for the distribution after the designated date.
The LTS releases get maintenance and security updates from Canonical for ten years. The first five years include publicly available maintenance updates, and the other five years of updates require an Extended Security Maintenance (ESM) purchase. The ESM is available with an Ubuntu Advantage subscription.
The sections below help your Ubuntu 18.04 system for the upgrade and what you can expect after April 30, 2023.
How to Prepare for Ubuntu 18.04 EOL
Depending on your use case, several options are available:
Upgrade Ubuntu 18.04 to Ubuntu 20.04 LTS. The 20.04 version is supported until April 2030.
Note: Ubuntu dropped the support for 32-bit systems after Ubuntu 18.04. Therefore, it is not possible to upgrade to 20.04 if you are using a 32-bit system.
Continue to use Ubuntu 18.04 with Canonical ESM. The ESM provides security updates beyond the EOL date but comes with a fee.
Retire your machine. Retiring is an option if the machine runs on 32-bit hardware that doesn't support newer OS versions.
Upgrade to Ubuntu 20.04 LTS
The best option after Ubuntu 18.04 EOL is to upgrade to the next LTS version, which is Ubuntu 20.04 (Focal Fossa). The distro has long-term support and updates until April 2030.
Important: When upgrading Ubuntu, LTS releases cannot be skipped. That means it isn't possible to directly upgrade from version 18.04 to version 22.04 without upgrading to 20.04 first.
Follow our tutorial to upgrade to Ubuntu 20.04, applicable for users coming from version 18.04 or 19.04 on 64-bit systems. The step-by-step tutorial covers two options:
Upgrading to version 20.04 using the GUI.
Upgrading using the CLI.
Choose the option most suitable for you to upgrade your system.
Purchase Canonical Extended Security Maintenance
The Extended Security Maintenance (ESM) is additional support and maintenance for users who have purchased the Ubuntu Advantage subscription. With ESM, Canonical provides ongoing security fixes and essential packages after the initial five-year basic support.
Businesses usually purchase the ESM because upgrading to the latest OS can be a complex process for some deployments, despite the many benefits an upgrade brings. The complexity usually comes from:
Software provided by third-party vendors. Such software usually depends on certain software stacks (such as Java or Python) that have deprecated or different properties in the upgraded version.
Legacy software. When an organization runs legacy software that requires deprecated libraries and packages, the upgrade becomes an issue.
Hardware requirements. The software built on one version (examples are HDI or SCADA environments) requires further testing before upgrading to a new OS version.
Current ESM pricing is as follows:
| Physical Servers | Virtual Machines | Desktops |
| --- | --- | --- |
| $225/year | $75/year | $25/year |
The prices don't include monthly software support charges.
Retire Your Machine
The last option is to retire the machine running the Ubuntu 18.04 32-bit system. Old 32-bit machines cannot run new 64-bit Ubuntu 20.04 or Ubuntu 22.04 versions. In this case, the hardware must be replaced. This is a good opportunity to refresh your equipment.
Before retiring the machine and removing data, back up any critical data.
Conclusion
This article explained what you can expect when Ubuntu 18.04 reaches its end of life in April 2023. We also provided several possible solutions if you want and need to upgrade your system.
The upgrade is now simplified and user-friendly, making the transition smooth in most cases.
Was this article helpful?