Introduction
A streaming service is a platform that delivers digital media content in a continuous stream. It is a way of sending content, such as video, audio, TV shows, etc., over the Internet so that people can access it immediately without downloading the media files.
In this step-by-step guide, you will learn how to start your streaming service.
Note: phoenixNAP offers dedicated streaming servers with top-notch hardware, allowing users to streamline their media services through a workload-optimized platform. The servers ensure high bandwidth and consistent streaming even at peak times.
Streaming Stats
Some businesses, such as Netflix, HBO, Hulu, Apple TV, and Disney+, have had great success with their streaming services. Consequently, many other companies have started considering creating their streaming service, a decision supported by various statistics.
For example:
Rapid Growth. According to Statista, streaming will continue to outgrow other video market segments in the coming years. The statistics portal also claims the number of users in video streaming services is expected to grow to 1,4 billion by 2026.
Increasing Subscriber Numbers. Streaming services are getting more and more subscribers each year. For example, Netflix had more than 208 million paid subscribers worldwide in the first quarter of 2021 and 230 million in 2022. The number is expected to grow to 251 million subscribers in 2023.
Traditional Cable TV Drop. The "cord-cutting trend" has been a fast-growing trend in the US. Traditional cable TV subscriptions are declining, with more people opting for streaming services. According to eMarketer, 101.5 million people are projected to become cord-cutters by 2024.
Global Reach. Streaming services bypass the local limitations of traditional services. Thus, content creators can expand their reach worldwide, and companies can attract diverse consumer bases and expand their business globally.
Personalization. Streaming services use machine learning algorithms to offer personalized content based on user preferences. Content personalization affects user engagement and satisfaction.
Monetization. Apart from subscriptions, streaming services offer various revenue streams, including advertising, partnerships, sponsorships, merchandising, etc. The global revenue from subscription-based streaming has almost tripled since 2017, topping $80 billion in 2022. Additionally, the global revenue of the streaming industry is projected to reach $223.98 billion by 2026.
The statistics denote growing popularity, revenue potential, and opportunities available in the streaming industry. All the perks make streaming an attractive choice for entrepreneurs and content creators.
Starting a Streaming Service Guide
The steps outlined below help you get started with creating your streaming service.
Step 1: Choose a Niche
Decide on which content you want to stream. Some profitable streaming niches are:
Entertainment. Entertainment streaming services are becoming more and more popular. A good example is Netflix and many others like HBO and Disney+, showing that the audience is big enough for more streaming providers.
Fitness or Sports. Fitness and sports are prospective streaming niches. People often subscribe to fitness-related videos but also to a particular sport or group of sports that may have a dedicated fan base.
Educational or Instructional. "How to" videos are becoming predominant for obtaining instructions. Create a streaming service that offers educational or instructional content in various fields, such as cooking, photography, fitness, or language learning. This niche appeals to people who want to acquire new skills and knowledge.
Gaming. The esports and gaming community is becoming one of the most predominant streaming niches. The live streams, tournaments, game reviews, and related content appeal to gamers and esports enthusiasts, which results in a large number of subscribers.
Note: Check out phoenixNAP's dedicated game servers, providing high-end processing, memory, and storage capabilities for handling demanding workloads.
Step 2: Create a Unique Selling Proposition (USP)
A unique selling proposition (USP) makes your business stand out and be better than the competition. Creating a USP is crucial for attracting the target audience. Below are some critical steps to help you develop a compelling USP:
Identify Target Audience. Understand the audience you want your streaming service to cater to. Consider their interests and preferences, and tailor your USP to meet their needs.
Assess the Competition. Assess any existing streaming services in your niche and identify what they offer and how they are positioned. You can pinpoint their strengths and weaknesses and use them to find a gap in the market that you can fill.
Highlight Key Features. Identify the key features of your streaming service that make it stand out and emphasize them in your USP.
Connect to the Audience. Consider how your streaming service will connect to the audience and use the information to provide a unique emotional experience for the subscribers.
Set a Price. You can provide special discounts, offers, or incentives to users who buy your product or subscribe to your streaming service.
Step 3: Choose a Model
Streaming service monetization is based on the subscription model and strategy for monetizing your viewership. There are several monetization models you can utilize for your streaming service:
Subscription Video On Demand (SVOD)
Transactional Video On Demand (TVOD)
Advertising Video On Demand (AVOD)
or a combination of SVOD and TVOD.
The sections below explore each model and explain how they work.
AVOD: Advertising Video-On-Demand
Advertising Video on Demand (AVOD) allows users to enjoy free video content in exchange for watching ads. With AVOD platforms like YouTube and Hulu, users have access to a wide range of digital content without paying a fee.
Platforms based on AVOD generate revenue by seamlessly integrating advertisements before, during, or after the content. That way, they mirror the traditional television advertising model. By showing video ads from direct advertisers and sponsors, platform owners can set their ad prices and collect revenue directly.
Video ads are an enticing opportunity for companies to promote their brands, which is why these ads are a great way to monetize your service. You can further enhance revenue generation by offering an optional ad-blocking feature for an additional cost. That way, users get a customizable viewing experience, and you maintain a sustainable business model.
TVOD: Transactional Video-On-Demand
Transactional Video-On-Demand (TVOD) is in contrast with the subscription-based model. TVOD allows users to purchase specific on-demand content on a pay-per-view basis. The model enables users to select and pay for individual content according to their preferences. With TVOD, the provider generates revenue based on the popularity and demand for individual content.
Unlike subscription-based platforms that offer a library of content for a recurring fee, TVOD platforms enable users to make one-time purchases or rent a specific title. Such a strategy provides users with greater control over their viewing choices.
The straightforward pricing scheme of TVOD is particularly suitable for platforms focused on broadcasting live events, such as concerts or sports events. Platforms like Amazon Prime Video (through its Prime Video Store), Google Play Movies & TV, and iTunes are examples of digital services that offer TVOD options.
SVOD: Subscription Video-On-Demand
Subscription Video on Demand (SVOD) is a popular content distribution model where users pay a subscription fee to gain unlimited access to a vast digital content library. Implementing SVOD is particularly effective when there is a consistent release of new content on the platform.
Platforms like Netflix, Amazon Prime Video, Hulu, Disney+, and HBO Max have successfully implemented this monetization strategy. By subscribing to an SVOD service, users can stream an extensive range of movies, TV shows, documentaries, etc without limitations.
The subscription fee covers the licensing and distribution costs associated with the content. SVOD, coupled with consistent and compelling content, allows platforms to create a loyal subscriber base in the competitive streaming industry.
Hybrid: SVOD + TVOD
Some services have adopted a hybrid monetization model to provide users with greater flexibility in accessing digital content. Users can access a broader range of content beyond what is already included in the subscription offer.
In a hybrid model, there may be a streaming platform with a subscription-based service where users pay a recurring fee for unlimited access to a content library (SVOD). In addition, the platform can also offer the option to rent or purchase individual content on a pay-per-view basis (TVOD).
For example, Amazon Prime Video offers a lot of content in its SVOD package, and additional TVOD purchases are available. All that is incorporated in one app with one identity and one payment method.
Step 4: Address Streaming Platform Requirements
Your streaming platform should meet certain requirements to ensure smooth and efficient content delivery to end users. Some common streaming requirements include choosing the hosting, securing a stable and performant Internet connection, high security, and payment options.
This section discusses the requirements and offers advice for choosing the best option for your business.
Hosting
A reliable and robust hosting infrastructure is required to store and deliver video content to users. A common hosting option are cloud-based hosting services or building and maintaining dedicated video servers and storage systems.
Make sure to strategically distribute servers, content delivery networks (CDNs), and data centers to minimize latency and ensure fast and reliable content delivery. When deciding on the type of infrastructure, make sure it is also scalable so that it can handle a potential increase in traffic and storage demands that follow the platform's growth.
Network Connectivity
Stable and robust network connectivity is one of the most important requirements for a streaming platform. The network must ensure smooth and uninterrupted content delivery through high-speed, low-latency connections between the servers, CDNs, and end users.
Different mechanisms, such as failover and network redundancy, are essential for maintaining continuous content streaming, even in case of network disruptions.
Internet speed
The crucial role in a high-quality streaming experience is internet speed. The streaming platform needs sufficient bandwidth to handle multiple simultaneous streams and high-quality video encoding.
On the other hand, users need a stable and fast internet connection to stream content without waiting for it to buffer. If these conditions aren't met, the streams are often interrupted, resulting in customer dissatisfaction.
Security
Security is one of the essential requirements when creating a streaming service. Robust security measures protect the platform's infrastructure, content, and user data. Ensure to implement security protocols, firewalls, and intrusion detection systems, and perform regular security audits.
Some content protection mechanisms, such as DRM (Digital Rights Management), are necessary to prevent unauthorized access and piracy. Content encryption and token-based authentication can also be encrypted to prevent unauthorized access. These measures ensure that only authorized users can decrypt and view content.
Since streaming platforms handle sensitive user data and payment details, it is essential to implement strong data protection measures and privacy regulations.
Protection from distributed Denial of Service (DDoS) attacks is also important because they can disrupt streaming services with traffic influx. Implement mitigation strategies, such as traffic filtering and load balancing, to counter DDoS attacks.
Payment Gateway/Payment Processor
Provide your subscribers with different payment options. Including different payment solutions makes checkout easy for your customers. Additionally, limiting your platform to a single payment option is viewed as outdated.
Some popular payment solutions are:
CCBill. A popular payment solution in the US that specializes in providing secure online payment services for various industries, including streaming media payment processing. It offers a range of features, such as subscription management, billing, and fraud protection.
Stripe. A payment gateway that enables businesses to accept payments online. It has a developer-friendly platform with different features for accepting credit card payments, recurring billing, and mobile payments.
Apple Pay. A mobile payment and digital wallet service for Apple devices. Users can make transactions using their iPhones, Apple Watches, iPads, or Macs.
Google Pay. A digital wallet platform that enables users to make payments using their Android devices. It integrates with various payment methods and loyalty programs.
Step 5: Create a Business Plan
Create a business plan that focuses on various aspects of the business. Make sure to provide original content and use the plan as a guide for all your actions, including the following essential steps: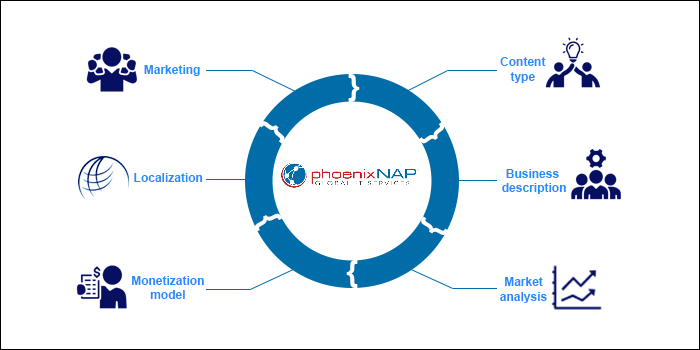 1. Content Type
If video content is the basis of your streaming service, make sure to decide on what type of content you are going to use:
Content that you will create yourself.
Content created by third-party creators.
If you want to create content yourself, note that it will require an additional budget for video production.
2. Business Description
Describe your business, legal structure, ownership, and key team members. Explain the mission, vision, and values of your streaming service.
3. Market Analysis
Research the streaming industry to see the market trends, competition, and target audience demographics. Identify and understand your target market segments, preferences, needs, and typical behavior.
4. Monetization Model
Choose a monetization strategy to turn your streaming service into a successful business venture.
5. Localization
If you decide to launch a streaming service in a foreign market, you must find companies that provide content localization services.
6. Marketing
Outline your marketing and customer acquisition strategies. Define your branding, positioning, and promotional activities to attract and retain subscribers. Consider digital marketing, social media, influencer partnerships, and traditional advertising channels.
Step 6: Address Legal Registration & Content Licensing
When starting a streaming service and distributing video content, it's crucial to ensure your business is compliant with the law and properly handles content licensing. When it comes to licensing video content for streaming in the USA, several major companies provide licensing agreements between content owners and streaming platforms:
Warner Bros. Entertainment.
Universal Pictures.
Sony Pictures Entertainment.
20th Century Studios.
Paramount Pictures.
Lionsgate.
Note: Video content licensing requires substantial investments. Companies like Netflix invest billions of dollars in content licensing and video production.
Additionally, some licensing companies sell licenses only for the first season or an episode of a show. Therefore, it is best to negotiate the terms before signing any agreements or choosing a company to work with.
Step 7: Design the Platform
User experience is the number one priority when designing a streaming platform. Make sure to understand the target audience and their preferences. Consider factors such as content discovery, ease of navigation, personalized recommendations, and seamless playback across different devices and OSes.
A clean and intuitive UI that allows users to quickly find and access content is essential. Incorporate features like search functionality, categories, genres, and user-generated playlists to enhance content discoverability. You should also start building brand identity through visually appealing layouts with clear and consistent branding elements.
Step 8: Develop the Platform
When developing a streaming platform, focus on scalability and performance. The platform should be able to handle high traffic and be scalable as the user base grows.
Leverage cloud-based infrastructure and content delivery networks (CDNs) to ensure fast and reliable content delivery. You can also enhance video quality based on the users' connection quality through adaptive streaming technologies.
Pay attention to the encoding and transcoding processes which should support a wide range of devices and screen resolutions. Additionally, ensure to protect content access and safeguard sensitive user data.
Step 9: Develop a Marketing Plan
A part of a successful business plan is developing a comprehensive marketing strategy. Without marketing, people would not learn about your streaming service.
Consider the following marketing options for your streaming service:
Paid ads. The word of your streaming service can reach its first users through a paid advertisement.
Social Media Marketing (SMM). Likely the best way to connect with potential users and maintain the relationship with current ones.
Influencer Marketing. Hiring an influencer or blogger can help spread your reach, especially if they are someone closely related to your niche.
SEO. Optimizing your website helps promote it on Google and other search engines. Having one of the first positions increases the chance of getting new customers.
Partnerships. Cooperation with other businesses is also a viable option. You can promote your streaming service at each other's events and with each other's audiences.
How Much Does it Cost to Start a Streaming Service?
Starting a streaming service requires a large budget. The costs mostly depend on the number of features and technologies you want to implement. Consequently, the more features you want, the more time it will take to complete the app. If you decide to create different apps for the end-users and admins, the cost will be even higher.
The development process may take about six months for a single app with basic features. If you don't have the budget for the entire development process, you can try to get investors by providing them with an MVP (Minimum Viable Product) and interesting them in your streaming service.
The following table shows an estimated cost of creating one average MVP streaming app similar to Netflix, with a basic set of features:
| Development Type | Development Cost |
| --- | --- |
| iOS App Development | $30,000 - $60,000 |
| Android App Development | $40,000 - $60,000 |
| Back-end Development | $40,000 - $50,000 |
| Front-end Development | $30,000 - $40,000 |
| Total Cost | $140,000 - $200,000 |
Conclusion
Starting a streaming service can be challenging, but it is an achievable goal with the right approach and careful planning. This comprehensive guide has provided the insights and steps to help you navigate the process successfully.
Despite the highly competitive streaming market, there is still room for innovative and unique platforms.
Was this article helpful?