Authored by Ron Cadwell, founder and CEO of phoenixNAP. Prepared for publishing by the Editorial team.
People have been moving east from Silicon Valley for a while now. According to the California Department of Finance, the Golden State lost more than 352,000 residents between April 2020 and January 2022. For the first time, more people are leaving than coming.
Arizona is one of the states Californians are flocking to. According to the latest data from the Census Bureau, nearly 500,000 Californians moved to Arizona between 2010 and 2018. And it's not only people but businesses as well, with forty-five companies moving or expanding to Phoenix in 2021 alone.
As someone who created multiple successful businesses in this great state, I will explain why setting up shop in Arizona is such an attractive proposition – especially for startup companies.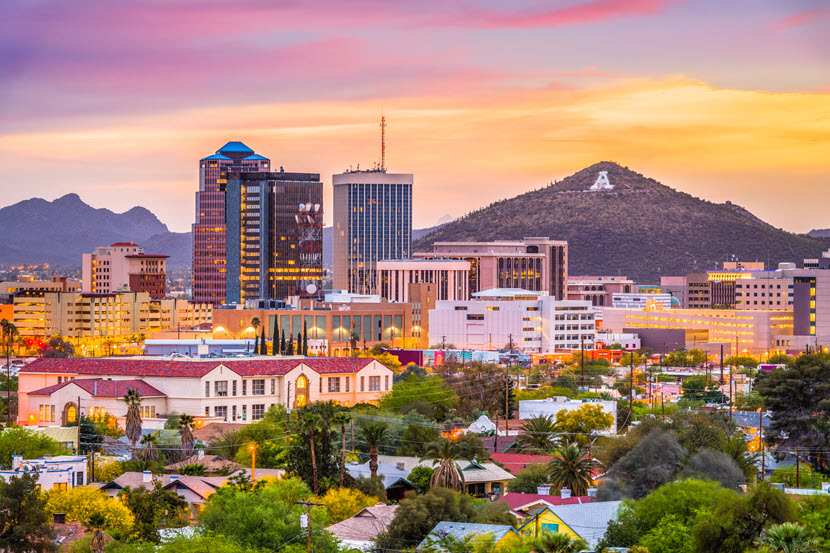 The Silicon Desert Is Red Hot with Startups
Though the Arizona startup scene is still in its infancy, it has shown much promise. Phoenix has risen through the ranks to be the 7th best startup city in America and is now the home to more than 400 startups, including heavy hitters such as Lessen, Persefoni, Paradox, and Nikola Motor Company, to name a few.
This migration of businesses to the desert is not a fluke. So let us take a look at the reasons why so many companies have chosen Arizona as the launchpad for their enterprise.
1. Business-Friendly Climate
Arizona is one of the most business-friendly states in the United States, with a stable, politically predictable government that offers excellent business incentives such as:
Tax credit for investment and the creation of jobs.
Training grants that pay up to 75% of training expenses for employers.
Tax credit for research and development projects.
Tax incentives for solar, wind, geothermal, and other renewable energy companies.
In addition to these incentives, base taxes in Arizona are fair and much lower than in California:
| | | |
| --- | --- | --- |
| | Arizona | California |
| Income Tax | 4.54% | 9.3% |
| Sale Tax | 5.60% | 7.25% |
| Property Tax | $1,043 | $1,449 |
| Corporate tax | 4.90% | 8.84% |
Founding a limited liability company (LLC) in Arizona is straightforward and costs only $50 with no yearly fee.
2. Fastest Growing Talent Pool in the US
Blending home-grown talent and newcomers, Arizona boasts a highly competent, educated, and growing workforce. With a population gain of over 98,000 people in 2021, Arizona is the No. 1 attraction for talent in the U.S. for the second year in a row and the fourth time in the last six years.
And the future looks even brighter as Arizona's population is projected to grow to 8.2 million by 2030 (from the current 7.2 million). Coupled with steady GDP growth of 5.3 percent in 2021, this vibrant population creates the conditions for a robust domestic market and a positive feedback loop that draws more people in.
Arizona's population is also well educated, with prominent universities and specialized schools educating more than 200,000 students yearly. The Maricopa County College District is one of the biggest in the country, with 17 colleges in Phoenix and 29 colleges within 50 miles.
In the past, Arizona was primarily known for its aerospace, defense, electronics, and agriculture but shifted to financial services in the 90s. Now tech jobs are the new pivot for the region, with cybersecurity leading the way.
3. Affordability for People and Business
The cost of living in Arizona is significantly lower than in California, with an overall 30% cost advantage for businesses moving here.
According to NerdWallet's cost of living calculator, the median home price in Arizona is $346,000, while in California it's more than double and stands at $827,000. And it is more of the same when it comes to living expenses. Gas prices are, on average, 26% lower in Arizona, while healthcare is 25%, and food 15% cheaper.
Low overheads leave room for other, more important, and sometimes unexpected expenses. Relocating can also facilitate a more competitive pricing strategy, which is more important than ever in today's ecommerce-driven landscape. Low living costs also allow more flexibility regarding wages, allowing startups to employ more people and attract better talent.
4. Predictable Weather and No Natural Disasters
Phoenix is one of the rare metropolitan areas in the U.S. with minimal natural disaster risk, partly due to its predictable weather. Arizona's capital enjoys an average of 300 sunny days per year and the last time we had snowfall was in December of 1990.
The summer months do get hot, but by and large, people and businesses don't have to deal with disasters such as snowstorms, hurricanes, floods, or earthquakes. In its entire history, the Grand Canyon state has experienced only 68 federally declared disasters. Compare this to California's 284 and Texas's 255, and you get a clear picture why businesses and people sleep more soundly in Arizona.
An added benefit of weather stability is the reduction of upfront construction costs and the possibility of tapping into the potential of solar energy. All these factors combine to make Arizona a draw for investment.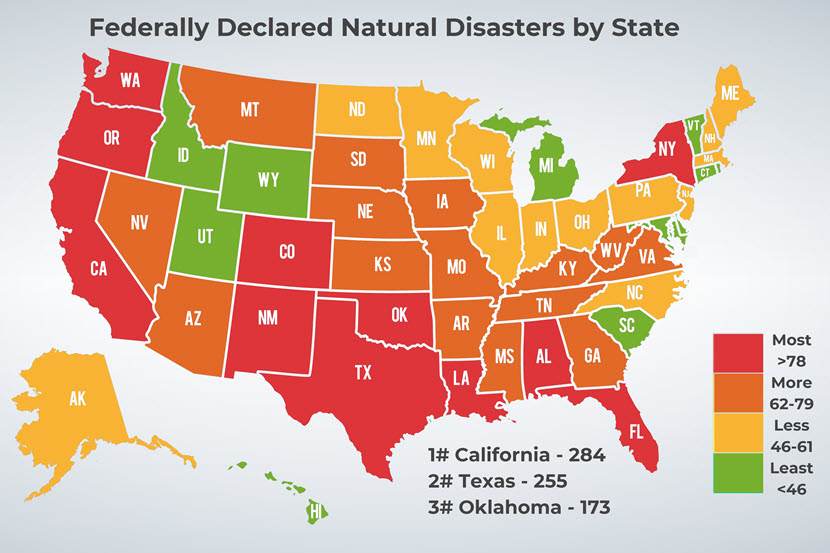 5. Great Infrastructure
Long commutes are a major reason why many Americans are unhappy with their work – and nowhere is this feeling stronger than in California.
Phoenix ranks among the least congested metropolitan cities in the USA, with an average of 34 hours annually lost to traffic jams, compared to the 75 hours the Los Angeles metro area racks up. And if driving isn't your thing, Phoenix has a good public transportation system and a walkable and bikeable downtown area.
Phoenix is also a comparatively young city, with logically laid out streets that are simple to navigate. Two interstates and three large highways offer efficient transportation to commuters and industrial shipping.
Arizona's infrastructure enables access to major markets and West Coast ports.
Thirty-five million consumers can be reached by truck haul within one day.
Phoenix Sky Harbor International Airport provides access to 129 domestic and international locations through more than 1,200 daily flights carrying 46 million passengers annually.
1,700+ miles of railroads crisscrossing the state provide connections to the Southwest and Mexico.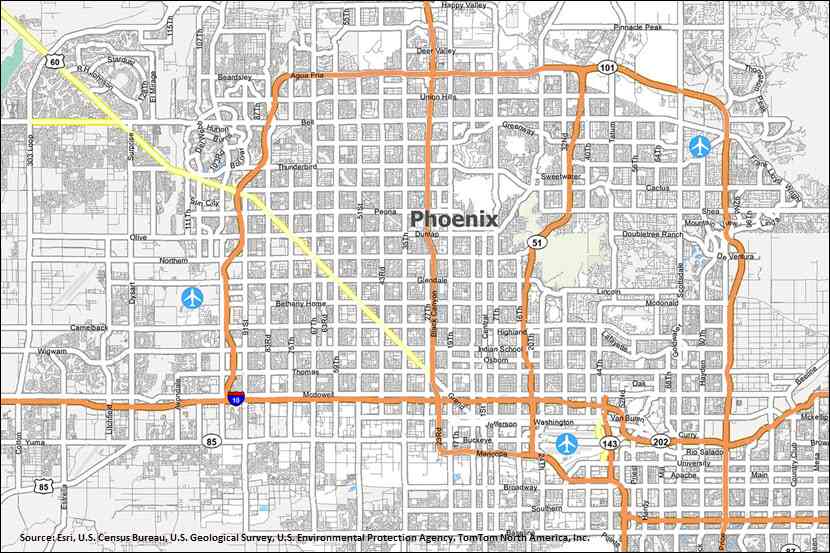 Conclusion
Over 800 companies have relocated or expanded to Arizona in the past 30 years, and the state continues to be one of the leading destinations for migrating businesses.
Arizona is the perfect environment for high-tech companies, and even before investment capital took notice, local startups thrived by delivering use-inspired practical solutions for real problems. Many have stood the test of time and proven more resilient to market fluctuations than their peers in Silicon Valley.
I have given you 5 tangible reasons why Arizona is the place to do business but there are many more for you to discover. If you are an IT startup looking to set up shop in Arizona, we'd be proud to partner up with you and provide you the flexible computing infrastructure that you need. Also, check out our article on how phoenixNAP helped startups to achieve their goals, learn what challenges they encountered, and how they overcame them.