Setting the bar for high-density and security, our Phoenix, Arizona colocation is housed in a controlled and concurrently maintained data center environment, and is suitable for private and multi-client infrastructures.
OUR FLAGSHIP PHOENIX COLOCATION FACILITY OFFERS:
Flexible Floor Space
Redundant Electrical Power and Cooling
Highest Standards of Security
Multiple Network Connectivity Options
Protect Your Infrastructure in a Disaster Free Environment
Our Arizona colocation clients realize the benefits of our geo-location.
UNIQUE TO PHOENIX, ARIZONA:
Catastrophic, disaster-free zone
Fifth largest US metro
Steady growth of IT labor and tech resources
Modern power grid with affordable power rates with incredibly high uptime
2N power with primary/redundant configurations
24/7/365 full-time security team
Over 25 unique carrier service providers
2 Independent, redundant fiber vaults
SOC Type 2 audited and HIPAA ready infrastructure
Private Cage Ramp solutions for flexible growth
Private, locking ¼ cabs up to private cage colocation product options
24/7 Network Operations Center with full managed support solutions
Standard 200 watt/sq. ft. density with capacity for 500 watt/sq. ft. plus configurations
Hardware as a Services (Leasing) solutions with dedicated servers and network equipment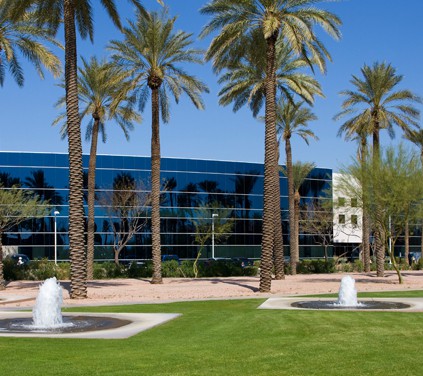 The phoenixNAP facility is a short, 5-minute drive from Sky Harbor International Airport in Phoenix.
DDoS-Protected Network to keep Your Business Online
Our facility sits at the intersection of the two largest fiber rings in Phoenix. Connecting through two independent vaults, Carriers at phoenixNAP Arizona can deliver unmatched redundancy, and a unique connectivity solution.
PhoenixNAP NETWORK AND CARRIER BENEFITS:
DDoS Protected Network

Free 20 Gbps of DDoS protection
Distributed and Linked pop locations in Los Angeles, Phoenix, Ashburn, Atlanta, Netherlands, Singapore, and Serbia

Ethernet, Point-to-Point, Dedicated Wave connectivity options, plus many more
Comprehensive Carrier product offerings
No monthly cross connect fees
Full Service Experience without Entering Our Facility
No matter where your corporate or business satellite location is based, you can leverage our team of technical experts to handle and support your valuable infrastructure environment.
 PhoenixNAP PROVIDES:
Full-time, 24/7 NOC with onsite, trained technicians
Solutions for racking hardware, changing hard drives, adding memory or daily tape swaps
Full-time Cabling team for setup to configuration
Multiple colocation products, including private, locking ¼, ½, full and Multiple cabinet private cages
Hardware Leasing options featuring

SuperMicro® servers with Intel® processors
Full Brocade® router, switch and load balancer catalog
Assortment of Firewalls from Dell SonicWall®
Leverage the Latest Technologies to Maximize Rack Space
Engineered with a clean sheet design, the phoenixNAP Arizona data center is dedicated to uptime, security and environment stability.
BENEFITS OF OUR HIGH-DENSITY DESIGN:
Ability to configure compute and storage environments up to 500 watts per sq. ft.
Leverage every U in the cabinet – flex pods, storage arrays and blades can be placed in a single cabinet
Minimize unused space for optimum stability and value per square foot
PhoenixNAP's 2N POWER SOLUTIONS OFFERS:
Completely independent power configuration for Primary only or Primary/Redundant power
Separate transformers, power conditioning and routes to the client environment
Dedicated and configured generator farm for indefinite run times in the case of emergency or power disruption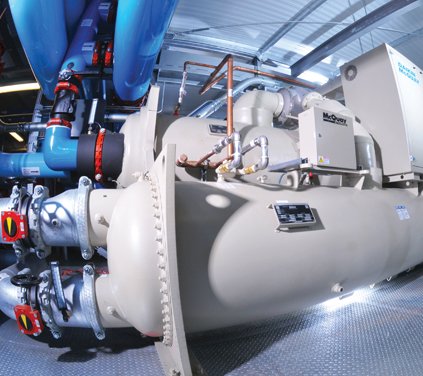 WORLD CLASS COOLING SYSTEM:
Utilizes a best in breed Daikin/McQuay® chiller solution
Chilled water cooling
Concurrently maintainable – 100% environment stability, even with multiple failures of equipment
Dedicated and Private Security
We offer a team of full-time physical and data security professionals that work exclusively for our phoenixNAP Arizona location.
PhoenixNAP PHYSICAL SECURITY FEATURES:
24/7/365 on site security team, Taser® certified and US Military or Police veterans
Multi-factor authentication mechanisms, including biometrics
Multi-tier security zones
High perimeter walls surrounding each mechanical zone
Lenel camera motion detection monitoring systems
DATA SECURITY ATTRIBUTES INCLUDE:
Full-time staff of enterprise data security specialists
SOC 2 Audited
HIPAA ready infrastructure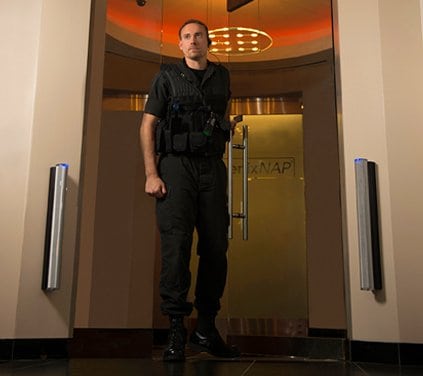 Our security teams and our policies offer every Arizona colocation client 24/7 access to our local facility. We stand ready to provide your pre-authorized 3rd party vendors a logged security escort to your environment anytime, day or night.
Build Your Colocation Solution at an Affordable Price
Setting up a new colocation environment can be challenging. Our packaged colocation specials allow new phoenixNAP clients to quickly turn up and enjoy all of the benefits of our redundant power configuration, full-time dedicated security and ultra-fast connectivity at an extremely affordable price.
Phoenix Colocation Resources
Want to learn more about phoenixNAP Arizona colocation? Start here and quickly find out why clients trust phoenixNAP to support their infrastructure needs with flexible, reliable and secure solutions:
See Marc Chesley of Infusionsoft share his Phoenix NAP experience.