Rarely can you predict when you will actually need help with your account or your hardware. You can count on the phoenixNAP support team to act fast and with accuracy, every time and around the clock.
PhoenixNAP SUPPORTS YOUR BUSINESS WITH OUR:
24/7/365 account and technical support, by phone, email, and LiveChat
20 minute or less, first-response guarantee
Professional and certified support staff, ongoing customer success associates, and an assortment of additional helpful resources
When you are a phoenixNAP customer, support means more than just answering your technical questions and fixing your problems. From your first sales interaction, to technical or billing inquiries, to advice on which service will best support your changing needs, we have the people and the resources to take care of you and the growth of your operation.
BENEFITS OF phoenixNAP SUPPORT:
We are dependable, fast and accurate, providing round-the-clock support
We strive for prevention, and take extra steps to stop issues from reoccurring in the future
We provide peace of mind, knowing you have phoenixNAP as an extension of your business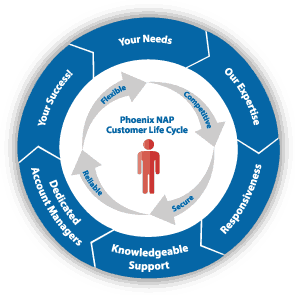 Technical, Billing, Sales and More
We offer more than the 'standard'; each phoenixNAP client receives 'business' support. We go beyond just supporting your technical needs, to ensure that your business requirements are covered from all angles. From your first sales interaction, we have the people, the knowledge and the resources to take care of you through the lifecycle of your phoenixNAP account.
TECHNICAL SALES EXPERTISE:
Fast response on quotes
Custom configuration advice
Objective, competitive comparisons
Live Chat availability – 7 days a week
Multiple quotes to compare
Volume discounts
Reseller advice
Software options and compatibility advice
Business model to hardware matching
Pre-pay and contract discounts
Managed DDoS protection advice
Four-hour hardware replacement guarantee
100% network uptime guarantee
20-minute support ticket response guarantee
Remote reboot included
Free O/S reinstalls*
IPKVM access upon request
IPMI Access with your order**
Network-level, incoming DDoS protection
24/7/365 server monitoring
24/7/365 telephone customer service
Free Plesk or Webadmin control panel for day-to-day self-administration
Network-attached managed backup solutions and installation assistance
Customer portal and bandwidth graphs
*Applies to operating systems that Phoenix NAP supports
**Remote console access to the server
Dedicated liaison between all departments
Service upgrades/downgrades, hardware and software add-ons
Custom Configuration advice
LiveChat availability (even weekends)
Software options and compatibility advice
Business model to hardware matching
Pre-pay and contract discounts
Managed DDoS protection advice
Multiple quotes to compare
Server to server comparisons
Volume discounts
Reseller advice
Partnership reviews
Product requests, reviews
and advisory
Advanced approvals
Escalation support
24/7/365 access
Client feedback distribution
Satisfaction surveys
Live Chat accessibility
Conference call resolutions
Payment option: billing periods, service suspension requests and grace periods
Answers at Your Fingertips
Have a basic question and looking for a quick, easy to find answer? Our frequently asked questions are a great place to start. If you can't find what you are looking for, rest assured that we are here to help and just a quick click or call away. Please visit our contact page for a full list of convenient support contact methods.
How do I notify users when they are approaching bandwidth limitations?
How do I login to the Client Dashboard?
How do I create an FTP account in Linux?
How do I transfer files from one server to another?
How can I monitor what my MySQL server is doing?
How do I change my DNS settings through the Plesk Control Panel?
How do I set up email for my site?
How do I access the File Manager for my domain?
We Are Just a Call or Click Away
Need to speak with a Server Specialist? We are here and ready to help. Please contact us now, and we will quickly roll up our sleeves to address your issue and answer your questions, 24/7/365.
Contact us to help YOU with:
technical

Questions or issues with your service or hardware:
1.855.330.3803
Local: 480.646.5362
Account & Billing

More information and questions about your account or billing:
Sales

Chat with a Server Specialists about your  upcoming project: