Cloud computing has already reshaped the way companies do business, but the transformative effects of the cloud are far from over. Trends in 2022 displayed a continuation of rapid adoption and growth as companies continue to use the cloud to modernize operations and expand IT capabilities.
This article analyzes the 6 cloud computing trends shaping the market in 2023. All the trends below will have an impact beyond the current year and the info you find in this article is vital to staying competitive in the ever-evolving world of cloud computing.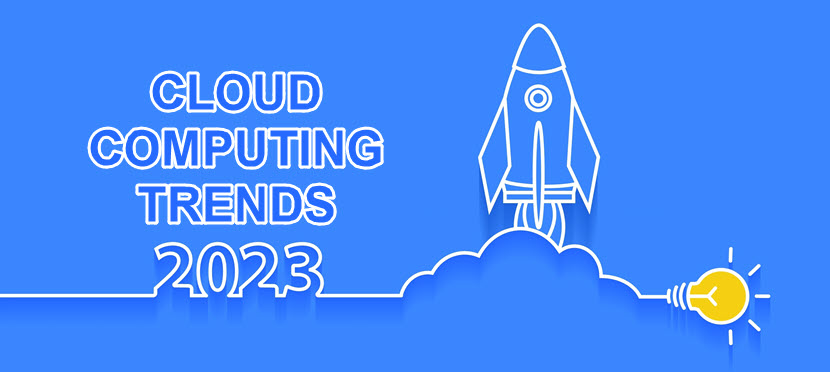 New to the cloud? No worries—here are a few articles to get you started:
Cloud Computing Trends
The cloud continues to be a crucial resource across various sectors as companies increasingly rely on on-demand IT for anything from accounting software to full-blown IaaS, PaaS, and SaaS solutions. The following stats help illustrate the current state of the cloud market:
Enterprises use the cloud to process around 94% of all business workloads. Of that number, 75% runs as part of Software-as-a-Service (SaaS).
By the end of 2022, the global cloud computing market will reach $623.3 billion. By 2025, that number will push through the $800 billion mark.
The total end-user spending on cloud services will be around $397.5 billion by the end of 2022. In 2021, this figure sat at around $332.3 billion.
Over 92 percent of enterprises have a multi-cloud strategy.
About a third of an average company's IT expenses goes towards cloud services.
North America accounts for 61% of the worldwide cloud computing market.
Over 48% of companies plan to move most of their apps to the cloud by the end of 2022.
By 2025, businesses will be deploying 95% of all new workloads on cloud-native platforms. 
These numbers clearly show that the cloud will play a pivotal role in IT in the coming year(s). Let us look at the cloud computing trends you can expect to see in 2023.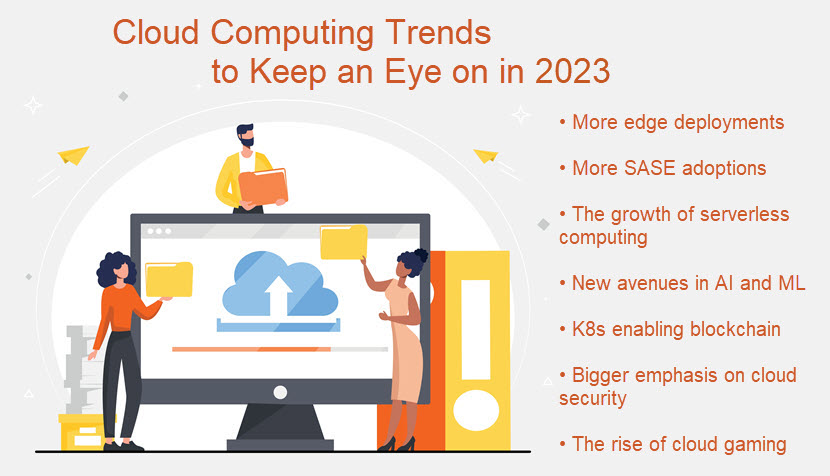 Deploying to the Edge
Edge computing is a new approach to processing data in which operations do not take place within a data center. Instead, computation and storage occur within localized devices at or near the network's edge (i.e., the point where end devices connect to a network to deliver data and receive instructions from the central server).
Every edge server has separate computing, networking, and storage capabilities, so each device has functions for:
Edge computing is not a substitute for cloud computing. Instead, edge and cloud computing complement each other, a combination we saw a lot of in 2022. Using both cloud and edge tech enables IT environments that have the benefits of the cloud but also provides:
Near-instant data processing.
Little to no latency in response times.
Lower bandwidth usage.
Decreased volumes of transmitted data.
Edge computing was critical in 2022 as more and more companies look to combine the cloud with edge devices to gain more efficiency.
You can also expect an increase in Secure Access Service Edge (SASE) as at least 40% of companies will look to add SASE to their toolchains. This security architecture allows a company to manage and control access between cloud apps and services, on-prem infrastructure, and end-user devices. SASE helps maintain a high level of security and compliance, two of the top edge computing challenges.
Ready to take data processing to the edge? PhoenixNAP's edge computing servers enable you to build a latency-free infrastructure and ensure smooth delivery of services no matter where your customers reside.
The Continued Rise of Serverless Computing
Serverless computing is a cloud model in which the consumer does not have to deal with server provisioning and infrastructure management. Instead, the cloud provider handles the underlying infrastructure and allocates compute resources based on the current needs.
Serverless computing offers many benefits to a business:
You do not pay for fixed amounts of storage or bandwidth. Instead, you get to rely on a true pay-as-you-go service.
The in-house team does not have to worry about server management.
In-house developers do not have to provision complex server clusters, so the team can spend more time coding and innovating.
Serverless platforms scale automatically without any intervention from the in-house team, so there is no risk of under or overprovisioning.
You lower the risk of back-end failures.
The popularity of serverless computing continues to grow. This approach is another opportunity to increase team agility and lower expenses, so expect to see more companies adopt serverless platforms in the coming year.
Current projections suggest that we will see demand for serverless technologies grow by 22.6% between 2022 and 2026. The main contributor to that figure being startups that see serverless computing as an opportunity to use the cloud without the complexities of managing the infrastructure.
Optimizing expenses within a pay-as-you-go model is vital to your bottom line. Here are 14 cloud cost management tools that help ensure you never pay for resources you are not actively using.
Even More AI and ML Adoptions
All machine learning and AI platforms require high processing power and data bandwidth, capabilities that are far more affordable via the cloud than any other route. The two technologies complement each other perfectly:
AI helps cloud services manage data while gaining reliable insights into user behavior, trends, likes and dislikes, etc.
Cloud tech makes AI more cost-effective and accessible.
Cloud computing plays a major part in the development of two emerging AI techs:
Creative algorithms: These programs use machine learning to create anything from art to synthetic data. These algorithms are also able to train other AI programs.
Language modeling: Programs with increased accuracy to understand human languages, a tech projected to transform the way businesses interact with users.
Cloud computing will play a key role in delivering these services to users and providing the infrastructure for compute-hungry programs.
The use of the cloud in AI is not just beneficial to large companies. Small and low-tech businesses will increasingly start to use cloud computing as a gateway to top-tier AI solutions.
Without the cloud, startups and companies with smaller budgets would not be able to work with advanced ML and AI functions. Luckily, businesses of all sizes and types can now develop AI/ML products thanks to cloud computing.
Consequently, experts project that the AI market value will skyrocket to $850.61 billion by 2028. Since these AI/ML platforms require high processing power and bandwidth, the cloud will inevitably play a major part in that growth.
AIOps enables you to use AI and ML to analyze data across your IT and provide DevOps and ITOps teams with the means to make informed decisions and reliably automate tasks.
Kubernetes and Blockchain
Blockchain is a technology that provides a tamper-free digital ledger that can record data without relying on a central authority. Blockchain is a game-changer, but it also has problems with scaling, particularly in terms of big data storage and management.
Kubernetes (K8s), an open-source system for automating deployments and scaling apps, helps rapidly scale a blockchain environment. K8s also ensures high availability with multiple containers running for a single critical service.
Blockchain and K8s are a great fit, and companies will continue to push that envelope in 2023. Deploying blockchains and their components via cloud-native Kubernetes clusters might soon be a standard of adoption as teams look to solve blockchain's complexity and integration concerns.
Wish to learn more about Kubernetes? You've come to the right place:
More Emphasis on Cloud Security
The concerns surrounding privacy, compliance, and the risks of integration continue to be top roadblocks for cloud adoption. As a response, cloud providers are offering improved security features. In 2023, we will see an increased demand for:
Secure Access Service Edge (SASE): SASE enables users to reliably manage and control access between cloud apps, on-prem IT, and end-user devices.
Cloud-based disaster recovery (DR): Cloud disaster recovery enables a company to back up data and set up a standby IT environment that can step in if the primary infrastructure goes down. 
Gaining visibility across a multi-cloud is also be a top priority in 2023. Business owners want transparency across all IT environments to prevent gaps that can lead to compliance violations or cyber attacks.
You can also expect more companies to go for cloud security access brokers and similar types of software. Different forms of cloud-related tools will become more vital as the complexity and diversity of cloud platforms increase.
PhoenixNAP's Data Security Cloud enables you to rely on a long list of security measures (virtualization techniques, segmentation, access controls, advanced threat analysis, etc.). Created in collaboration with Intel and VMware, our Data Security Cloud is an ideal choice for any team looking for a proactive approach to security.
Developments in Cloud Gaming, AR, and VR
Cloud gaming enables players to run video games on remote servers and stream them directly to their devices. Playing a game remotely allows you to:
Run any game without having to invest in costly hardware or consoles.
Enjoy a lag-free experience.
Play games without having to free up storage space on your home device.
Ensure compatibility across devices for all players (both in terms of software and hardware).
Rely on better security due to the lack of game piracy and on-prem executables.
As e-gaming continues to grow both as a hobby and a sport, the need for cloud gaming follows as providers look to improve their steaming tech.
Industry giants like Microsoft, Google, Amazon, and Apple are all actively developing their cloud-based gaming spaces, so expect this to be a major cloud computing trend in the future. You will also see rapid growth of Cloud VR and AR.
If cloud gaming is not right for you, you can also deploy a dedicated server for gaming. A private gaming server is ideal for anyone looking for lag-free gameplay and complete freedom to customize online matches.
Cloud Computing Trends 2023: Do Not Be Left Behind
At this point, using the cloud is no longer optional. To remain competitive, companies have to embrace the cloud and commit to modernizing their IT. Stay on top of the cloud computing trends above and start thinking about cloud migrations sooner rather than later to keep up with competitors.