The advancement of virtualization technology has made Cloud Computing an integral part of every industry. Cloud computing has four well-known flavors: Public, Private, Hybrid, and Bare Metal Cloud.
The "Community Cloud" concept is new and falls somewhere between Public and Private Cloud.
What is a Community Cloud?
Community Cloud is a hybrid form of private cloud. They are multi-tenant platforms that enable different organizations to work on a shared platform.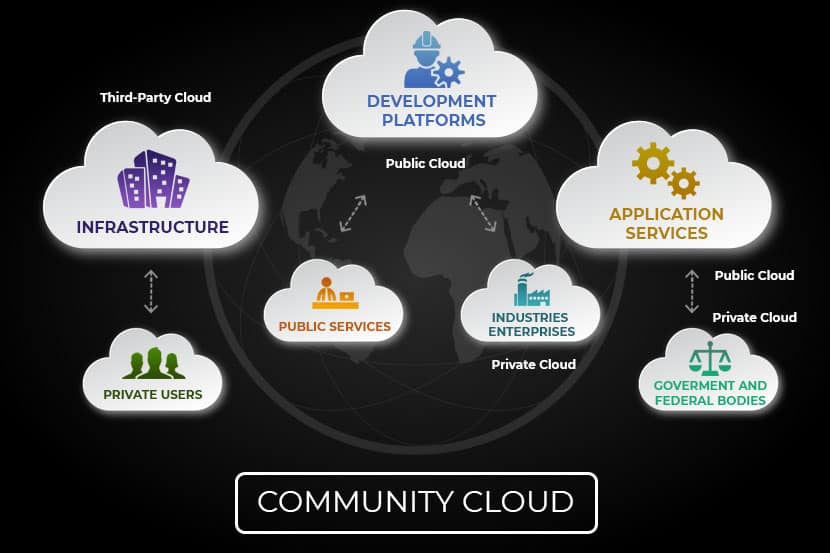 The purpose of this concept is to allow multiple customers to work on joint projects and applications that belong to the community, where it is necessary to have a centralized cloud infrastructure. In other words, Community Cloud is a distributed infrastructure that solves the specific issues of business sectors by integrating the services provided by different types of cloud solutions.
The communities involved in these projects, such as tenders, business organizations, and research companies, focus on similar issues in their cloud interactions. Their shared interests may include concepts and policies related to security and compliance considerations, and the goals of the project as well.
Community Cloud computing facilitates its users to identify and analyze their business demands better. Community Cloud may be hosted in a data center, owned by one of the tenants, or by a third-party cloud services provider and can be either on-site or off-site.
Community Cloud Examples and Use Cases
Cloud providers have developed Community Cloud offerings, and some organizations are already seeing the benefits. The following list shows some of the main scenarios of the Community Cloud model that is beneficial to the participating organizations.
Multiple governmental departments that perform transactions with one another can have their processing systems on shared infrastructure. This setup makes it cost-effective to the tenants, and can also reduce their data traffic.
Federal agencies in the United States. Government entities in the U.S. that share similar requirements related to security levels, audit, and privacy can use Community Cloud. As it is community-based, users are confident enough to invest in the platform for their projects.
Multiple companies may need a particular system or application hosted on cloud services. The cloud provider can allow various users to connect to the same environment and segment their sessions logically. Such a setup removes the need to have separate servers for each client who has the same intentions.
Agencies can use this model to test applications with high-end security needs rather than using a Public Cloud. Given the regulatory measures associated with Community Clouds, this could be an opportunity to test features of a Public Cloud offering.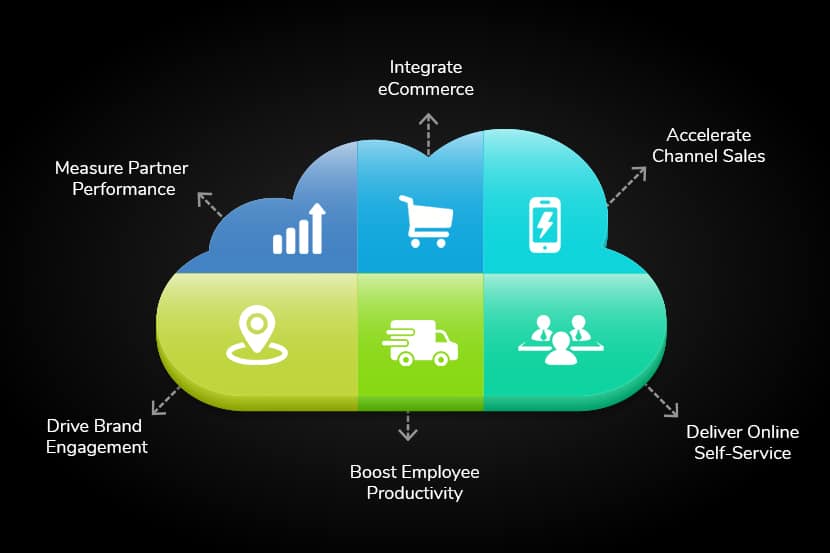 Benefits of Community Clouds
Community Cloud provides benefits to organizations in the community, individually as well as collectively. Organizations do not have to worry about the security concerns linked with Public Cloud because of the closed user group.
This recent cloud computing model has great potential for businesses seeking cost-effective cloud services to collaborate on joint projects, as it comes with multiple advantages.
Openness and Impartiality
Community Clouds are open systems, and they remove the dependency organizations have on cloud service providers. Organizations can achieve many benefits while avoiding the disadvantages of both public and private clouds.
Flexibility and Scalability
Ensures compatibility among each of its users, allowing them to modify properties according to their individual use cases. They also enable companies to interact with their remote employees and support the use of different devices, be it a smartphone or a tablet. This makes this type of cloud solution more flexible to users' demands.
Consists of a community of users and, as such, is scalable in different aspects such as hardware resources, services, and manpower. It takes into account demand growth, and you only have to increase the user-base.
High Availability and Reliability
Your cloud service must be able to ensure the availability of data and applications at all times. Community Clouds secure your data in the same way as any other cloud service, by replicating data and applications in multiple secure locations to protect them from unforeseen circumstances.
Cloud possesses redundant infrastructure to make sure data is available whenever and wherever you need it. High availability and reliability are critical concerns for any type of cloud solution.
Security and Compliance
Two significant concerns discussed when organizations rely on cloud computing are data security and compliance with relevant regulatory authorities. Compromising each other's data security is not profitable to anyone in a Community Cloud.
Users can configure various levels of security for their data. Common use cases:
The ability to block users from editing and downloading specific datasets.
Making sensitive data subject to strict regulations on who has access to Sharing sensitive data unique to a particular organization would bring harm to all the members involved.
What devices can store sensitive data.
Convenience and Control
Conflicts related to convenience and control do not arise in a Community Cloud. Democracy is a crucial factor the Community Cloud offers as all tenants share and own the infrastructure and make decisions collaboratively. This setup allows organizations to have their data closer to them while avoiding the complexities of a Private Cloud.
Less Work for the IT Department
Having data, applications, and systems in the cloud means that you do not have to manage them entirely. This convenience eliminates the need for tenants to employ extra human resources to manage the system. Even in a self-managed solution, the work is divided among the participating organizations.
Environment Sustainability
In the Community Cloud, organizations use a single platform for all their needs, which dissuades them from investing in separate cloud facilities. This shift introduces a symbiotic relationship between broadening and shrinking the use of cloud among clients. With the reduction of organizations using different clouds, resources are used more efficiently, thus leading to a smaller carbon footprint.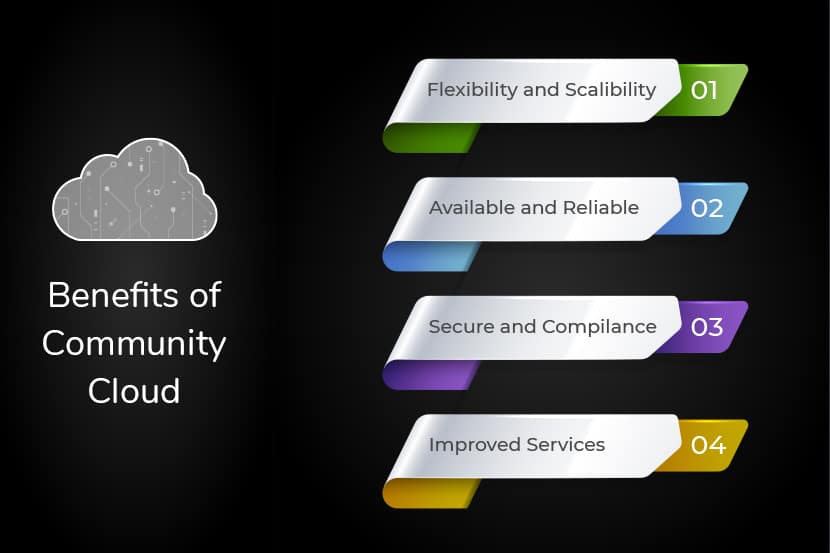 In addition to the direct benefits, it helps users avoid most of the disadvantages of Private and Public Cloud solutions. They allow users to avoid the higher cost of private clouds and the uncertainty of Public Clouds.
Community Cloud Challenges
The biggest concerns regarding Community Cloud are cloud security considerations and trust. No standard cloud model exists for defining best practices and identifying security liabilities of the data and applications which would reside on these servers. Since this type of cloud is relatively new and still evolving, users may hesitate to go into the whole dilemma of abandoning the current approach.
Security Considerations
Multiple organizations will access and control the infrastructure in a Community Cloud, requiring specialized security configurations:
Every participant in the community has authorized access to the data. Therefore, organizations must make sure they do not share restricted data.
Rules and regulations related to compliance within a Community Cloud can be confusing. The systems of one organization may have to adhere to the rules and regulations of other organizations involved in the community as well.
Agreements among the member organizations in a Community Cloud are vital. For example, just because all the organizations have shared access to audit logs does not mean that every organization has to go through them. Having an agreement on who performs such tasks will not only save time and workforce needs but also help to avoid ambiguity.
The security concerns regarding Community Clouds are not unique to them but apply to any other type of Public Cloud as well. As such, it is safe to say that Community Cloud solutions offer a unique opportunity to organizations that wish to work on joint projects.
What to Consider Before Adopting a Community Cloud Approach
Community Clouds address industry-specific requirements while delivering the cost-effectiveness of a Public cloud. So the answer to the question "What is a Community Cloud" will depend on the individual needs of the collaborating organizations.
If you are looking for a cost-effective approach which deals with fewer complexities in a cloud environment, and at the same time ensures the security of your applications, Community Cloud computing is the way to go.
However, there are certain things that you should clarify before moving on to this model:
The economic model of the cloud offering concerning the payments of the maintenance and capitals costs
Availability and Service Level Agreements (SLA)
How tenants handle security issues and regulations when sharing data among participating organizations
Service Outage information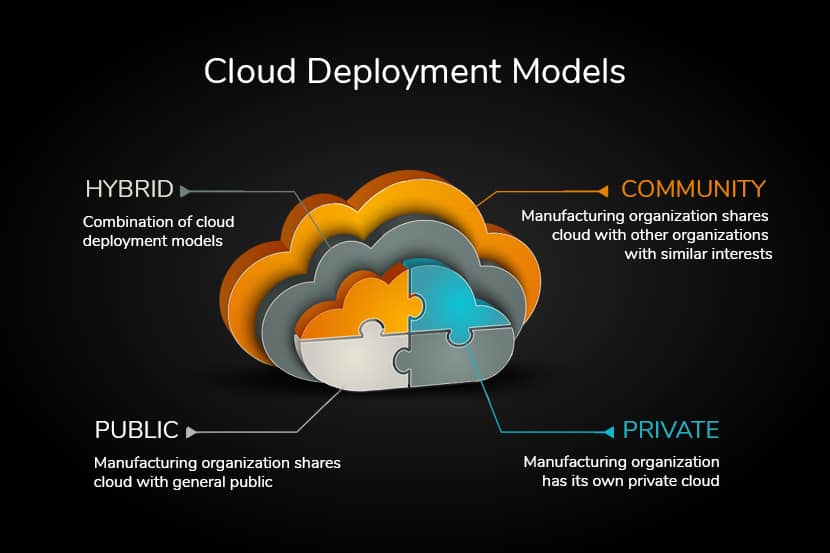 There is no guarantee as to whether this model of Cloud Computing will be as popular as Public Cloud. The beauty of the Community Cloud model is that it can cater to the needs of a specific group of users.
However, it is promising to see that cloud computing is expanding as technology evolves, and will continue to facilitate users with the best service models and infrastructure available. The emergence of new solutions, such as Community Cloud and Bare Metal Cloud, will find its place on the market.
If you are still unsure whether Cloud is the right platform for your organization, read our head-to-head comparison article – Colocation vs Cloud.