For healthcare providers, HIPAA compliance is a must. HIPAA guidelines protect patients' health information, ensuring that it is stored securely, and used correctly.
Sensitive data that can reveal a patient's identity must be kept confidential to adhere to HIPAA rules. These rules work on multiple levels and require a specific organizational method to implement comprehensive privacy and security policies to achieve compliance.
Most organizations find this to be a daunting task. We have put together a HIPAA compliance checklist to make the process easier.
The first is to understand how HIPAA applies to your organization. The second is to learn how to implement an active process, technology, and training to prevent a HIPAA-related data breach or accidental disclosure. Finally, the third is to put physical and technical safeguards in place to protect patient data.
By the time you're done with our list, you will know what you need to consider to have a better conversation with your compliance advisors.
What is HIPAA?
Before talking about compliance, let's recap the basics of HIPAA.
Signed into law by President Bill Clinton in 1996, the Health Insurance Portability and Accountability Act provides rules and regulations for medical data protection.
HIPAA does several important things. It reduces health care abuse and fraud and sets security standards for electronic billing of healthcare. It also does the same for the storage of patients' healthcare information. The Act mandates the protection and handling of medical data, ensuring that healthcare data is kept private.
The part of HIPAA we are concerned with relates to healthcare cybersecurity. To be compliant, you must protect patients' confidential records.
HIPAA rules have evolved. When the law was first enacted, it did not mention specific technology. As the HIPAA compliant cloud has become commonplace, it has inspired additional solutions. For example, our Data Security Cloud (DSC) is being developed to create a base infrastructure for a HIPAA compliant solution. Providing a secure infrastructure platform to ride on top of, DSC makes creating a HIPAA-compliant environment easier.
Secure infrastructure handles things at the lowest technical level that creates data, providing the key features to keep data safe. These features include separation/segmentation, encryption at rest, a secure facility at the SOC 2 level of compliance, and strict admin controls among other required security capabilities.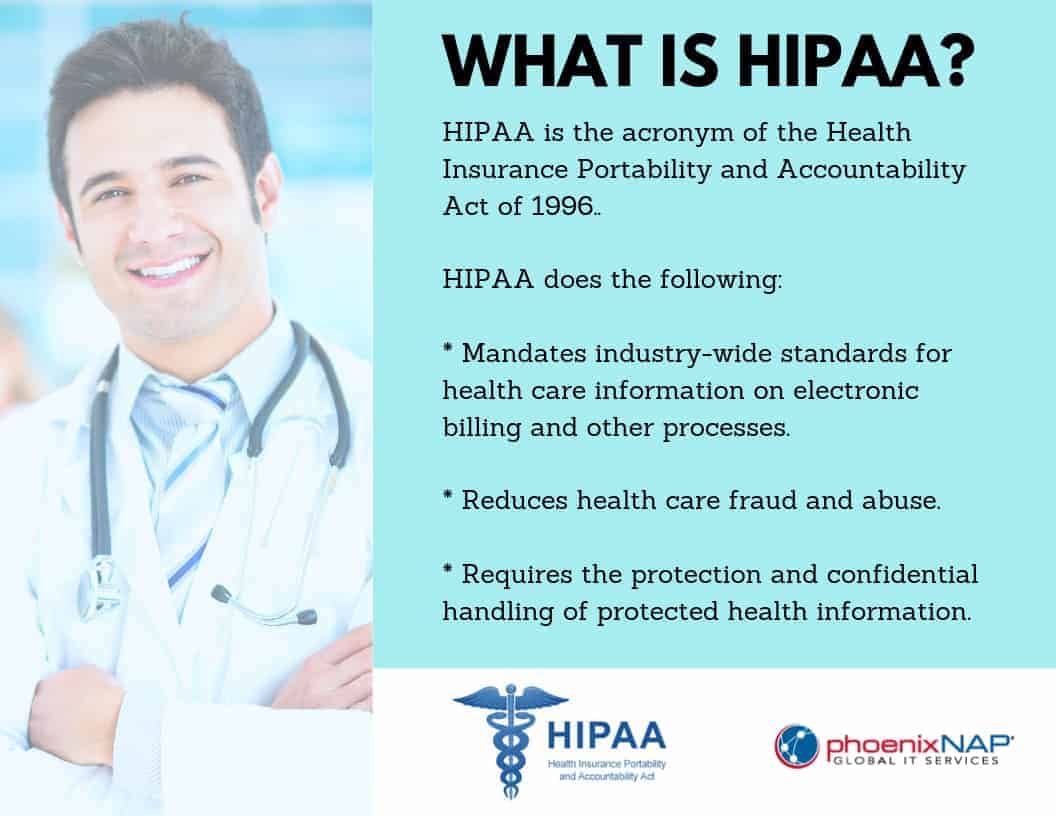 Why Is HIPAA Compliance Important?
HIPAA compliance guidelines are incredibly essential. Failure to comply can put patients' health information at risk. Breaches can have a disastrous impact on a company's reputation, and you could be subject to disciplinary action and strict violation fines and penalties by CMS/OCR.
Last year's Wannacry ransomware attack affected more than 200,000 computers worldwide, including many healthcare organizations. Most notably, it affected Britain's National Health Service, causing severe disruptions in the delivery of health services across the country.
To gain access to the systems, hackers exploited vulnerabilities in outdated versions of Windows that are still commonly used in many healthcare organizations. With medical software providers offering inadequate support for new OS's and with medical devices such as MRIs lacking security controls, the attack was easy to carry out.
The attack demonstrated the strength of today's hackers, highlighting the extent to which outdated technologies can pose a problem in modern organizations. This is precisely why HIPAA also regulates some aspects of technology systems used to store, manage, and transfer healthcare information.
The institutions that fail to implement adequate systems can suffer significant damage. If a breach takes place, the law requires affected organizations to submit various disclosure documents, which can include sending every subject a mailed letter. They may also be required to offer patients a year of identity protection services. This can add up to significant dollars, even before confirming the extent of the breach.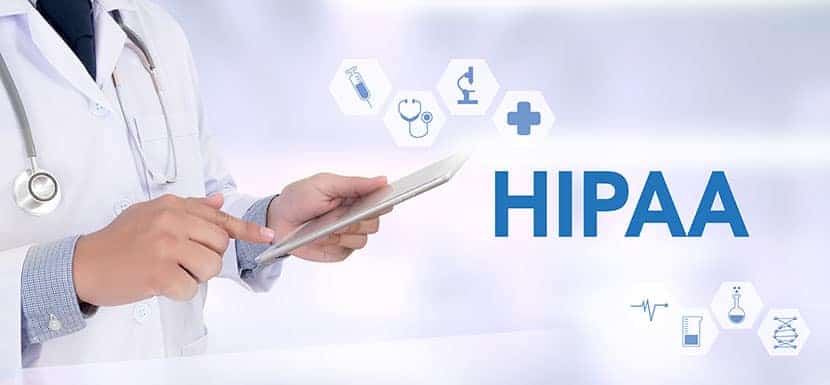 What is the HIPAA Privacy Rule?
The HIPAA Privacy Rule creates national standards. Their goal is to protect medical records and other personally identifiable health information (PHI).
It applies to three types of companies: providers, supply chain (contractors, vendors, etc.) and now service providers (such as data centers and cloud services providers). All health plans and healthcare clearinghouses must be HIPAA compliant.
The rules also apply to healthcare providers who conduct electronic health-related transactions.
The Privacy Rule requires that providers put safeguards in place to protect their patients' privacy. The safeguards must shield their PHI. The HIPAA Privacy Rule also sets limits on the disclosure of ePHI.
It's because of the Privacy Rule that patients have legal rights over their health information.
These include three fundamental rights.
First, the right to authorize disclosure of their health information and records.
Second, the right to request and examine a copy of their health records at any time.
Third, patients have the right to request corrections to their records as needed.
The HIPAA Privacy Act requires providers to protect patients' information. It also provides patients with rights regarding their health information.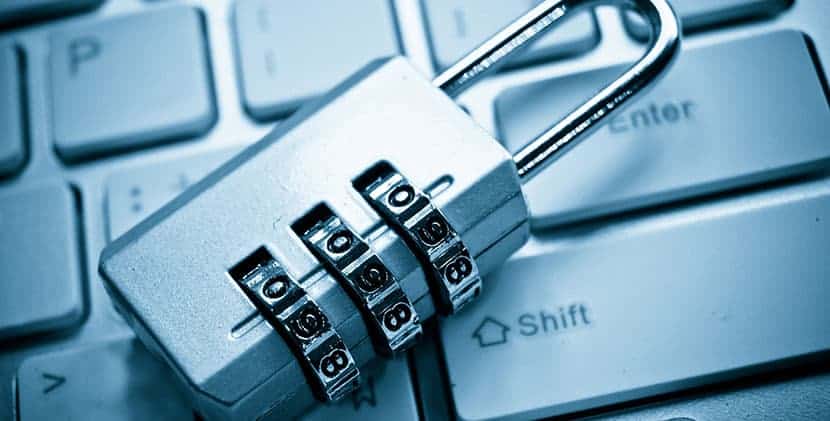 What Is The HIPAA Security Rule
The HIPAA Security Rule is a subset of the HIPAA Privacy Rule. It applies to electronic protected health information (ePHI), which should be protected if it is created, maintained, received, or used by a covered entity.
The safeguards of the HIPAA Security Rule are broken down into three main sections. These include technical, physical, and administrative safeguards.
Entities affected by HIPAA must adhere to all safeguards to be compliant.
Technical Safeguards
The technical safeguards included in the HIPAA Security Rule break down into four categories.
First is access control. These controls are designed to limit access to ePHI. Only authorized persons may access confidential information.
Second is audit control. Covered entities must use hardware, software, and procedures to record ePHI. Audit controls also ensure that they are monitoring access and activity in all systems that use ePHI.
Third are integrity controls. Entities must have procedures in place to make sure that ePHI is not destroyed or altered improperly. These must include electronic measures to confirm compliance.
Finally, there must be transmission security. Covered entities must protect ePHI whenever they transmit or receive it over an electronic network.
The technical safeguards require HIPAA-compliant entities to put policies and procedures in place to make sure that ePHI is secure. They apply whether the ePHI is being stored, used, or transmitted.
Physical Safeguards
Covered entities must also implement physical safeguards to protect ePHI. The physical safeguards cover the facilities where data is stored, and the devices used to access them.
Facility access must be limited to authorized personnel. Many companies already have security measures in place. If you don't, you'll be required to add them. Anybody who is not considered an authorized will be prohibited from entry.
Workstation and device security are also essential. Only authorized personnel should have access to and use of electronic media and workstations.
Security of electronic media must also include policies for the disposal of these items. The removal, transfer, destruction, or re-use of such devices must be processed in a way that protects ePHI.
Administrative Safeguards
The third type of required safeguard is administrative. These include five different specifics.
First, there must be a security management process. The covered entity must identify all potential security risks to ePHI. It must analyze them. Then, it must implement security measures to reduce the risks to an appropriate level.
Second, there must be security personnel in place. Covered entities must have a designated security official. The official's job is to develop and implement HIPAA-related security policies and procedures.
Third, covered entities must have an information access management system. The Privacy Rule limits the uses and disclosures of ePHI. Covered entities must put procedures in place that restrict access to ePHI to when it is appropriate based on the user's role.
Fourth, covered entities must provide workforce training and management. They must authorize and supervise any employees who work with ePHI. These employees must get training in the entity's security policies. Likewise, the entity must sanction employees who violate these policies.
Fifth, there must be an evaluation system in place. Covered entities must periodically assess their security policies and procedures.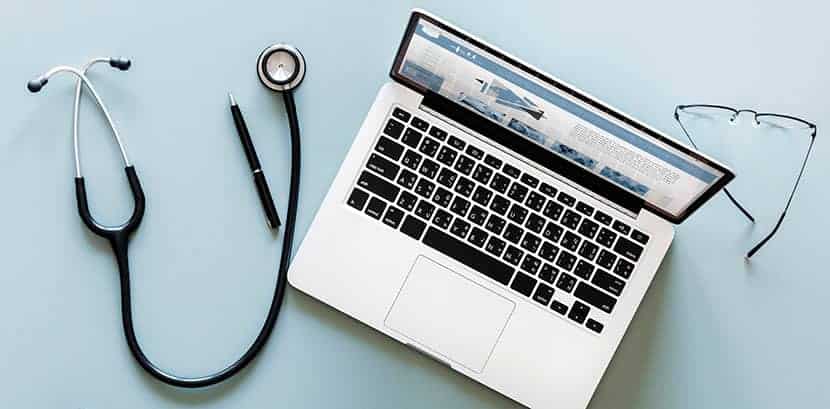 Who Must Be HIPAA complaint?
There are four classes of business that must adhere to HIPAA rules. If your company fits one of them, you must take steps to comply.
The first class is health plans. These include HMOs, employer health plans, and health maintenance companies. This class contains schools who handle PHI for students and teachers. It also covers both Medicare and Medicaid.
The second class is healthcare clearinghouses. These include healthcare billing services and community, health management information systems. Also included are any entities that collect information from healthcare entities and process it into an industry-standard format.
The third class is healthcare providers. That means any individual or organization that treats patients. Examples include doctors, surgeons, dentists, podiatrists, and optometrists. It also includes lab technicians, hospitals, group practices, pharmacies, and clinics.
The final class is for business associates of the other three levels. It covers any company that handles ePHI such as contractors, and infrastructure services providers. Most companies' HR departments also fall into this category because they handle ePHI of their employees. Additional examples include data processing firms and data transmission providers. This class also includes companies that store or shred documents. Medical equipment companies, transcription services, accountants, and auditors must also comply.
If your entity fits one of these descriptions, then you must take steps to comply with HIPAA rules.
What is the HIPAA Breach Notification Rule?
Even when security measures are in place, it's possible that a breach may occur. If it does, the HIPAA Breach Notification Rule specifies how covered entities should deal with it.
The first thing you need to know is how to define a breach. A breach is a use or disclosure of PHI forbidden by the Privacy Rule.
The covered entity must assess the risk using these criteria:
The nature of the PHI involved, including identifying information and the likelihood of re-identification;
The identity of the unauthorized person who received or used the PHI;
Whether the PHI was viewed or acquired; and
The extent to which the risk to the PHI has been mitigated.
Sometimes, PHI may be acquired or disclosed without a breach.
The HIPAA rules specify three examples.
The first is when PHI is unintentionally acquired by an employee or person who acted in good faith and within the scope of their authority.
The second is inadvertent disclosure of PHI by one authorized person to another. The information must not be further disclosed or used in a way not covered by the Privacy Rule.
The third occurs if the covered entity determines that the unauthorized person who received the disclosure would not be able to retain the PHI.
If there is a breach as defined above, the entity must disclose it. The disclosures advise individuals and HHS that the breach has occurred.
Personal disclosures must be mailed or emailed to those affected by the breach. A media disclosure must be made in some circumstances. If more than 500 people in one area are affected, the media must be notified.
Finally, there must also be a disclosure to the HHS Secretary.
The HIPAA Breach Notification Rule protects PHI by holding covered entities accountable. It also ensures that patients are notified if their personal health information has been compromised.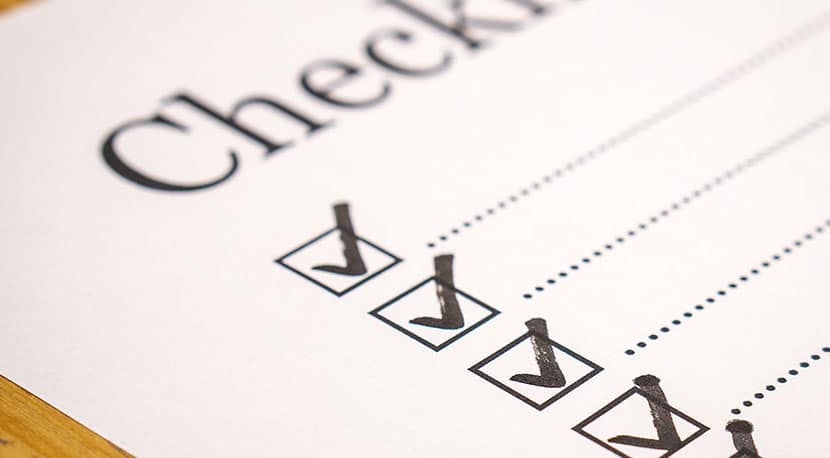 What Are The HIPAA Requirements for Compliance
The common question is, how to become HIPAA compliant?
The key to HIPAA compliance certification is to take a systematic approach. If your entity is covered by HIPAA rules, you must be compliant. You must also perform regular audits and updates as needed.
With that in mind, we've compiled a comprehensive checklist for use in creating your HIPAA compliance policy.
HIPAA Compliance Checklist
These questions cover the components to make you are HIPAA-compliant. You can use the checklist to mark each task as you accomplish it. The list is intended to be used for self-evaluation.
Have you conducted the necessary audits and assessments according to National Institutes of Standards and Technology (NIST) Guidelines?
The audits in question involve security risk assessments, privacy assessments, and administrative assessments.
Have you identified all the deficiencies and issues discovered during the three audits?
There are several things to consider before doing the self-audit checklist. You need to ensure that all security, privacy, and administrative deficiencies and issues are appropriately addressed.
Have you created thorough remediation plans to address the deficiencies you have identified?
After covering the deficiencies and issues mentioned above, you need to provide remediation for each group.
Do you have policies and procedures in place that are relevant to the HIPAA Privacy Rule, the HIPAA Security Rule, and the HIPAA Breach Notification Rule?
You must be aware of these three critical aspects of a HIPAA compliance program and ensure each is adequately addressed.
Have you distributed the policies and procedures specified to all staff members?

Have all staff members read and attested to the HIPAA policies and procedures you have put in place?
Have you documented their attestation, so you can prove that you have distributed the rules?
Do you have documentation for annual reviews of your HIPAA policies and procedures?

Have all your staff members gone through basic HIPAA compliance training?

Have all staff members completed HIPAA training for employees?
Do you have documentation of their training?
Have you designated a staff member as the HIPAA Compliance, Privacy, or Security Officer as required by law?

Have you identified all business associates as defined under HIPAA rules?

Have you identified all associates who may receive, transmit, maintain, process, or have access to ePHI?
Do you have a Business Associate Agreement (Business Associate Contract) in place with each identify you have identified as a Business Associate?
Have you audited your Business Associates to make sure they are compliant with HIPAA rules?
Do you have written reports to prove your due diligence regarding your Business Associates?

Do you have a management system in place to handle security incidents or breaches?

Do you have systems in place to allow you to track and manage investigations of any incidents that impact the security of PHI?
Can you demonstrate that you have investigated each incident?
Can you provide reporting of all breaches and incidents, whether they are minor or meaningful?
Is there a system in place so staff members may anonymously report an incident if the need arises?
As you work your way through this checklist, remember to be thorough. You must be able to provide proper documentation of your audits, procedures, policies, training, and breaches.
As a final addition to our checklist, here is a review of the general instructions regarding a HIPAA compliance audit.
If a document refers to an entity, it means both the covered entity and all business associates unless otherwise specified
Management refers to the appropriate officials designated by the covered entity to implement policies, procedures, and standards under HIPAA rules.
The covered entity must provide all specified documents to the auditor. A compendium of all entity policies is not acceptable. It is not the auditor's job to search for the requested information.
Any documents provided must be the versions in use as of the audit notification and document request unless otherwise specified.
Covered entities or business associates must submit all documents via OCR's secure online web portal in PDF, MS Word, or MS Excel.
If the appropriate documentation of implementation is not available, the covered entity must provide examples from "equivalent previous time periods" to complete the sample. If no such documentation is available, a written statement must be provided.
Workforce members include:

Entity employees
On-site contractors
Students
Volunteers

Information systems include:

Hardware
Software
Information
Data
Applications
Communications
People
Proper adherence to audit rules is necessary. A lack of compliance will impact your ability to do business.
In Closing, HIPAA Questions and Answers
HIPAA rules are designed to ensure that any entity that collects, maintains, or uses confidential patient information handles it appropriately. It may be time-consuming to work your way through this free HIPAA self-audit checklist. However, it is essential that you cover every single aspect of it. Your compliance is mandated by law and is also the right thing to do to ensure that patients can trust you with their personal health information.
One thing to understand is that it is an incredible challenge to try to do this by yourself. You need professional help such as a HIPAA technology consultant. Gone are the days you can have a server in your closet at the office, along with your office supplies. The cleaning personnel seeing a print out of a patient's file constitutes a 'disclosable' event.
Screen servers, privacy screens, and professionally-managed technology solutions are a must. Just because you use a SAS-based MR (Medical Records) solution, does not mean you are no longer responsible for the privacy of that data. If they have lax security, it is still the providers' responsibility to protect that data. Therefore the burden of due diligence is still on the provider.
Phoenix NAP's HIPAA compliant hosting solutions have safeguards in place, as audited in its SOC2 certifications. We provide 100% uptime guarantees and compliance-ready platform that you can use to build secure healthcare infrastructure.