Boost Workload Performance, Reliability and Scalability
Substantially increase the performance, reliability, and scalability of your data-intensive workloads with a Pliops XDP-powered instance in Bare Metal Cloud
* Let's work together to qualify your application
Accelerate & Optimize your Bare Metal Cloud Instance with Pliops Extreme Data Processor (XDP)
Get access to the breakthrough performance and storage optimization capabilities powered by Pliops on Bare Metal Cloud. Just as GPUs overcome processing inefficiencies for complex algorithms, Pliops XDP multiplies the scalability of workloads and data capacity by delivering ultra-high performance drive fail protection and in-line compression for your NVMe SSD-based workloads. This helps you cost-effectively maximize CPU use for performance gains with greater reliability.
Additionally, adding Pliops XDP to Bare Metal Cloud (BMC) solves current data efficiency challenges by expanding the potential of existing architectures. The new Pliops-powered instances allow cloud architects, DevOps engineers, and others to scale their compute and storage resources more efficiently and provide their applications with advanced processing and capabilities.
Available as part of Bare Metal Cloud, the Pliops XDP-powered instance can be automatically deployed in minutes. We invite you to trial the instance with our test drive option, available during our initial rollout. Accelerate and protect your database, analytics, software-defined storage and other data-intensive workloads today!
More Performance.
Boost performance up to 10x by eliminating bottlenecks and latency
More Reliability.
No compromise NVMe Drive Failure Protection (RAID5/6) with up to 5x faster rebuilds
More Capacity.
Gain up to 6x more usable SSD capacity with ultra-consistent performance
Dedicated to your success
"The combination of phoenixNAP's Bare Metal Cloud (BMC) and Pliops XDP enables the most demanding applications to achieve the highest performance, reliability, and storage capacity at the lowest possible cost. At the same time, Bare Metal Cloud automation capabilities simplify infrastructure management and cost control, offering a range of optimization, scaling, and billing features."
- Uri Beitler,
Pliops founder and CEO
How Pliops XDP Works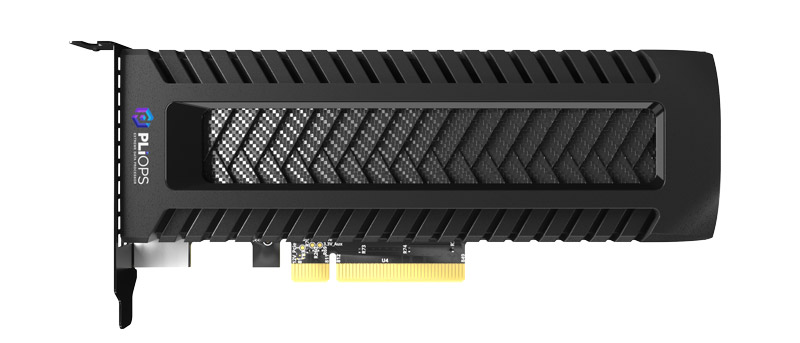 Traditional storage technologies are often inefficient when it comes to processing data and storage-intensive workloads such as databases, analytics, AI/ML, and HPC, among others. A Pliops-powered instance helps you overcome storage inefficiencies through hardware acceleration technology that frees the CPU from these tasks.
Pliops XDP exponentially increases performance up to 10x by radically improving how data is processed and SSD storage is managed. Using breakthrough data structures and algorithms, XDP eliminates the inefficiencies of software-based solutions by seamlessly managing data flow from application to storage eliminating bottlenecks and latency that cost time and resources.
In traditional setups, the price of reliability is low performance or high cost. But not with Pliops. XDP features Drive Failure Protection (DFP) which brings a new level of performance with RAID 5/6 reliability to SSD-based environments. DFP is up to 2.5x faster than software RAID 0 which offers no protection and up to 5x faster than hardware RAID 5/6.
XDP's advanced lossless data compression reduces drive space used by 50% or more over software-based compression while freeing the CPU from this burden. Configurable volumes and compression expand user capacity up to 6x.
Pliops XDP provides a smarter way to manage storage delivering significant performance acceleration, reliability, and workload scalability that is needed to streamline the processing of data and storage-intensive workloads.
Pliops XDP on phoenixNAP BMC Benefits
Bare Metal Cloud Overview
While multi-tenant cloud platforms offer great flexibility and scalability, they are not the best option for all types of applications. Data-intensive workloads such as multimedia, bioinformatics, HPC, AI/ML, as well as sensitive data, might require a dedicated environment.
phoenixNAP's Bare Metal Cloud platform brings you the raw power of dedicated servers with cloud-like flexibility!
As an automation-driven platform, Bare Metal Cloud lets you spin up your server instances in a matter of minutes and scale as easily. Over 30+ pre-configured instances are available on an hourly or monthly billing model to support your cloud-native needs. You can deploy them using API or CLI and manage them as code using integrations with popular Infrastructure as Code tools.
Enjoy the flexibility of the cloud without "noisy neighbors" or vendor lock-in.
Bare Metal Cloud Use Cases
Production Workloads
Lower your TCO leveraging advanced system configurations that are available at a lower price point compared to Public Cloud.
Kubernetes Management
Have your Kubernetes clusters up and running in minutes with Bare Metal Cloud servers with pre-installed SUSE Rancher software.
Multi-Cloud Deployments
Leverage Bare Metal Cloud as part of your multi-cloud setting for workloads that require dedicated hardware or specialized configurations.
Global Burst Resources
Streamline workloads you did not anticipate by adding more CPU and RAM easily. Control burst resources usage across locations.
Get in Touch!
Feel free to reach out to us for any additional questions about our services or solutions.