Free Trial
Test Drive Veeam® Cloud Backup for 30 Days
Simplify remote backup management at scale with Veeam Service Provider Console and get 30 days of FREE cloud backup service for up to 5 TB of your data.
Award-Winning Veeam® Cloud Connect Provider





A Single Portal for All Your Data Protection Operations
Veeam® Service Provider Console (VSPC) gives you a centralized overview of your entire Veeam-powered data protection ecosystem and lets you deploy and manage data availability services however and whenever you want. The 30-day free trial for up to 5 TB of your storage lets you explore the portal functionality, test backup server connections or latency, run backup jobs remotely, and overview your deployments with no strings attached.
Easy onboarding and 30-day free hands-on testing
Free access to the VSPC End-User Portal
Automated configuration and deployment of Veeam-powered services
5 TB Veeam Cloud Connect Storage Repository
Self-service resource monitoring and backup reporting
Centralized, remote management of Veeam Backup & Replication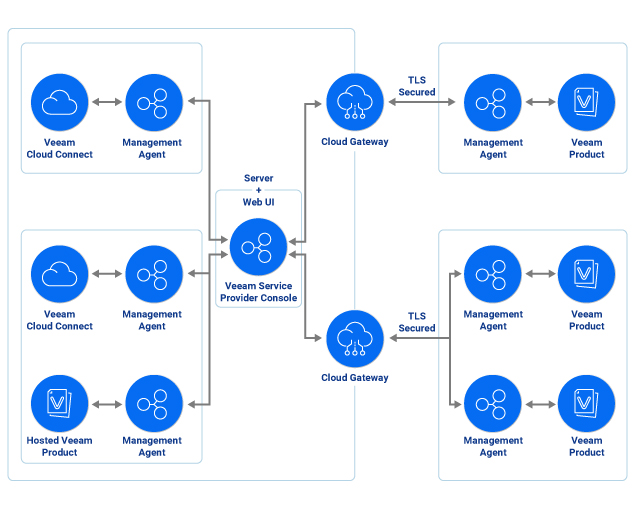 How to Get Started

Free 30-Day Trial
Test backup latency or server connections, run backup jobs remotely, and monitor your deployments with no commitment. Sign up for phoenixNAP's VSPC portal and try Veeam Cloud Connect Backup for up to 5 TB of your storage for 30 days free of charge.

Skip the Free Trial and Get $150 Credit
Sign up for Veeam Cloud Connect with a minimum 12-month contract. Save $150 and securely back up your data to an off-site location. Ensure data availability and easily access additional security features such as Insider Protection, and Immutability.
Want to learn more about Veeam Cloud Connect? Visit our product page!
Calculate Your Cloud Backup Costs
Use our calculator to get complete pricing information for your desired Veeam Cloud Connect Backup deployment based on your storage repository size, contract length, and specific deployment needs. Know exactly what to expect and get a cloud backup service tailored to your needs while optimizing your IT costs.
Monthly Payment Pricing
(4TB @ $1,440 per year)
Above Pricing is based on the selected storage volume and commitment term.
How to Get Free Backup with Veeam Service Provider Console (VSPC)
Leverage automation-driven VSPC to simplify the deployment of your data availability infrastructure, extend your backups to the cloud, and near-instantly restore your critical data. The self-service platform lets you easily send your backups to your free cloud storage repository via an encrypted connection and recover them remotely and on demand.
Activate Your FREE 30-day Trial in 3 Easy Steps
STEP 1
Apply for the free trial by filling out the form below. You will receive the login credentials via the provided email address.
STEP 2
Create a Veeam Service Provider Console account using the intuitive, automated wizard and the received credentials.
STEP 3
Log into the portal, choose a backup file to restore, and enjoy 30 days of free backup service for up to 5 TB of storage.
Free Trial Expert Support
If you happen to need assistance, phoenixNAP is at your disposal. As a Platinum Veeam® Cloud & Service Provider and Partner, we offer you 24/7/365 expert support throughout your trial process. Ready to get started?
Veeam Service Provider Console (VSPC) Features
In a distributed work environment, both SMBs and enterprises struggle with resource constraints and a lack of adequate resilience against ever-more sophisticated cyber threats. However, deploying and managing end-to-end backup processes does not have to require hiring additional security staff and investing in costly software solutions or off-site backup infrastructure. With VSPC, you get centralized, remote access to phoenixNAP's enterprise-grade data availability services you can consume with minimal effort and no upfront investments.
All-in-One Business Continuity Solution
Centrally monitor your backup and recovery jobs, billing, and reporting, without investing in additional software, hardware, and infrastructure resources.
Hassle-Free Ransomware Protection
Easily protect your backups from internal and external threats. Eliminate downtime and ensure always-on access to your critical data.
Key to 3-2-1-1-0 Backup Strategy
Always have a resilient backup copy to restore when all else fails. Make your off-site backups immutable for an additional layer of protection.
Automated Management
Deploy and configure backup agents across networks, manage billing, backups, role-based access controls, and other data protection operations without manual setup.
Try With No Risk
Use the 30-day trial powered by a 5 TB Cloud Connect Backup repository to rightsize your production backup environment. Retain backup data after service purchasing.
Access to Additional Services
Get self-service access to Object Storage, Licensing, Insider Protection, and Immutability features as soon as you sign up for a production-ready Veeam Cloud Connect subscription plan.
"Our IT team is small — four people — so we're always looking for ways to simplify and expedite data center processes. We trust Veeam and phoenixNAP to help us maintain 24/7 Availability in the most efficient and cost-effective ways possible."
Brian Patow, IT Manager, Electric Mirror
FAQ
Frequently Asked Questions
Will I retain my backups if I sign up for the service after the 30-day trial?

Yes, the data stored during the free trial period will remain available to you once you sign up for the service.

How are the services I access via VSPC billed?

The Veeam Cloud Connect Repository service you activate through the VSPC portal is billed on a month-to-month basis. Discounts are available for contracted deployments, letting you cost-effectively scale your backups and optimize your IT spend.

What happens if I decide to sign up to the service after the trial period?

Once you decide you wish to subscribe to Veeam Cloud Backup you tested during your VSPC 30-day trial period, our solution experts will guide you through the onboarding process and help you rightsize your production backup repository or deploy any additional Veeam-powered data availability services.
After signing up for the free trial, how long does it take for it to be activated?

The VSPC sign-up process is fully automated. Your trial period gets activated near-instantly after you fill out the form on this page.

Which locations is phoenixNAP's Veeam Cloud Connect service available at?

You can leverage the Veeam Cloud Connect service to store your backups across phoenixNAP's global data center footprint. The target locations include Phoenix, AZ, Ashburn, VA, or Atlanta, GA in the U.S., Amsterdam, NL in Europe, and Singapore in Southeast Asia.

What are my on-prem requirements for using phoenixNAP's VSPC service?

To securely backup your data via Veeam Cloud Connect using the VSCP portal you need to install and configure the Veeam Management Agent on your machines and configure the discovery rules. For more information, refer to this article from our Knowledge Base.
Need more info?
Let's get in touch!
Contact us today and take your security strategy to a new level! Our Sales team will get back to you within two business days to discuss your options.
Call Us
Questions about our product or pricing? Call for support
1-855-330-1509
Chat Us
Our support will help you from 9am to 5pm EST.
Live Chat Now
Email Us
Send us an email and find out more about product or pricing.
Send Email