Kubernetes Starter Package for Bare Metal Cloud
Deploy Kubernetes-ready Bare Metal Cloud servers and get 1TB of Object Storage + your 1st month of multi-cloud functionality for FREE.
Simple solution to extend your Bare Metal Cloud to any Cloud
Would you like to deploy container workloads in a matter of minutes wherever you want? Building modern, secure infrastructure is costly, time-consuming, and complex. With Avesha KubeSlice™ on the Bare Metal Cloud platform, teams can seamlessly connect application services across any cluster or any cloud.
Multi-cloud connectivity in under 3 minutes
Cluster organization with hierarchical namespaces
Automated generation of network policies
Service to service observability across clusters
Limited Offer
Deploy Kubernetes-ready Bare Metal Cloud servers and get 1TB of Object Storage + your 1st month of multi-cloud functionality for FREE! If you're interested in this offer, click the "CLAIM DEAL" button to get in touch with our sales representatives.
All Bare Metal Cloud deployments come with 15 TB bandwidth included (5 TB in Singapore). The Kubernetes-ready servers are available in Phoenix, AZ; Ashburn, VA; Chicago, IL; Seattle, WA; Austin, TX; Amsterdam, NLD; and Singapore, SGP.
Connecting and Managing Apps in Multi and Hybrid-Cloud
According to the 451 Research's Voice of the Enterprise*, 76% of companies are adopting multi and hybrid cloud approaches. To do this efficiently, they need to eliminate complexity, latency, and long response times while connecting, managing, and deploying distributed apps.
With Avesha KubeSlice deployments on Bare Metal Cloud by phoenixNAP, teams can get single virtual-cluster-like visibility by connecting workloads located in phoenixNAP's on-prem data centers across the world and on clouds.
With workloads distributed across different environments, Avesha and phoenixNAP are helping businesses modernize and secure their infrastructure, enabling real-time, low-latency movement of workloads between cloud and edge. Development teams can monitor and manage workload traffic by accessing metrics on traffic flow between clouds and across regions.
*451 Research's Voice of the Enterprise: Cloud, Hosting & Managed Services, Vendor Evaluations
Avesha KubeSlice Video
Introducing KubeSlice
Enable easy multi-cluster networking, security, and multitenancy across regions or clouds with KubeSlice deployment on Bare Metal Cloud.
Watch It Now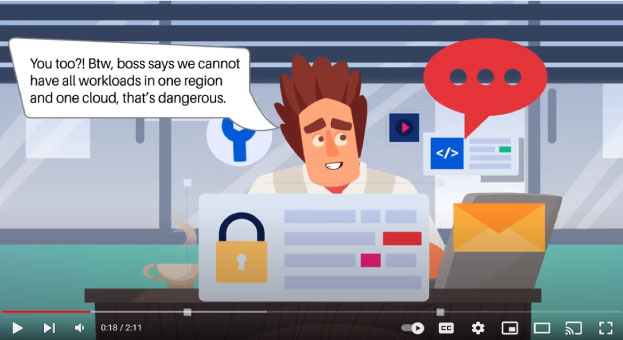 Dedicated to your success
"Cost management was our main issue. We needed a solution that has a simple and transparent pricing structure in order to accurately calculate our month-to-month costs. We also needed a solution that was easy to understand and simple to use. The team at phoenixNAP helped us understand how BMC works and what we could do with it."
Grant Street,
Co-founder/CEO, at My Party Album Inc.
Cloud Infrastructure with Seamless Scalability
Bare Metal Cloud (BMC) allows for automated provisioning of physical servers in minutes using its API and CLI or popular Infrastructure as Code tools. As a cloud-native-ready IaaS platform, BMC delivers high-performance, non-virtualized servers for optimum performance of even the most demanding workloads. Development teams can deploy, scale, and manage physical servers with cloud-like ease and simplicity, bringing their apps and services closer to their customers. The phoenixNAP Bare Metal Cloud offers all the elasticity and flexibility of a Public Cloud with dedicated resources, giving the user more control over performance and security.
Through its network of 17 data centers and network PoPs across the world, phoenixNAP gives you global reach, consistent performance, and complete reliability. With advanced interconnectivity options and a diversity of available services and solutions, phoenixNAP can meet even the most sophisticated infrastructure needs.
Who is this solution for Manager Service Providers, Telecom providers, DevOps, Gaming, Medical, AI, and ML.
Get started today
We offer an easy way to manage multi-cluster deployments in Bare Metal Cloud. Improve your performances and security by putting applications on Avesha KubeSlices with phoenixNAP!