Updated on April 20, 2021.
Small to medium businesses need servers that scale to their needs. You want to avoid overpaying for unused resources while having adequate hardware to deal with unexpected traffic spikes. Choosing the right server for your services is crucial for setting up a solid foundation for your business.

Small Business Server Buying Guide
If you don't have experience in choosing a server, follow this five-step guide that examines all the crucial factors to take into consideration.
Step 1: Determine What Business Servers Will Be Used For
Small businesses use servers for a wide variety of reasons. Here are the most common uses of a server in a small business environment:
Storing and sharing files. This is essential for business continuity and data protection. It aids in disaster and data recovery strategies. You can also enable employees to work remotely.
Secure domain-specific email hosting. Startups can start by utilizing Gmail, Yahoo, or Mail.com, but it's best to transition into a domain-specific email client. SMBs should upgrade and think more deeply about security and their digital reputation by setting up domain-specific email hosting.
Hosting a website. Your content needs to be available and accessible to the audience. The web host determines the speed and efficiency of your site. Accordingly, it can make a tremendous difference in your search engine ranking.
Hosting an ecommerce store. The right server provides secure and efficient commercial transactions. Since hosting eCommerce securely is essential, your company must protect its clients' personal and financial information. Otherwise, it may be held legally responsible.
Creating a virtual server environment. If your business covers multiple brands, you may need a virtual server interface. Additionally, if your employees work remotely, they could require virtual desktops. Your small business server hosting can make this happen.
Data backup. Increase data storage security for your business by backing up to the cloud. If something unexpected happens, you can quickly reload a saved instance of your business data. There is very little lag when this process is used efficiently.
The type of server right for your business depends on the number of services you want to run. It is crucial to find one that can support everything you need but without wasting valuable resources.
Therefore, make sure to create a list of all the business requirements before searching for the perfect vendor and setup. Take into consideration your current needs as well as a general plan for future growth.
Step 2: Research Server Specs
When deciding on a server for your business, it is essential to understand how hard drive requirements, processors, and RAM play a role in its performance. Estimate the workload and research what similar businesses run on.
If you aren't tech-savvy and need help choosing a server with the proper specifications, feel free to reach out to our Sales team on the LiveChat.
Step 3: Determine the Location For Your Server
There are two options when it comes to choosing the location of your server:
On-premise: Hosting the server in-house.
Off-premise: Hosting the server in the cloud/data center.
Choosing on-premise means hosting a server in your physical space. Apart from the space needed to store the hardware, such a solution also requires having trained staff. By hosting on-premise, you are responsible for running, managing, and maintaining all services. Therefore, running a server in your office is initially more expensive than renting one in the cloud as you have to buy the resources and pay for IT support. Unless you need to do so for compliance or security reasons, opting for a cloud solution is most likely a better choice for your small business.
As a small business, you are probably interested in finding the most cost-efficient solution. In that case, a cloud-hosted server is a wise choice. Cloud hosting offers on-demand service over the internet, often with a pay-as-you-go model. This allows small businesses to pay only for the resources they need based on current demand. Additionally, by hosting a server in the cloud, you ensure it has 24×7 support from the data center staff.
Consider this side-by-side comparison of the main features of both options:
| Factor | On-Premise Hosting | Cloud Hosting |
| --- | --- | --- |
| Cost | Higher | Lower |
| Technical Involvement | Extremely high | Low |
| Scalability | Minimal options | Vertical and horizontal scalability |
| Security and Compliance | On-premise hosting security depends entirely on the staff that maintains it. | The Cloud provider ensures a secure environment. Cheaper options on the market provide less security than on-premise infrastructure. |
| Control | Full control and infinite customization options. | A hypervisor layer between the infrastructure and the hardware. No direct access to hardware. |

Step 4: Calculate the Costs and Determine the Budget
Depending on the server location, the cost of setting up a system to support your small business varies. Accordingly, the size of your budget directly determines the number of features and the server performance.
As mentioned above, opting for an on-premise setup includes a higher initial investment as you need to buy all the hardware and software to run the server. Renting a server from a data center/the cloud gives you more flexibility regarding cost without a long-term commitment or investment.
phoenixNAP offers a variety of billing models, including yearly, monthly, and even hourly plans. Determine the budget based on your business requirements and calculate how much you can set aside to spend on a small business server. Once you have an approximate budget, check out the different server types in the next step and examine each option and its cost.
Step 5: Choose The Server Type
The next step to consider is the type of server needed for your small business. The four main server types are:
Dedicated servers
Virtualized servers
Cloud servers
Bare metal cloud servers
A dedicated server is a physical machine working for your application or website. It has a fixed RAM, processor, hard drive, and operating system. Having a dedicated server implies there are no shared resources, and you have the full potential of the server exclusively for your workload. You can run dedicated servers in-house or off-site. While the first option gives you complete control over the resources and the data, the second is more cost-efficient and easier to maintain.
If you already decided to opt for a dedicated server, for help in choosing the right setup based on your business workload, consult our team.
Virtualized servers are multiple virtual machines running on one physical server. Dedicated servers rarely use all of their resources. Therefore, server virtualization solves the issue of wasting valuable resources and utilizing the hardware at hand. You can emulate resources such as CPU, RAM, network, disk and create different environments to administer to different parts of your business.
The main advantage of virtualization servers is that it lowers IT expenses and improves business productivity. phoenixNAP offers you best-in-class physical servers and lets you scale CPU and RAM on-demand for virtualized environments, offering the best cost-to-performance ratio.
Cloud servers are used through a cloud computing platform. Cloud computing offers on-demand services with broad network access to your resources. As a multi-tenant platform, it utilizes resource pooling while offering high scalability to handle traffic spikes. You can choose between public, private, and hybrid clouds depending on the needs of your business.
Apart from cloud servers, cloud computing offers an array of services, including cloud backup, cloud storage, email, and cloud-based business intelligence. Read more about the services, benefits, and the future of cloud computing for businesses in What is Cloud Computing in Simple Terms? Definition & Examples.
Cloud hosting and dedicated servers both have their advantages and disadvantages. Check out the definitions and differences in a head-to-head comparison of Cloud vs. Dedicated Server.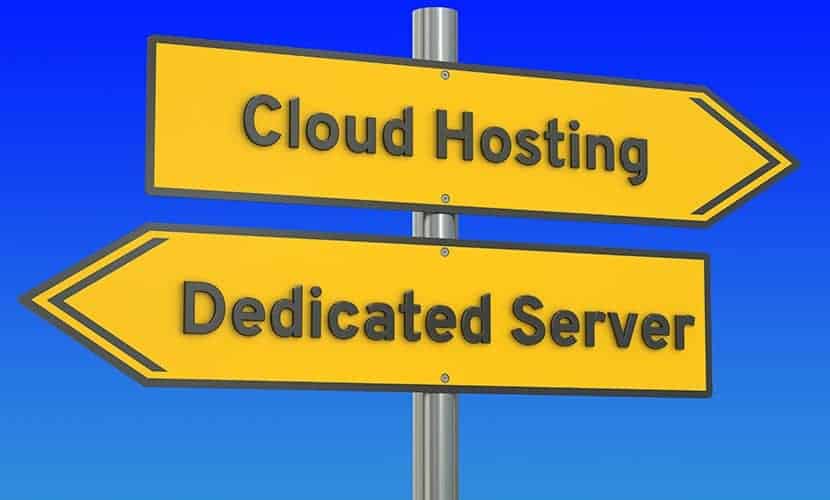 Bare metal cloud servers are cloud-native dedicated servers powered by automation. They offer the full potential of the server's physical hardware with cloud computing's flexibility and scalability. As there is no hypervisor overhead, you can leverage the resources' raw power and boost performance.
Although it is a single-tenant solution with a dedicated physical machine, there are significant differences between bare metal cloud and dedicated servers. BMC has API-driven provisioning, infrastructure as code support, an hourly/monthly billing model, and faster deployment speed.
Best Servers for Small Businesses
As a small business, you want a server that provides the best performance for your specific workload for the best price.
Performance is directly dependent on the processor within the server. Therefore, we put together a list of five servers based on their processors and the value they provide. You can find all of these processors in phoenixNAP servers.
Best Budget Server
A cost-effective server that doesn't break the bank is the best choice for a small business on a tight budget. Our recommendation for the best budget server is a single CPU server with Intel UHD Graphics P630.
A wise choice within this category is the Intel Xeon E-2276G processor. It is built to support heavy workloads with progressive components. For only 95$ a month, you get a server with 64 GB ECC DDR4, 6 cores, and 12 threads.
Intel Xeon E-2276G
RAM: 64 GB ECC DDR4
Cores: 6
Threads: 12
Cost: $ 95/month
Best Value Server
The best value server is one that gives the best results for the given price. Meet all your small business needs by choosing a Dual CPU FlexServers 2nd Gen server. 2nd Gen Intel Xeon Scalable Processors come in four basic configurations with phoenixNAP. Each allows you to leverage the power of the latest-gen processor.
An instance of the best value server is one with the Intel Xeon Gold 5218R processor. Such a server is highly flexible with its resources. It allows changing the configuration on a single CPU and requires no hardware or software changes to increase or decrease the CPU's power.
Intel Xeon Gold 5218R
RAM: 128 GB DDR4
Cores: 20
Threads: 40
Cost: $ 340/month
Best All-Round Server
Considering all essential aspects your small business server needs to cover for the best all-round performance, consider phoenixNAP's Flex servers. This solution allows you to vertically scale 2nd Gen Intel Xeon Scalable CPUs with a single reboot.
The Cascade Lake Refresh Gold 6258R server with Intel Xeon Gold 6258R is one example of an all-round server. With 128 GB DDR4 RAM, 28 cores, and 56 threads, the server is architected for intensive and changing workloads.
Intel Xeon Gold 6258R
RAM: 128 GB DDR4
Cores: 28
Threads: 56
Cost: $ 428/month
Top-of-the-Line Server
If cost is not an issue for your business and you want to invest more in the hardware infrastructure, consider the best quality option.
phoenixNAP's Cascade Lake Platinum 8260 with Intel Xeon Platinum 8260R has earned its place in the highest class. This server includes a 64-bit 24-core x86 high-performance microprocessor that supports up to 1 TiB of hexa-channel DDR4-2933 memory.
Intel Xeon Platinum 8260R
RAM: 128 GB DDR4
Cores: 24
Threads: 48
Cost: $ 602/month
Best Virtualization Server
A virtualization server needs to be a flexible solution built to accommodate processing and memory requirements. Therefore, you want a quality server that lets you scale CPU and RAM on-demand. There are several configurations to choose from for setting up virtual environments.
In most cases, smaller businesses have lighter workloads excellently handled by the Cascade Lake Refresh Gold 5218R server. The Intel Xeon Gold 5218R processor provides the optimum number of cores to create VM clusters for light workloads.
Intel Xeon Gold 5218R
RAM: 128 GB DDR4
Cores: 20
Threads: 40
Cost: $ 340/month
Servers For Small Business: Your Next Move
As a company, you want to do your research and understand the market before deciding. Strive to create a cost-effective, long-term relationship with the right service provider. This partnership allows your business to grow and prosper. Your industry is competitive and stressful. Make sure that your server solutions aren't adding to that stress so that you can do what you do best: running your business!