Authored by Ron Cadwell, founder and CEO of phoenixNAP. Prepared for publishing by the Editorial team.
When you think of Northern Virginia, you imagine a sleepy suburb of Washington DC renowned for its iconic Civil War battlefield sites. However, what most don't know is that Ashburn, Northern Virginia, is also the busiest Internet intersection in the world, with up to 70 percent of all traffic flowing through its data centers daily.
Often called "The data center capital of the world" or "The Center of the Internet," Northern Virginia has more data centers than any other place on earth, sprawling across an area of over 26 million square feet, with another 8 million square feet under development.
In this article, I will explain how Northern Virginia came to be a data hotspot and what its future is likely to bring.
Northern Virginia Data Centers - A Brief History
One unique trait that separates Northern Virginia from other markets is that the foundations of its growth were laid even before the birth of the modern internet. Virginia was one of the earliest exchange points for ARPANET, a forerunner of the internet created in the 1960s by ARPA, an R&D branch of the Department of Defense. ARPANET facilitated communication between Pentagon-funded research institutions and universities and laid the groundwork for network connectivity in the area.
In 1992, a company called Metropolitan Fiber Systems took over one of the first Internet Exchange Points and created the Metropolitan Area Exchange East (MAE-East). MAE-East was founded in Washington, DC, but quickly moved to Virginia and became one of the first large internet peering exchanges.
With an influx of tech companies, connectivity expanded, making Northern Virginia the most fiber-rich region in the world. Key players like AOL and Equinix joined the frenzy, setting off the dot-com boom of the 90s.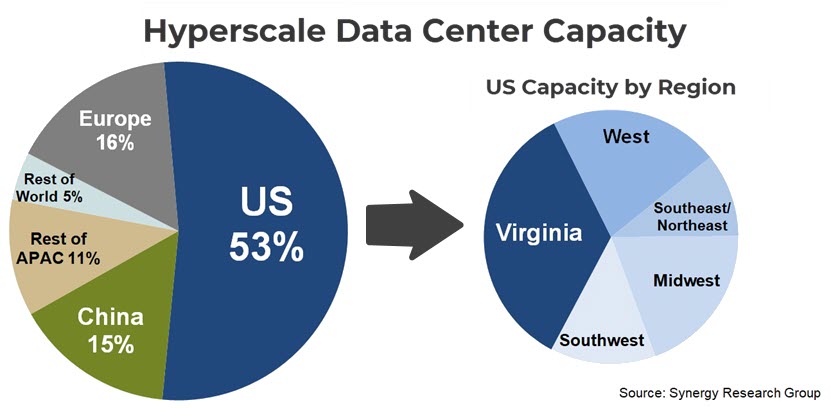 Ashburn is Dominating the Data Storage Market
The market scaled back in the early 2000s but the internet kept on evolving, and soon there was rising demand for server space. During the second internet boom, Virginia was again at the forefront thanks to its reputation and several other key factors.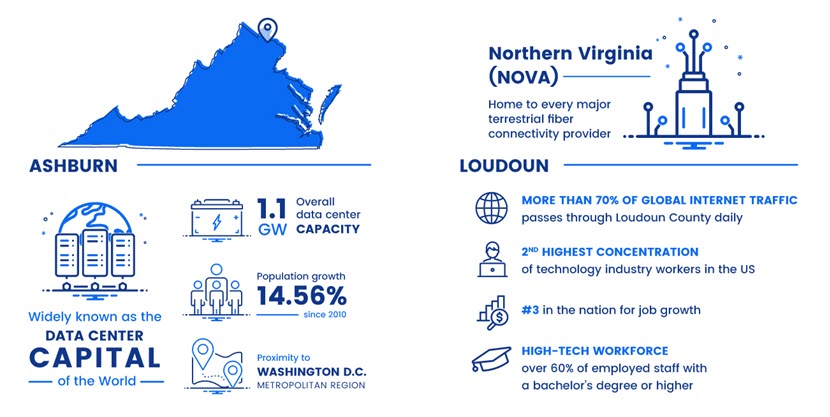 Available and Affordable Land
Land prices in Northern Virginia have historically been very low, especially compared to neighboring east coast states. The temperate climate, rural landscape, and build-out infrastructure also contributed to low construction costs.
However, prices have steadily risen to attain average of $48,356 per acre in 2022. While this is significantly higher than the national average, it is more affordable than other data center hubs like Silicon Valley.
Additionally, there is still available land, unlike heavily urbanized locations like Singapore, which recently instituted a moratorium on building new data centers.
Cheap Electricity
Electricity is one of the highest operational costs for data centers. Virginia's average residential electricity rate is 14 ¢/kWh, which is 22% lower than the national average rate of 18 ¢/kWh.
Virginia's energy infrastructure is also well on its way to becoming sustainable. Right now, Virginia generates about seven percent of its electricity from renewable energy and has pledged to increase that number to thirty percent by 2030.
Tax Cuts and Incentives
Virginia's business-friendly government was the critical ingredient in developing a booming data center market, and it continues to offer attractive investment incentives.
Data center developers are granted retail sales and use tax exemptions if they meet the minimum investment and job creation requirements. In 2021, businesses in the industry enjoyed more than $120 million in tax breaks.
The data center industry isn't a drain on the economy of Virginia as it uses very few nonrenewable resources and contributes $1.2 billion in tax revenue annually. Data centers are a vital component of the local economy, providing employment and helping create a thriving community that attracts and retains talent.
Skilled and Educated Population
Virginia has 167 universities and colleges, and its educational system consistently ranks in the top ten in the US. On top of that, the data center industry provides on-the-job training and has been a mainstay of the local job market for so long that it has developed an ecosystem of highly experienced and well-trained staff.
For example, local construction companies have been building data centers since the 90s and are arguably the best in the world. The same is true for engineers, security personnel, and other specialized professionals.
Low Natural Hazard Risk
Virginia is far enough inland to dodge the full intensity of coastal hurricanes, although it is sometimes affected by their aftermath. Large winter storms can hit the area with enough force to affect the power grid, though they don't happen often.
There also haven't been many noteworthy earthquakes in the last 50 years, and the risk of wildfires is low, making Virginia a great primary location and disaster recovery site.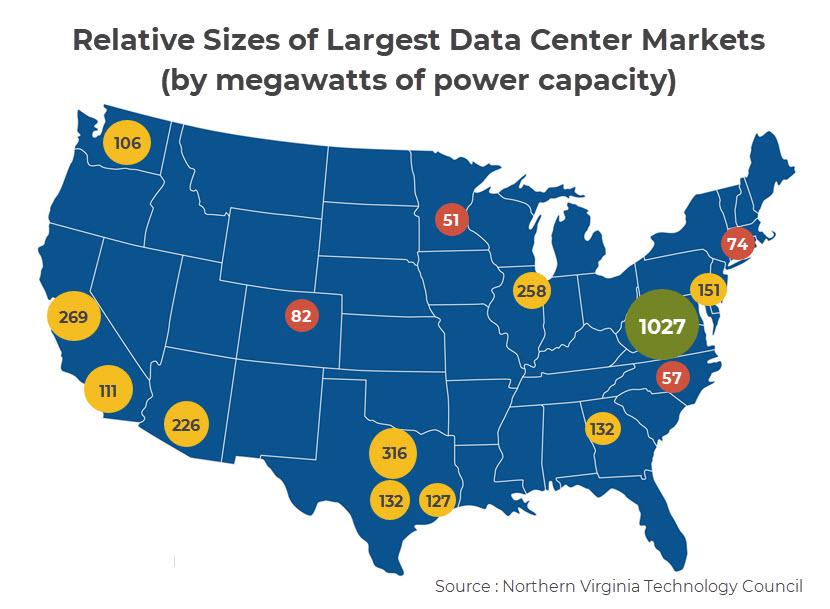 Data Center Trends Influencing the Growth of Northern Virginia
Ever since the shift to an information-based economy, there has been an insatiable demand for more data centers in Northern Virginia. The pandemic accelerated changes already put in motion and supercharged demand.
The key data center trends driving the Northern Virginia data center market are:
The rise of data-hungry technologies like the Internet of Things, Big Data, virtual/augmented reality, and AI
Increased business and industry usage of cloud computing and storage
A shift to remote work and learning
The emerging dominance of online retail and eCommerce
An increase in online communication and entertainment
A global shift from on-premises data centers to colocation and outsourced cloud providers
PhoenixNAP's Ashburn Data Center provides customizable and flexible Infrastructure-as-a-Service solutions for all business and personal needs, from cutting-edge performance to budget-friendly solutions. Dedicated Servers, Colocation, and Bare Metal Cloud are available 24/7, with an easy-to-use interface and flexible billing options for maximum scalability.
Ashburn Data Centers - Looking Ahead
Infinite growth in a finite world isn't possible, and the maximization of usable space and a push for sustainability is shaping the evolution of Data Center Alley.
Data center investors' appetite for real estate has dramatically depleted the supply of land available for new development, driving property prices, and raising tensions with the local community concerned about the impact on the environment and local historic sites.
Policymakers are now updating guidelines for data center construction to encourage developers to build taller data centers and maximize usable space. Anyone considering an expansion into North Virginia would be wise to consider repurposing old offices and industrial properties to optimize space usage.
It is also becoming more important to offset the rate of energy usage relative to growth with more efficient solutions. Continued growth will require an evolution in operations, technology, and sustainability. In the coming years, power usage efficiency, water conservation, and carbon emissions reduction will all become key factors.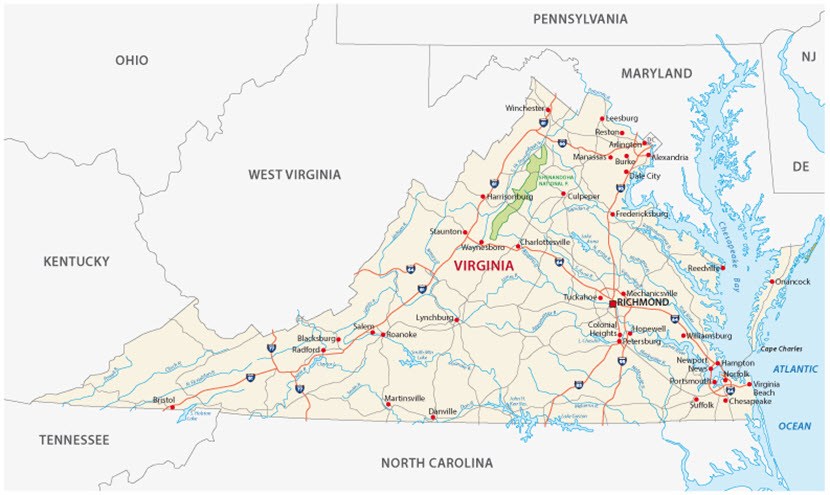 Conclusion
Northern Virginia is the biggest data center market in the United States, and its industry footprint continues to grow thanks to a robust talent pipeline and a competitive cost environment.
As of 2022, the data center inventory in Northern Virginia exceeds that of the following five largest markets combined, and the market has more than doubled since 2018. It's a safe bet that growth will remain strong, but it won't come without new risks and challenges.