API-Driven Bare Metal Cloud Servers
Help your customers automate their IT. Bare Metal Cloud (BMC) is a cloud native-ready, dedicated IaaS platform that enables physical server provisioning in a matter of minutes.
Bare Metal Cloud Infrastructure - Advantages for Channel Partners
Empower your customers for innovation and agility by helping them deploy a flexible, cloud native-ready infrastructure. Bare Metal Cloud provides the advanced performance of dedicated hardware with cloud-like flexibility for DevOps and automation-driven workloads. The flexible billing models allow for fast scalability and cost optimization. It is an ideal alternative to Public Cloud, offering improved hardware features and performance potential with the same level of flexibility and similar prices. Reserved instances can be extended from 1 year up to 3 years.
Raw Power of Dedicated Servers. Cloud-Like Flexibility.
Bare Metal Cloud (BMC) allows for automated provisioning of physical servers in minutes using its own API and CLI or other popular Infrastructure as Code tools. As a cloud native-ready, IaaS platform, BMC delivers high-performance, non-virtualized servers for even the most demanding workloads. Now your clients can deploy, scale, and manage physical servers with cloud-like ease and simplicity, bringing their apps and services closer to their customers.
The phoenixNAP Bare Metal Cloud offers all the elasticity and flexibility of a Public Cloud, but with dedicated resources that give BMC users more control over performance and security.
Simple Deployment. No Vendor Lock-In.
Bare Metal Cloud (BMC) solves your clients' current key challenges. As they look to ensure infrastructure flexibility, clients leverage more Public Cloud resources, but this comes at a cost. When they outgrow low-level Public Cloud configurations and need advanced resources, infrastructure costs skyrocket. It also becomes more difficult to migrate to a new platform, since the code and tools are tied to the Public Cloud vendor.
Bare Metal Cloud helps you offer your clients an easy way out of Public Cloud lock-in. With transparent hardware, affordable prices, and a range of integrations, Bare Metal Cloud provides flexibility in every aspect.
The Challenges BMC Solves
High Operational Costs
Costs of bandwidth and compute resources grow exponentially.
Environment
Complexity
Overly complex environments can slow development time.
Lack of Control
Virtual environments provide less control over performance and security.
Vendor Lock-In
Unilateral and unique ecosystems risk vendor lock-in.
How you Benefit as a phoenixNAP Partner
Bare Metal Cloud enables your clients to:
Manage Infrastructure as Code
Accelerate go-to-market timeframes
Scale out as they grow
Lower their total cost of ownership
Ensure optimized performance
Avoid vendor lock-in
| Feature | phoenixNAP Bare Metal Cloud | Public Cloud | Dedicated Servers |
| --- | --- | --- | --- |
| Scalability | Yes | Yes | Yes, but slow |
| Instant deployment | Yes | Yes | 4 hours |
| APIs | Yes | Some | No |
| CLI | Yes | Some | No |
| Raw IaaS power | Highest | Virtualization overhead | Highest |
| Hourly billing | Yes | Yes | No |
| Reserved instances | Yes | Some | Yes |
How to Identify your Target Customers
Developed for DevOps teams and automation-driven organizations, BMC is a great fit for companies looking to simplify infrastructure management and accelerate go-to-market strategies.
The platform lets users automate provisioning tasks, quickly adapt to the changes in demand, scale dynamically, and control their costs with pay-per-use models.
Who are your target customers:
BMC Locations
We're constantly growing and adding new BMC locations. We plan to have more than 10 locations by the end of 2021.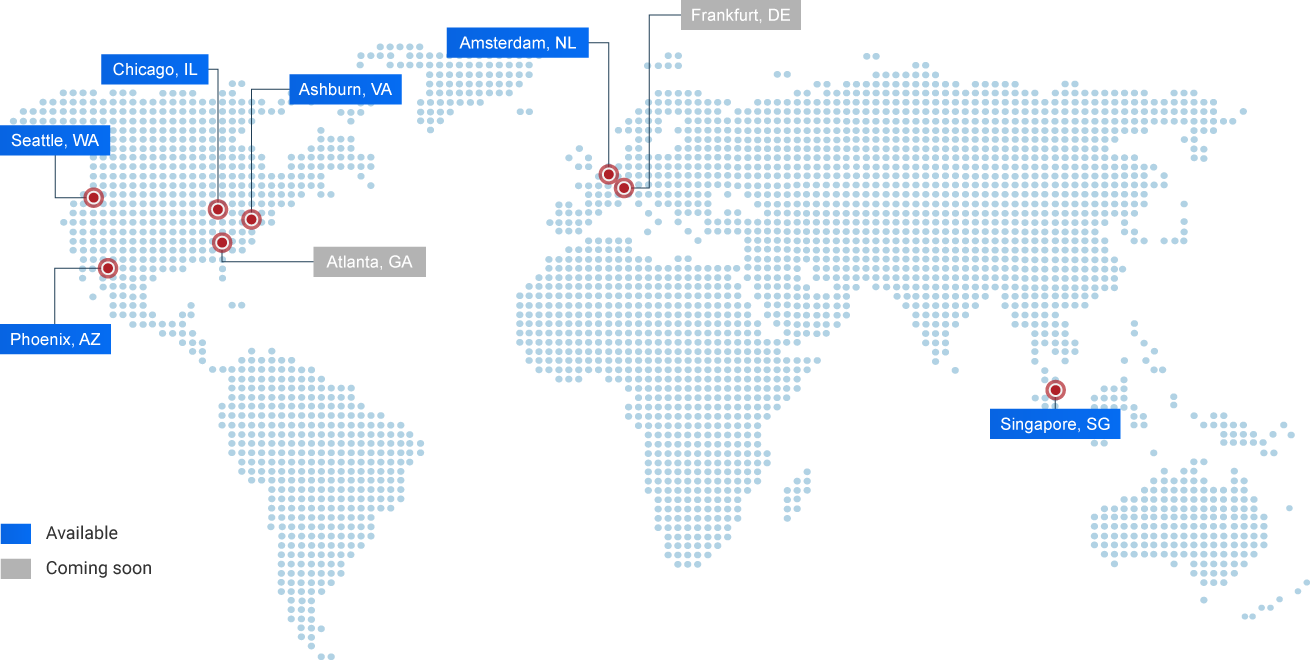 Get in Touch with a BMC Expert
phoenixNAP is continuously strengthening its service portfolio and expanding its reach.
To help partners create more opportunities and grow their business, Michael Zitar supports our partners nationwide for BMC services.
Michael has eight years of experience helping VARs, MSPs, MSSPs, and system integrators with emerging technologies such as cybersecurity, cloud solutions, infrastructure, colocation, and network. As an IT service solution and product expert, Michael helps partners build their sales pipeline and drive revenue growth.
Reach out to Michael to learn more about BMC opportunities at michaelz@phoenixnap.com.