Accelerating Genomics Data Processing with Persistent Memory and Big Memory Software
Learn how MemVerge Memory Machine™ and Intel® Optane™ Persistent Memory helped TGen achieve a 36% increase in their RNA sequencing pipeline.
As the size and complexity of datasets expands and the rapidity with which they need to be processed increases, organizations are facing the challenge of having to optimize their infrastructure to handle a simultaneous growth in both volume and velocity.
The rise of data-intensive workloads such as real-time analytics, AI/ML, animation, and bioinformatics is driving demand for memory-optimized hardware which will be able to process large datasets in a minimum amount of time. However, present compute infrastructure is not always capable of supporting the complex configurations that these growing demands for memory technology require.
Download this white paper to learn how TGen has solved their processing challenges by leveraging Intel Optane Persistent Memory and MemVerge Memory Machine. Their phoenixNAP HaaS infrastructure was custom built to enhance RNA-seq performance and accelerate SplAdder* analysis from 2 months to 13 days.
The white paper specifically talks about the following challenges:
Increased memory costs as more capacity is needed to support constantly growing datasets.
Hardware limitations by memory slots and RAM size.
IT infrastructure inefficiency due to performance issues and limited ability to scale
High cost-to-performance ratio for traditional DRAM deployments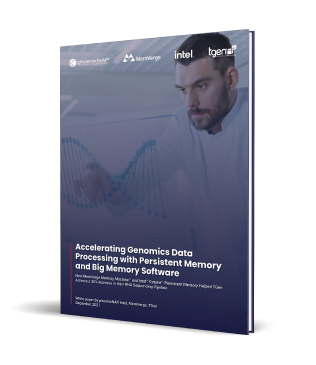 Download white paper




© 2022 Copyright phoenixNAP | Global IT Services. All Rights Reserved. Privacy Policy