With cybercrime on a constant rise, the odds of downtime striking your IT are severely high and are growing every day. Even without hackers in the picture, human error or natural disasters remain a major source of business disruption. Without a disaster recovery plan in place, business risk not only losing their valuable IT assets, but also loss of money, productivity decrease and reputational damage.
How Carbonite Availability works to Protect your Data:
Continuous replication that eliminates the risk of data loss
Accelerated failovers to minimize downtime
Negligible performance impact
Platform support for physical, virtual and cloudbased systems
Award-winning global customer support from certified experts
PhoenixNAP's Disaster Recovery as a Service (DRaaS) solutions powered by Carbonite Availability ensure this does not happen to you!
Carbonite Availability provides continuous availability of your critical files at any scenario. You no longer have to worry about a sudden attack striking your business and causing disruption even for a minute. Carbonite Availability on phoenixNAP's bare metal platform gives you security and confidence that you need to run your business effectively.
Minimum Disruptions – Maximized Operability
Carbonite Availability solution is architected to enhance security of bare metal environment and prevent disastrous events or devastating consequences. Combined with expertize of the phoenixNAP team, this cutting-edge technology is an ideal solution for businesses of any size to keep their assets safe and available any time.
Leverage Advanced Tech on a Global Scale
Globally available from phoenixNAP's six data centers in the US, Europe and Asia, Carbonite-backed DRaaS can bring new levels of security and flexibility to your expanding business. Contact our Disaster Recovery experts for more details on how you can leverage this solution to unlock new opportunities for your business!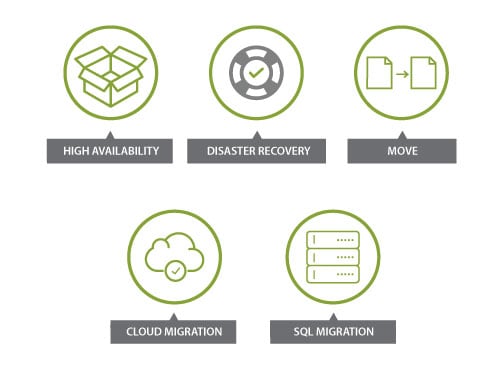 Your Strategic Disaster Recovery as a Service Partner
Our goal is to be your strategic partner and to positively impact and support the growth of your business. With our DRaaS offering, we have orchestrated the perfect mix allowing you to protect your IT assets without exhausting valuable resources.